Who's Managing Your Hip Fracture?
By Terry Fulmer, PhD, RN, FAAN, President, The John A. Hartford Foundation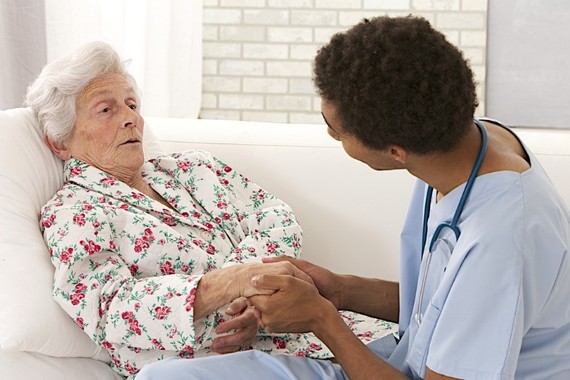 It's an important question. Each year, approximately 260,000 people suffer hip fractures. Most are associated with falls, some on frozen concrete, others in less obviously dangerous places--bathrooms, kitchens, living rooms and even health care facilities.
Like any fracture, these events are painful, but for older people, they are dangerous, debilitating, and even fatal. In fact, approximately 20 percent of people hospitalized with hip fractures die within a year. Here is a familiar story:
Mrs. M., an 88 year old who has recently moved to Florida, was full of vitality until she broke her hip. She enjoyed going to exercise class, playing bridge, visiting her neighbors, and volunteering at her church while staying in touch with her adult children and grandchild along with her many nieces and nephews. When she fell, everything changed. The hospitalization was a nightmare. After surgery she became confused from the medications and strange environment, and lost weight from not being properly helped with her meals. She was discharged first to a rehabilitation facility and then to a nursing home.
Part of the problem is that older adults with these so-called fragility fractures often come into the hospital with a variety of other chronic health conditions, including diabetes, heart failure, or cognitive impairment. Eighty percent are women, and their average age is 80. They may be in considerable pain. Some haven't slept the previous night before the fracture was confirmed, and then get admitted to the hospital where they can be at higher risk for delirium, a dangerous condition also known as acute confusion. This can set off a cascade of other complications, such as dehydration, infections, and a slew of heart, kidney, or liver problems. All of these problems slow recovery, extend the length of time in the hospital, and can lead to a number of bad outcomes, including death.

About five years ago, Dr. Michael Ehrlich, chair of orthopedics at the Alpert Medical School at Brown University and Rhode Island Hospital contacted a long-time colleague, Dr. Richard Besdine, a geriatrician and professor of medicine, and health services, policy and practice. Dr. Ehrlich was looking for help in improving outcomes for older people with hip fractures.

In collaboration with other geriatricians and orthopedists, extending a model first implemented at the University of Rochester, they began using a team approach to co-manage these older adults. This was not a geriatrics consultation, but actual co-management both pre- and post-surgery. The results have been dramatic. The model of care has lowered 30-day mortality by 70 percent. The percentage of people going directly home rather than through a nursing home has tripled. Length of stay in the hospital was shortened by two days. Studies of similar co-management programs have also found positive outcomes.

Dr. Besdine points out, "As geriatricians we know and take steps to prevent the common complications that harm and kill elderly persons in hospitals, such as falls, delirium, adverse drug events, infections, pressure sores." He notes that the initial pre-surgical assessment for hip fracture patients is not just to determine whether "they are going to have a heart attack in the operating room, but also to identify risk factors for these events and to intervene."

The co-management focus is on addressing older adults' other health problems as much as possible and optimizing these conditions, whether it is heart failure or diabetes or cognitive issues. There is also close management of fluids and electrolytes, a focus on ensuring better sleep patterns and normalizing the environment around the patient--all shown to prevent delirium.

These approaches are common sense to me, as a geriatric nurse, but they are not common. And while other hospitals have emulated this co-management model, we at The John A. Hartford Foundation are intent on spreading this approach much more broadly. A grant to the American Geriatrics Society is tasking leaders at Brown University and University of Rochester to create and implement a plan to make co-management of hip fracture more broadly available in the nation's 5,000 hospitals.
It is not a moment too soon. Studies show that only half of all people with hip fractures walk again, and 20 percent end up moving to a long-term care facility. It is the third most costly diagnosis in the United States, totaling more than $18 billion in 2012.

Creating geriatric-orthopedic teams to manage these traumatic events is just one innovative approach towards helping hospitals to ensure their clinicians deliver care that meets the unique needs of older adults. If we are looking for a way create more "age friendly" hospitals in this country, it is a very good place to start.