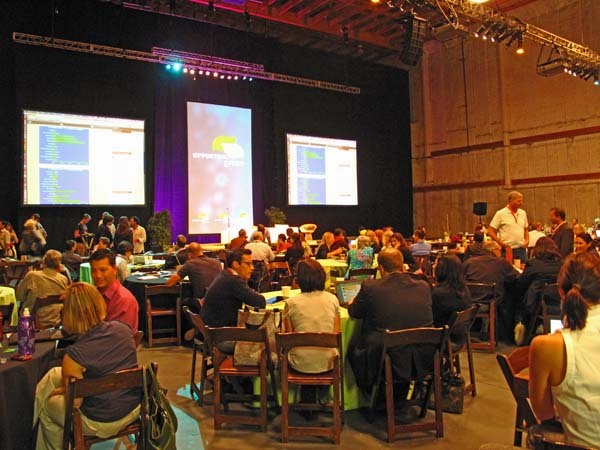 Attendees of Opportunity Green on September 24 listening to presentations on the soundstage where "Madmen" tapes at Los Angeles Center Studios
In September, Opportunity Green proved once again that clean energy and sustainable products make good business sense -- "green" can be good for both the planet and for business. Companies like Walmart, Coca-Cola and BMW had a presence at the conference because they have embraced sustainability as the better business model. Hopefully, these highlights illustrate the fact that being "green" or eco-friendly actually can create jobs -- contrary to the bogus claims in commercials funded by oil barons to encourage people to vote for Prop 23, which would effectively nullify AB32, California's Global Warming Solutions Act of 2006. First, the Bush Administration prompted the EPA to delay California's implementation of the Act, and now oil interests stand in the way of cleaner air for California. Please vote NO on 23.
Companies and products to watch:
Coca-Cola
Although I wish Coke could be piped into homes to eliminate the need for plastic bottles or cans, the Coca-Cola company (located in Atlanta where I grew up [so I may be biased]), appears to have a sincere environmental focus from its packaging to its water usage. The coolest news concerned Coke's PlantBottle, of which 30% is plant-based material (derived from sugar cane extract - a waste byproduct -- not a food source), and these bottles are 100% recyclable. Coke reported at Opportunity Green that:

· More than 2.5 billion bottles already in the market after ½ year of entry in 9 global markets

To date in this short time it is like removing 5,600 cars from the road, eliminate 30,000+ metric tons of carbon dioxide this year alone - the equivalent of over 70,000 barrels of oil. Across full portfolio it will be significantly more impactful.
Plans to expand each year until the entire company profile (3,000+ brands globally) utilize PlantBottle packaging
PlantBottle was developed in-house in Coke's innovation labs (which employ approximately 1,000 PhDs globally)
Coke also reported that it's the world's largest recycler -- with the world's largest recycling plant located in South Carolina ($40M investment) rather than overseas. And as for the amount of water Coke uses in its products, the company has set a goal "to give back 100% of the water it uses in every community, through rain water collection, conservations, refine and clean reuse technology, etc."
Dwell
Dwell Media publisher, Michela O'Connor Abrams, helped present "The New Face of Affluence" (along with representatives from GFK Ropers Consulting) which focused on "green" attitudes and how consumers earning over $100,000 a year spend their money. The research was the result of two consumer trends studies, one conducted by Dwell Strategy and Research, a new, independent division of Dwell Media and a separate study conducted by GFK Ropers Consulting (Green Gauge Global Report). The Dwell Strategy and Research study discovered sustainability and aesthetics are bigger factors than luxury. 86% of this group will pay more for a brand they like, and 68% feel a connection to brands they admire. Apple, Sony, Whole Foods, Toyota, BMW and Patagonia were among the companies most highly valued by this group.
The GFK Ropers study demonstrated that people in countries such as Brazil want the tools they don't have that can help the environment, while people in countries like the USA (which have the tools and knowledge to protect the planet) show less commitment to the environment. The study also included a quiz to test people's eco behavior and found that many people who are thrifty and budget-minded consume less and may be "greener" than those who say they are passionate about the environment but consume a lot of goods and create a lot of waste.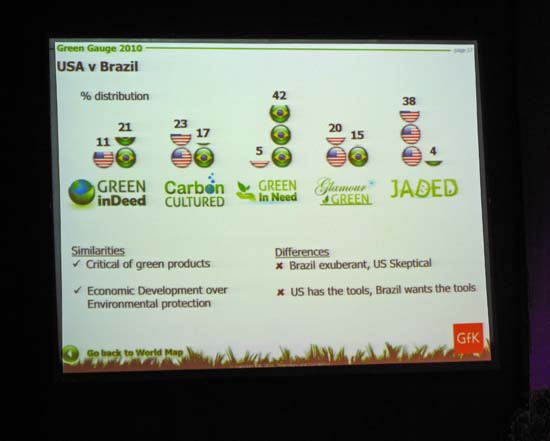 Types of Green evaluated in Roper 2010 Global Green report
VAPUR
Jason Carignan, President and Founder of Vapur, the collapsible water bottle introduced the winners of Vapur's Thirst for Design contest through Jovoto.com, where people were asked to help create a new "artist series" of stylish designs for the Vapur "Anti-Bottle."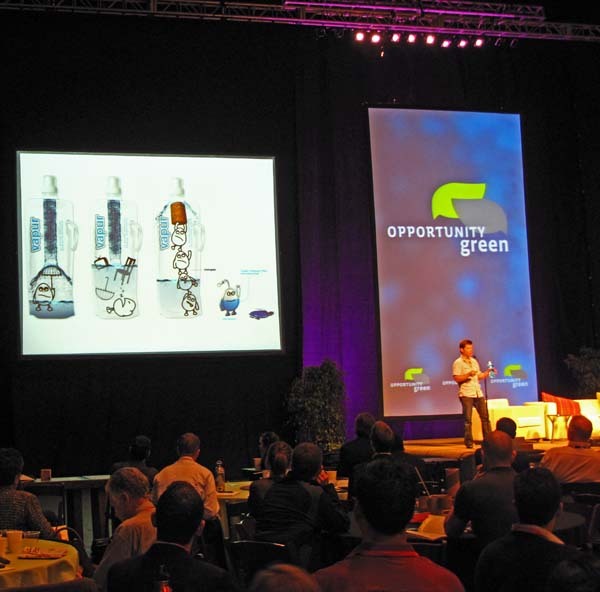 Jason Carignan announces winners of Vapur Design Competition
Winners of Competition (all competition photos courtesy of Vapur)
David Herbst, 24, of Germany, for his "Bottle Inhabitants" design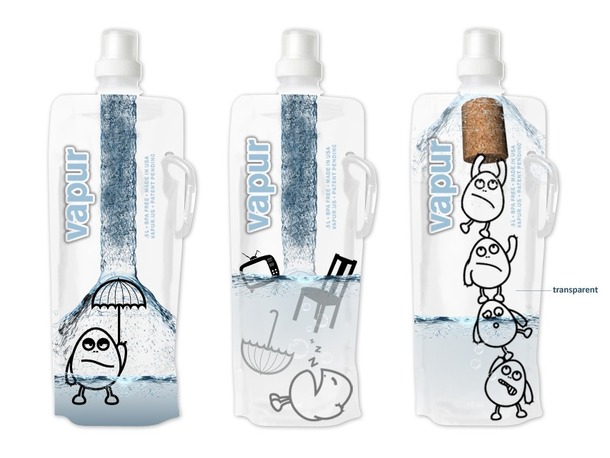 Marcel Weik, 30, of Germany, for his "Aqua Libre" design --
based on Mexican wrestling series: the Lucha Libre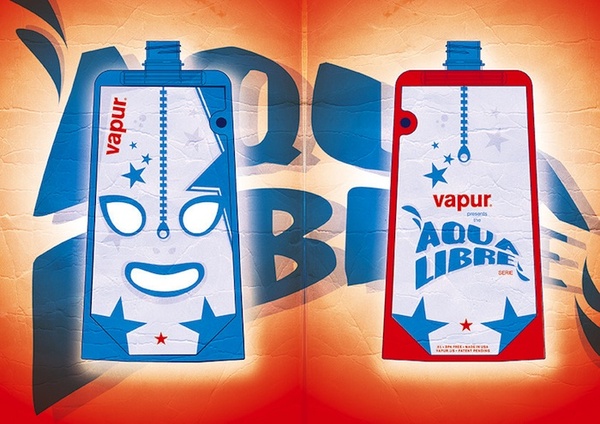 Waqar Hassan Syed, 24, of Pakistan, for his "Thirsty" design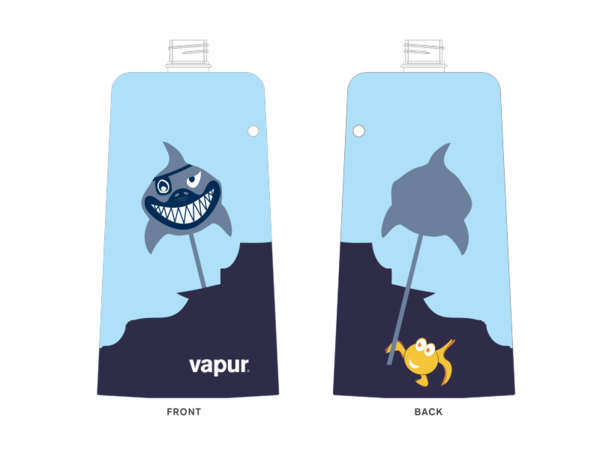 Advinylize makes promotional items (such as totes, wallets and coolers) by recycling vinyl billboards

Root pouch makes eco-friendly plant hangers and pots to reduce the waste created by plastic bags and pots used in gardening.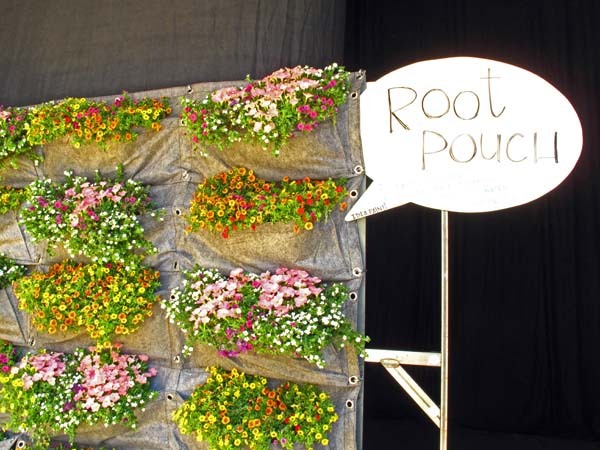 Zimride is a popular rideshare service with networks at businesses and a slew of universities including Stanford, UCLA, USC and Harvard. Casting their votes via Twitter, Opportunity Green attendees chose Zimride as the most Innovative Eco Start Up. Zimride received a $25,000 Brand Innovation Charette for marketing and business services from BBMG (a company that helps businesses develop sustainably) along with a $1,000 gift certificate for Office Depot.
Another company to look for is Replenish which will be launching a brand new household cleaner in late October. The most exciting part is that Replenish will come with a reusable plastic PET bottle and cleaning pods that attach to the bottle.
There was also good news for fans of the film "Who Killed the Electric Car?" Chris Paine, its director, announced that its sequel, The Revenge of the Electric Car will be released next Spring. Previews should begin appearing in theaters in November.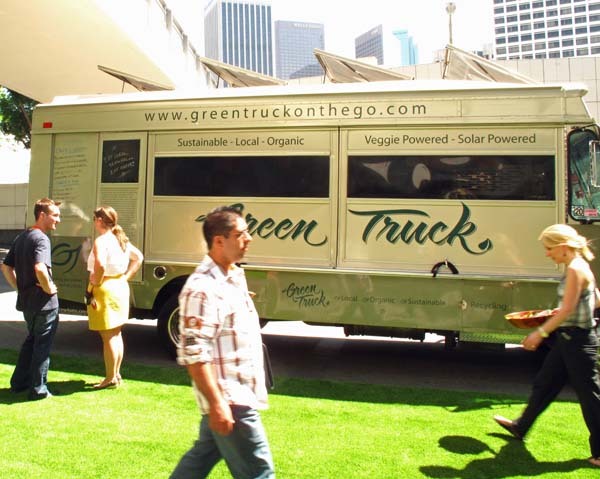 Green Food Truck supplied the Vegan lunch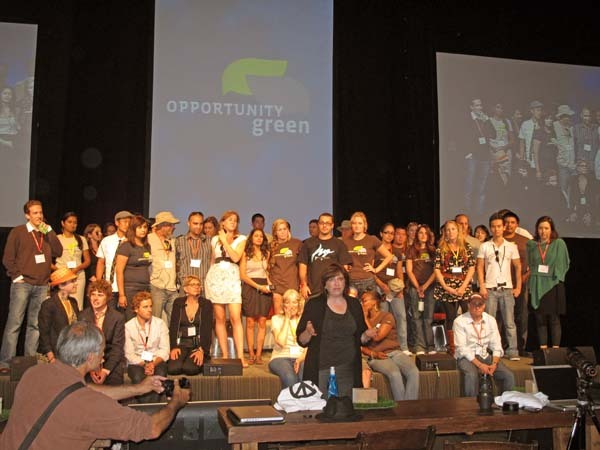 Karen Solomon thanks Opportunity Green's volunteers including recyclable vs. compost vs. landfill trash assistants from Sustainable Works (a Santa Monica based sustainable education non-profit)
All photos by Terry Gardner except for Vapur Competition winners as noted above.