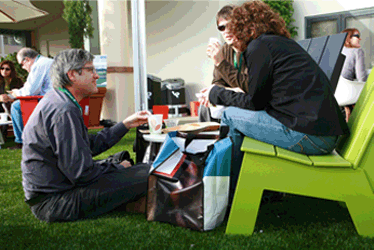 Gervais Tompkin (principal at Gensler) enjoying lunch with attendees at
Opportunity Green 2009
Next week Opportunity Green presents its 4th Annual Green Business Conference in Los Angeles from September 22 to 24. Key note speakers describe how their businesses and their lives have become more eco-centric. Yvon Chouinard and Rick Ridgeway are passionate climbers and outdoorsmen. Chouinard's passion for the outdoors led to his founding Patagonia as a retail store focused on selling great outdoor clothing and gear without harming the environment. The way Ridgeway describes Patagonia's approach to products, it seems like the store has an "eco oath" much like a doctor's hippocratic oath ("First do no harm").
Ridgeway is Patagonia's VP of Environmental Programs and Communications and will be a keynote speaker on Thursday, September 23 at the Conference. The speakers Opportunity Green presents are inspiring when they describe their environmentally-friendly approach to business and the events that led to their "aha" eco moment that led them to combine a passion for Mother Nature with a sound business plan.
At the 2008 Opportunity Green conference, Charles Zimmerman from Walmart described how white roofs and sustainable business practices save Walmart money. Walmart has been helping Target and other retailers learn how operate their stores in a more eco-friendly manner -- reducing power consumption with white roofs and similar methods that also save companies money.
This year green business entrepreneurs can get inspired by speakers, see new technology and connect with other "ecopreneurs" on the "Mad Men" soundstage at Los Angeles Center Studios. During the three day event, there will be multiple agendas participants can follow based on their interests. Breakout panels will focus on accelerating green innovation, smart grid infrastructure, carbon mapping and more.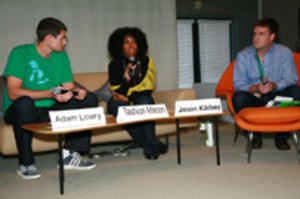 Break out panel with AdamLowry (Method Products, Inc.), Tashion Macon (T-Mobile) and
Jason Kibbey (Pact Underwear) from Opportunity Green 2009 Conference
Along with Ridgeway, key speakers for the 2010 conference include:
• Andreas Schierenbeck, President of Building Technology, SIEMENS Industry, Inc.
• Laurenz Schaffer, Group President, BMW Group Designworks USA
• Liba Rubenstein, Director of Global Energy Initiative, The News Corporation
• Steve Wesley, Managing Partner, The Westly Group
• Eric Garcetti, President of the Los Angeles City Council
• Jennifer Orgolini, Sustainability Director, New Belgium (an employee-owned brewing company in Ft. Collins, Colorado)
• Seth Farbman, President, OgilvyEarth
• Michela O'Connor Abrams, President & Publisher, Dwell Media
• Yalmaz Siddiqui, Director of Environmental Strategy, Office Depot
• Tony Huffman, Director of Strategic Cooperation, BP
• Steven L. Kline, VP Corporate Environmental & Federal Affairs & Chief Sustainability Officer, PG&E Corporation
• John Woolard, President & CEO, BrightSource Energy
• Katie Fehrenbacher, Founding Editor, GigaOM
• Bill Kelly, Managing Director, SunPower
When: September 22 at 5:30 p.m. to September 24 at 5:00 p.m.
Where: LA Center Studios, 1037 W. 6th Street, Los Angeles, CA 90017
Cost: $995 for business attendees; $495 for full-time students; $595 for non-profits (you can save 30% off your registration with this code: OGL30)
All photos courtesy of Opportunity Green