My son died over 40 years ago on July 6, 1972. He was 7 and had been living in a home for the handicapped. He'd been at home with us when this picture was taken (sitting in front). I was a young divorced single mother with a full-time job and was the sole provider of my other two kids; the twin brother of my son that died and my daughter, the first born.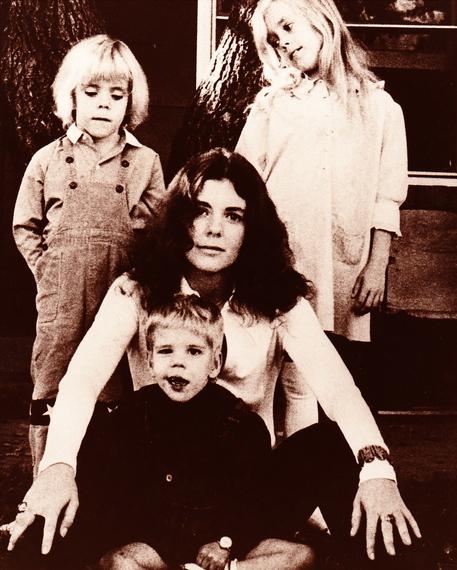 In the week leading up to that day, a dark cloud had hung over me. I couldn't ascribe a reason to it and although I was accustomed to feelings of disproportionate malaise, this was decidedly different. It was visceral.
Over the long fourth of July holiday, the kids stayed with their Dad and, as I had on other days without plans, I got behind the wheel and drove along Mulholland Drive. I found a place to stop and gaze out over Los Angeles and remember asking the sky to please help me understand why this overwhelming sense of doom was chasing me down.
The next day, back on the job, I got a call that my son was gone.

I worked as a secretary for two big-time literary agents in Beverly Hills. One nicknamed the Shark, because he was a tough negotiator, and the other supposedly more reasonable one was referred to as Kitty Cat.
I hung up the phone and let out a woeful moan. When I looked into Shark's office where he and Kitty Cat were, they stared at me, dumbfounded.
"My son died," I cried. "I don't know what to do."
"You'll have to take care of it," the Shark said.
My world had been rocked. I gathered my things and as I was leaving, Kitty Cat asked if I'd at least call a temp for them.
I'm pretty sure I didn't respond and ran out the door, down the stairs and into my car.
You learn a lot about yourself and others in times of tragedy. I called on my brother for comfort, but death was too real for him, he couldn't deal and my Mother didn't know how to console me, either. How do you offer comfort for a loss like that? It was 1972, long before the infrastructure was in place to text, Facebook and Twitter sad news to the world.

That day, July 6, I drove myself several miles south of Los Angeles to the funeral home and solitarily inched my way through the process. Once I entered the room where he lay in repose, I felt less alone and for the last time, I loved his beautiful little body that had pushed out of me with all its holes and malfunctions. We'd been through a lot together: Open-heart surgery, a stroke and finding him a good place to get the kind of nursing care he required.

We had a service and buried him without marking his grave. The following days and weeks completely flattened all of us. I couldn't come up, though, and slowly quietly disappeared down a rabbit hole. Oh, I was here, but barely.
When I came around again some years later, my children and I talked about marking the spot where he was buried. We were all ready. We chose a stone. We named what happened: Stephen T. lived and died. Once in place, we christened it with flowers and tears and by spending the day there. We didn't move on, but we moved forward.
Still, not a forth of July holiday goes by without a general sense of malaise returning for its annual visit.
Any parent who has lost a child will tell you that you never get over it. What is not talked about so much is the haunting thought of losing another.
Long after Stephen's death, whenever I felt a vague fear, I'd measure it against the feeling I'd had that day before he died. Grading it. Testing it. Psychically scanning it for depth and scope and the potential to predict. I'd always had this crazy idea that the feeling that had visited me that day was a Mother's premonition.
Has any other parent who's lost a child had the same experience? I wonder. I will tell you this, I still to talk to the sky and ask please, please never let me have that feeling again.