With Sundance just wrapped, the center of the film festival universe has shifted to the Santa Barbara International Film Festival, which is in the midst of annual star-studded event this week. The line-up includes the U.S. premiere of The Brooklyn Brothers Beat the Best, one of the surprise hits of the most recent Toronto Film Festival. Brooklyn Brothers was written and directed by Ryan O'Nan, who also stars in the film and who has been having what could be modestly described as a "breakout year." O'Nan composed much of the music for Brooklyn Brothers, which centers around a fictional two-man band consisting of O'Nan and Michael Weston (Six Feet Under), who go on a no-frills tour of the country with their young manager, played by Arielle Kebbel. At Toronto, Rhino Records was so entranced by the tunes that they offered the pair a recording contract, under the fictional "Brooklyn Brothers" moniker. O'Nan has also just completed starring roles in Freelancers, opposite Robert De Niro, Forest Whitaker, and 50 Cent; The Frozen Ground, with Nicolas Cage and John Cusack; and he is currently shooting The Ice Man in Louisiana with Michael Shannon, James Franco, and Winona Ryder. Brooklyn Brothers features supporting performances by Oscar winner Melissa Leo, Wilmer Valderrama, and Jason Ritter.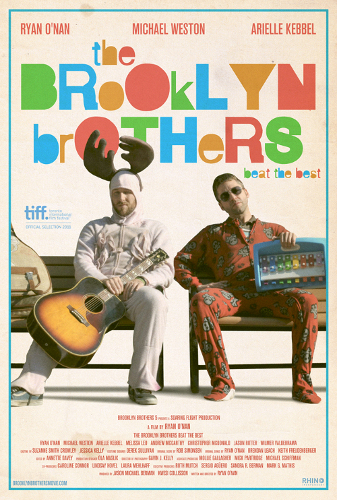 Photo: Brooklyn Brothers 5
O'Nan himself spent a number of years as a struggling musician, after which he opted to focus on acting, and he clearly had more than a little autobiographical material to draw from in creating his role of Alex in Brooklyn Brothers. A broken-down guitar player, Alex only starts to find his groove again when he meets Weston's Jim, who specializes in playing children's musical instruments, such as the plastic ones manufactured by Fischer-Price.
"I really wanted the story to be about two guys who are the opposite halves of what make up an artist," elaborates O'Nan on how he structured the two lead characters. "One half has a certain amount of talent, but also has a lot of self-doubt. The other half is completely fearless and pushes relentlessly into the unknown, despite whatever factors kind of come up against him. And I split that into two people and made them the Brooklyn Brothers. They're lost without each other, basically."
A character in the film describes the sound of the Brooklyn Brothers as "The Shins meets Sesame Street," which is every bit as much fun as it sounds. The duo's use of the children's instruments also serves as an apt metaphor for the career struggles of O'Nan's Jim. "This is a story about a guy who's learning what it means to be a man, and kind of leave the land of childhood," says O'Nan. "And the question is, 'Can he bring his childhood dreams into his adult life?' It turns out that the actual instruments he uses to do just that are these children's instruments."
O'Nan and Weston just cut the Brooklyn Brothers album for Rhino this past month in Los Angeles, although the initial offer in Toronto of a recording contract came as shock to them. "It's a dream come true that we actually got signed as a band, but totally unexpected. I stopped playing music as a career a long time ago, and focused on the medium of film, but it has totally come back around in a beautiful way," he explains.
O'Nan most recently wrapped the lead role in The Red Robin, where he plays the adopted adult son of a famed, dying psychiatrist, portrayed by Judd Hirsch (Damages, Taxi), who did some mysterious work for the U.S. government during the Cold War. O'Nan elaborates about what attracted him to the Michael Z. Wechsler-directed psychological thriller, "I'm the oldest of five kids and we went through a lot together. I'm fascinated by the idea of siblings and how they come together, how they survive together, and that's what this story was really about."
As to whether he can attribute his myriad successes of the past year to anything in particular, O'Nan replies, "You know what? My biggest philosophy is that the harder you work, the luckier you get, and I've tried to live my entire life by that philosophy. I just feel so, so lucky. I really do."
"The Brooklyn Brothers Beat the Best" screens at the Santa Barbara International Film Festival on Feb. 2 at 1 p.m.. More information on the Santa Barbara International Film Festival can be found at www.sbiff.org.