People often ask me, why poetry? Isn't it just a frill? A time-waster? Don't urban youth who face so many educational challenges need something "rigorous?" As a poet, I try not to stumble too personally over this particular argument. I know the patience and discipline, the mental and linguistic dexterity it takes to create a well-wrought poem. And I strive for the courage it takes to stay with a thread when poems get close to the bone so that I write from a place of uncompromising honesty, with the bit between my teeth.
The inner world and work of the poet represent a challenge to the mind and soul that I think our students deserve. As a former educator, I realize that rigor has its place, but so often what is meant by that dreaded "R" word is top down, external and imposed, a "data driven" extrinsic reward system, as if a military model of education is what youth from our most beleaguered communities need most.
I have long believed in intrinsic rewards. For years I have held as a motto William Butler Yeats's definition of education as "not the filling of a pail, but the lighting of a fire" and recently I have come across this from bell hooks who writes that, for educators:
...our work is not merely to share information but to share in the intellectual and spiritual growth of our students. To teach in a manner that respects and cares for the souls of our students is essential if we are to provide the necessary conditions where learning can most deeply and intimately begin.
Last week we saw that respect and caring on display in the year-end in-school gala celebrations at InsideOut Literary Arts Project participating schools as children received their school's magazine for the first time. When I looked across a crowded elementary school auditorium last week and took in the almost magical effect these books have on their readers -- these authors -- the word that came to mind was magnetism.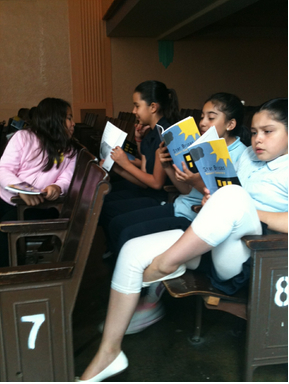 Children at Bennett Elementary looking over brand-new copies of their literary magazine Star Brisas. Photo credit: Terry Blackhawk

There's a magnetic, mesmerizing attraction between the writer and her words in print, but there's also the magnetism of the audience, the readers, and the whole community of teachers, parents, principals, staff members, and friends that, as hooks says, "respect and care for the children's souls." As this excerpt from a fifth grader's poem shows, poetry is the perfect vehicle for this expression, and we are, here at the end of InsideOut's year with 28 separate school literary journals for over 4,300 youth, awash in the beauty of poems such as Amber's.
....Walk through the gold surface of

the meadow that consists of God

watching me. The cloud of happiness

gives me candy through my heart.
When I talk softly to the flowers

of God, my soul relies on

what lies behind me. In my world

I am Amber, a beautiful girl.
I believe that this affirmation of our students is a profoundly political act, and it is in this spirit that I am humbled and honored to accept New Detroit's 2012 Closing the Gap Award on behalf of InsideOut and the writers, staff and board who make our work possible. Rising from the ashes of 1967, New Detroit has tirelessly worked to build understanding, to fight racism in all its guises, and to break down racial and economic barriers. This award recognizes those who help to fulfill that dream. Click here for a WDET radio interview between me and New Detroit's inspiring, tireless CEO, Shirley Stancato about the award.
For me, this award is also personally very meaningful. I came to Detroit in 1968, a brand new college graduate with a degree in literature, unaware that people of color had ever authored anything, so discovering the voices of black writers was, and has been, an important thread in my life as a reader, writer and educator. I am proud that InsideOut has encouraged the voices of young people in Detroit Public Schools throughout our 17-year history, fulfilling our mission to help youth "think broadly and create bravely." Some of our graduates have gone on to pursue careers as writers, but all have been strengthened by the validation of their words and their voices brought forward, as our mission states, from the inside out.
The esteemed bell hooks talks about self-love at the core of an education that strengthens young people despite a patriarchal world that does not want them to claim their true feelings. I agree. The patriarchy's ignorance is nowhere writ more large this week than in our very own Michigan Legislature's absurd silencing of women over the word "vagina," and I intend to make my voice heard in person, alongside Planned Parenthood and the ACLU to protest this ignorance. Like the characters in Eve Ensler's Vagina Monologues, when students claim their voices they experience self-love. We may not have millions of dollars to work with, but in our small way, by arming them with the power of their pens and poetry, InsideOut has built a legacy of that love so that our youth can speak with courage, resist and be heard.