The cultural calendar in Detroit moves so fast these days, it seems a long time already that I enjoyed the Cinetopia Film Festival here in town. But it was only one week ago! In addition to enjoying Hanna's Journey, 1982, and Go For Sisters, I got to hear John Sayles and Hill Harper in talk back sessions, and I attended a panel discussion at Detroit School of Arts that featured filmmakers, producers including director Tommy Oliver and Pei Pei Cheng, star of Crouching Tiger, Hidden Dragon.
The panelists' message to students certainly resonated with me. First off, they said, start with writing. I'll say it again. Start with writing! I loved the down to earth energy of these creative types, and thought immediately of Bob Shaye, InsideOut's founding benefactor, Hollywood producer and founder of New Line Cinema, whose belief in the spirit of our youth helped iO grow into a nationally recognized youth arts organization.
My colleague and film teacher extraordinaire John Wood helped bring this panel to DSA, after the producers of Cinetopia saw his students' award-winning films at the Digital Arts Film Teachers festival and sought him out. John's student Robert Lynch won Cinetopia's $1,000 first place award for student-produced films. Other DSA students' films will be shown this summer in Europe and are literally garnering attention across the globe.
I am a proud recipient of their artistry. It was bittersweet to visit John's classroom on his last day before retiring from DSA, where I had gone to record the audio to my poem "Lot's Wife," for which his students created this wonderful video. They had studied my poem, based on Kiki's Smith's sculpture of the same name from the Detroit Institute of Arts, as part of a pilot project in which I designed lessons using artwork and writing to deepen students' understandings and bring some life to the Common Core. I'd say that this video/poetry/visual art/music collaboration gets the job done, and it shows once again the brilliance and creativity of Detroit's young people.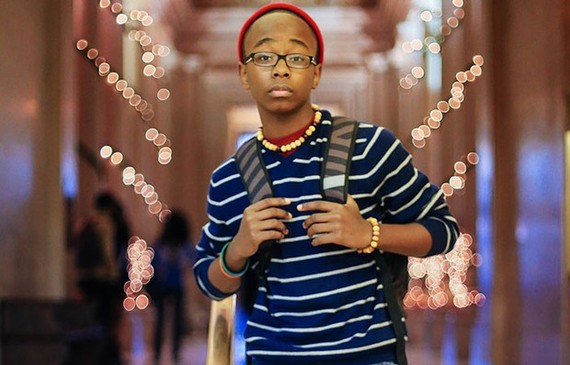 That creativity was on display on WDET this week as Khafre Sims Bey shared his mature and wonderful insights on the importance of family, just in time for Father's Day.
And I saw it again when going through the iO archives, I found this exhilarating performance by young iO men - three middle schoolers and a recent alum performing for the November 2013 W. W. Kellogg Foundation Community and Civic Engagement Convening at the Westin Hotel.
Finally, as my wonderful year as a Kresge Arts in Detroit Literary Fellow comes to a close, I'm happy to share this video created by videographer Stephen McGee, who does such as wonderful job capturing the nuances of artistic life and creation. I was delighted by the way he wove my personal story and poetry into the footage of students in iO classrooms. You can find more videos of the 2013 Kresge fellows here.