As the school year ends and summer journeys begin, I reflect on journeys and changes. I am full of admiration for friends Shaun and Wes Nethercott, founders of Detroit's Matrix Theatre, who this week embarked on an inspiring six-month cross-country bicycle adventure.
I am also about to begin an exciting journey, one that will bring me even closer to this city that I hold dear. As I write this blog I am praying that the battery on my laptop does not run out so that I can make at least some use of a flight delay that (oh drat!) keeps me from attending my first orientation meeting as Kresge Arts in Detroit 2013 Literary Fellow. It's and thrill and an honor to accept the fellowship that will allow me to pursue my own work as I learn with and about an amazing group of Detroit artists and writers. And I look forward to the 2015 ArtXDetroit not only to showcase new work of my own but also to celebrate InsideOut's 20th anniversary.
It's seem fitting that my new journey started just as I was concluding a wonderful return to The Frost Place in Franconia, New Hampshire as featured guest at their annual Conference on Poetry and Teaching.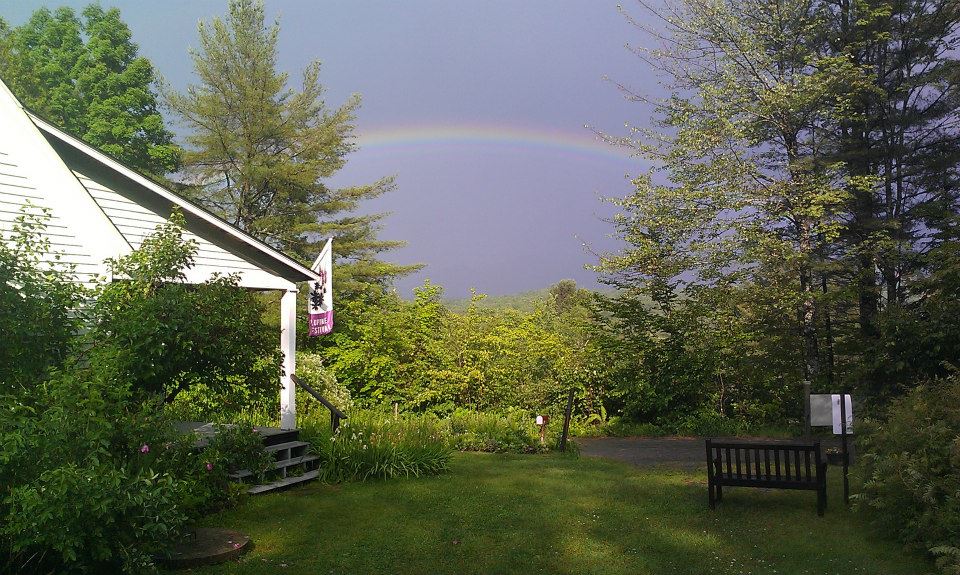 In a sense, my journey this week was 25 years in the making. In 1988, recently bitten by The Muse, I set out with eagerness and trepidation into the wider world of poetry; and a workshop at Robert Frost's home and museum was my first destination. Somewhere in between my first visit to Frost's home and my return back to Detroit, I was able to hatch a dream called InsideOut Literary Arts Project. So it was a special honor take the podium in the aging barn, following so many hundreds of fine poets over the decades, to sit in Frost's own parlor near the huge stone fireplace, to view memorabilia such as this copy of "Stopping by Woods..." with the flyleaf inscribed in his own hand in dedication to a friend. And to breathe in again the special fragrance of a New England landscape after the rain.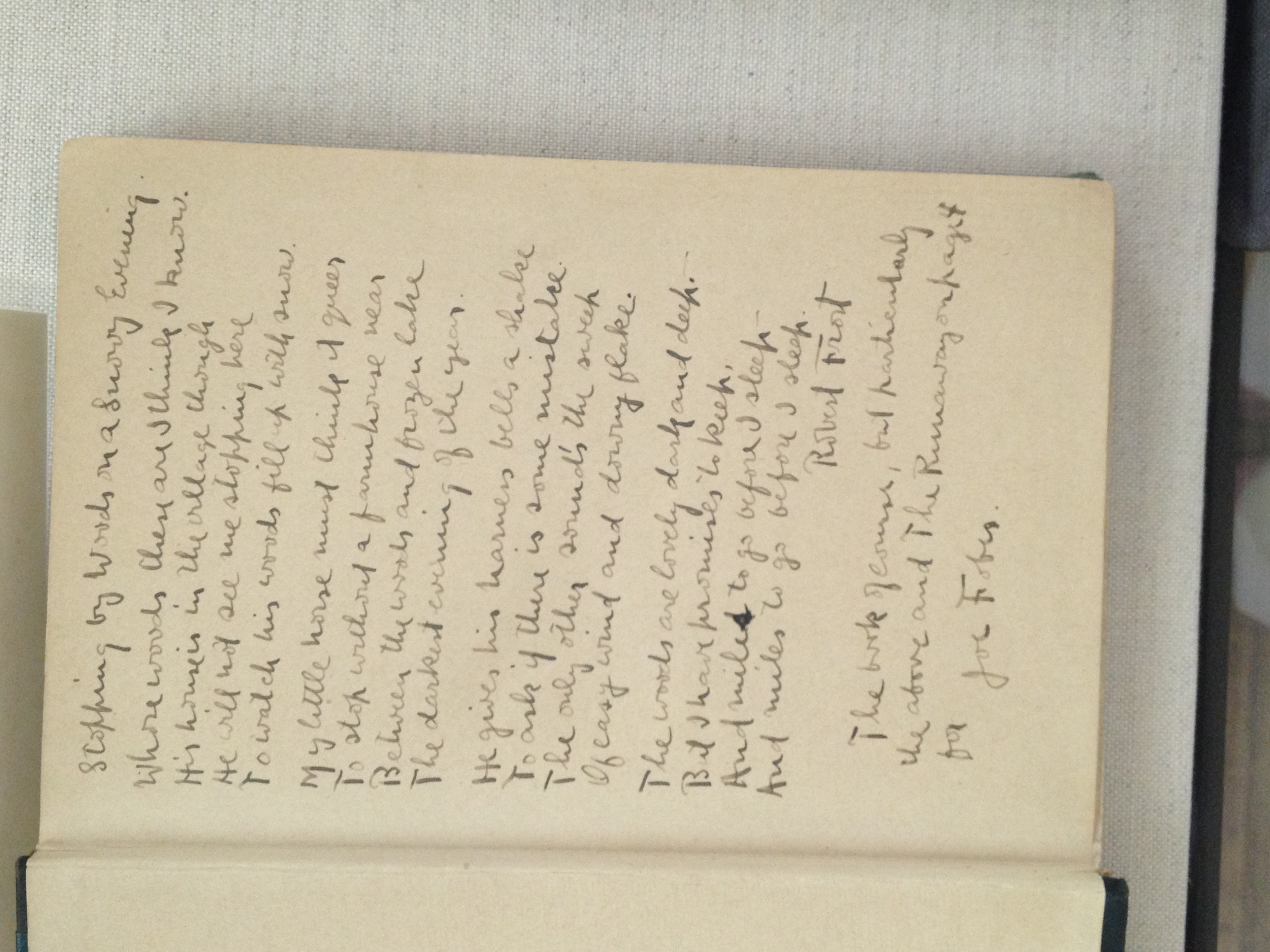 The camaraderie of the delightful educators a the Conference on Poetry and Teaching was heartening and a lot of fun. Many come back year after year to recharge creative batteries, share beloved poems, and swap teaching successes. All feel beleaguered by the encroachment of standardization, but are more determined than ever to make creativity and student voice an essential part of their teaching. A 30-year-plus elementary veteran teacher shared how she makes science come to life for fifth graders and teaches first graders to read, through poetry. I learned about the rhythms of multi-generational storytelling in country stores in the small towns in Maine, with the same stories told over the decades as if they were new, and I heard about the bleak prospects for young people growing up in rural poverty in that state's tiny villages with enormous distances between them, no arts programming and few other resources.
As always, conferences like this are about connections. Like-minded people sharing the practices and ideas they love. I shared the poems and poetry of Detroit - Robert Hayden, Toi Derricotte (whom I first met at The Frost Place in 1988), Phil Levine and many others, and of course I shared as much as I could about InsideOut. Wherever I go, I plant the seeds of iO and the good news about our city's students. It was especially rewarding, then, to learn that Dawn Potter, coordinator of the conference, had brought InsideOut students' post election poems published in the Detroit Free Press, to a group of teenagers in New Hampshire the day after Obama won. Before Dawn spoke, we heard a reading of "Mending Wall," and it seems apt to consider the breaking down of rural/urban walls with Frost's well-worn trope.
Those New Hampshire teens were struck by the well-wishing, the desire for a better future and the comic spirit expressed by the children of Detroit. Their teacher was the evening's dedicated "Frost in the Air" reader, part of every reading's opening ritual at The Frost Place, whose walk through the woods behind the house is dotted with plaques of his poems that match the natural scene. After some discussion, students decided that they wanted their teacher to share with us the following poem.
A TIME TO TALK
by Robert Frost
When a friend calls to me from the road
And slows his horse to a meaning walk,
I don't stand still and look around
On all the hills I haven't hoed
And shout from where I am, What is it?
No, not as there is a time to talk.
I thrust my hoe in the mellow ground,
Blade-end up and five feet tall,
And plod: I go up to the stone wall
For a friendly visit.
When I rose to give my reading on Monday night, I choked up a bit as I thanked the teacher for bringing us the wisdom of her students. Their statement noted the poem's care and empathy and the need to respect and honor our friends. From Frost to poets like me to the children of Detroit and to students in states far away, through classrooms and creative teachers and organizations like InsideOut, the connections forged by poetry are lasting, meaningful and filled with amazing surprises.
As always, I invite you to learn more about iO and to help champion the work of Detroit's youth poetry. I can't think of a more worthwhile journey.