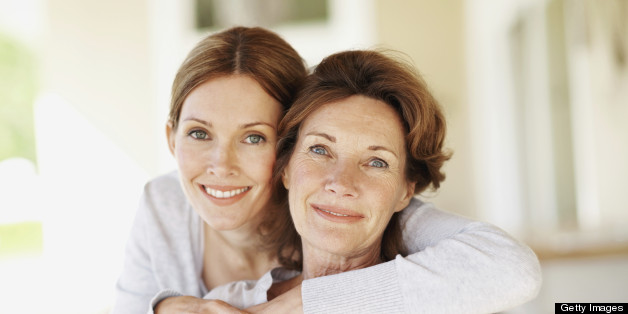 Quick: Think of two Mother's Day presents that mom would really appreciate, is unlikely to buy for herself and hopefully won't use.
They are: long-term care insurance and life insurance (on Dad)!
Let me acknowledge immediately that these are not only slightly more expensive gifts than the sweater or handbag you were planning to give Mom. These are also two of the most selfish (as well as thoughtful) gifts you could purchase, because in the event of an untimely death or the need for custodial care that could happen as your mother ages, you are less likely to become financially responsible for her care.
Valuing Life
Let's start with life insurance on Dad. (Moms need life insurance too, whether working outside the home or not, because the family depends on her priceless contributions to their well-being. Save that gift for Father's Day! ) Yes, Dad's life is invaluable -- but his income is not.
The least-selfish gift that Dad can give on Mother's Day is the peace of mind that comes from knowing that a young family's needs will be covered in case the worst horror happens -- Dad's untimely death from accident or disease.

Of course, you don't want to think about it. But please don't stop reading, because you'll find out that simple term life insurance is far less expensive than you think. And, I'm superstitious. I believe that once you know how easy it is to buy life insurance (no, I don't sell it!), if you don't follow through, you're tempting fate!
Prices for simple term insurance have been falling for the past decade, making it the most affordable right now. In fact, this is the best time to buy, because recent years of low interest rates are forcing insurance companies to consider increasing prices on new products and/or removing some of their most popular products (such as 30-year level term) from the marketplace.
Right now, a 40-year-old, non-smoking male in the best health category could purchase $500,000 of 20-year level term insurance for $355 a year. That works out to less than a dollar a day!
Now, there's a Mother's Day gift that -- eventually -- will be worth more than a Starbucks card that results in a latte a day down the drain. Yes, of course, you hope you will be around for at least 20 more years. And if you're pretty sure of that probability, you can buy a more expensive and sophisticated cash value policy to last into your old age. But a dollar a day is a small price to pay for Mom's peace of mind for the next 20 years.
("Level term" means prices won't go up, no cash value builds and the policy stays in force as long as you pay the premium each year for 20 years.)
The best argument for not procrastinating comes from Byron Udell, CEO of AccuQuote.com, the online term life comparison service: "One year from today, average premiums will be higher -- and you'll be a year older, if you're still around! And you may not be healthy enough to qualify."
So go online, print out your price quote, and insert that page inside the flowery Mother's Day card you've already purchased. Let Mom know you care enough to confront the unthinkable -- your untimely demise. And then follow through and buy the insurance!
Avoiding the Bag Lady Fear
Adult children in the family can use Mother's Day as a different opportunity to provide peace of mind as a Mother's Day gift -- by getting together to purchase a long term care insurance policy for Mom.
Again, this is a gift you hope she will never use. But just knowing that the cost of care -- now $90,000 a year and rising quickly -- will be covered can bring a smile to Mom's face.

Sure, you and your brothers and sisters may find yourselves sharing an annual premium of $3,000 or more. But how would that compare to chipping in for a nurses aide, or paying for a nursing home, for several years? And which of you will invite Mom into your home to take your son's room after he graduates from college and moves out? Home health care provided by a LTC insurance policy is a far more appealing choice for all concerned.
Yes, in recent years, premiums for these policies have increased as insurers recognize the true potential burden. In 2011, the largest "open" (still paying) claim for a woman was $1.7 million. And the largest closed claim to date by any insurer is a payout of $3 million on a LTC policy.
Wouldn't that drain all Mom's savings -- and yours? Meanwhile, care prices continue to rise dramatically -- and we are all (hopefully) living longer.
State Medicaid programs will cover care costs only for the truly indigent, and typically only in state-funded nursing homes. How is your state budget these days -- and is that the care you want for your mother?
Learn more about the need for long-term care insurance in Phyllis Shelton's new book: Protecting Your Family with Long Term Care Insurance. There you can check out alternatives, such as shorter-term, less expensive policies. Or policies that combine life and long-term care coverage, so if the need for care isn't triggered, the family can recoup its premiums through a death benefit.
Once again, this is an apparently ugly idea for a Mother's Day gift. No one wants to think about Mom's future need for help to do the basic activities of daily living. But if you buy a policy while she can still qualify, you - and Mom -- won't have to think about that dread possibility and its costs. That's the real gift.
Peace of mind is truly priceless. And that's The Savage Truth.