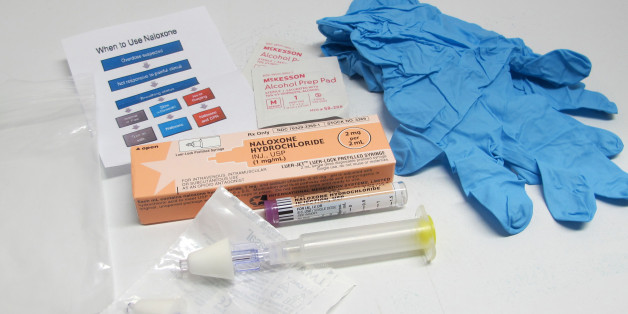 It's been a good summer for naloxone access laws in the South. For the first time in history, all Southern states have some form of overdose prevention law -- whether 911 Good Samaritan laws that enable people to call 911 to report a drug overdose without fear of legal repercussions or naloxone access laws that expand the availability of a life-saving medicine that reverses opioid overdose.
Just a couple of years ago, overdose prevention laws had never been attempted in any red state and conventional wisdom said they never could be. Now not only have advocates in red states proven those stereotypes wrong, but many Southern naloxone programs have become models for the rest of the country.
Since June 2015, eight Southern states have enacted overdose prevention laws. Check out the colors on these maps representing naloxone access laws in the South. It's a wash!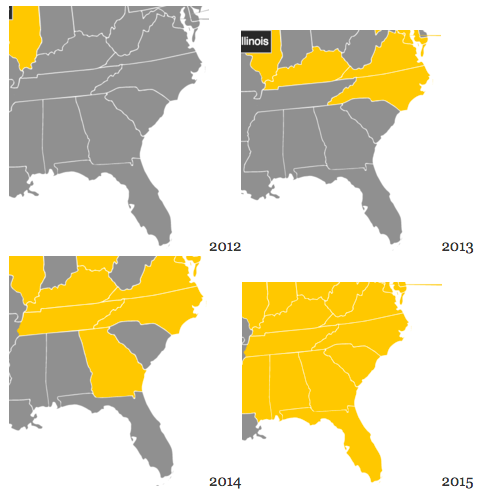 South Carolina -- HB 3083: Effective June 3, 2015
The Palmetto state got the ball rolling this summer when Governor Haley signed HB 3083, the South Carolina Overdose Prevention Act. The act allows physicians to prescribe naloxone to family and friends of someone at risk for an overdose, removes civil and criminal liability for those who prescribe, dispense or administer naloxone, and allows physicians to write standing orders for pharmacists to dispense naloxone to first responders.
Julie Walworth, an advocate who testified at a judiciary committee in favor of the bill, says, "This law is the most progressive thing South Carolina has done in a long time." At the committee meeting Julie told the story of how she lost her husband to an overdose in December 2014. "The faces [of the legislators] were in awe," she says.
Julie testified alongside fellow advocate George Warren, who was critical to getting law enforcement on board with the bill. "[The law] is a step in the right direction," he says.
Deborah Pustorino also advocated for the bill by urging people to call their legislators and getting the word out through social media. "Addiction has been no stranger to me as members of my family have struggled with it and have been in and out of rehab," she says. "My father died at the age of 48 after suffering from addiction to opiates and alcohol for most of his adult life. It is my passion to help reduce the stigma and educate the public about addiction while providing support and guidance to those suffering from it."
These advocates and others hope to push for a 911 Good Samaritan law next year.
Florida -- H 751: Effective June 10, 2015
Florida was the first Southern state ever to pass an overdose prevention law, enacting a 911 Good Samaritan law back in 2012. But it has taken three years to get a naloxone bill through the legislature. It only happened this June thanks to the tireless work of advocates such as Julia Negron and a coalition of mothers who have lost children to drug overdose.
The Emergency Treatment and Recovery Act authorizes certain health care practitioners to prescribe and dispense naloxone, including to third parties such as the family, friend or others in contact with someone at risk for overdose. It also allows pharmacists to dispense, and extends civil and criminal immunity from liability to people who prescribe, dispense or administer naloxone. More info here.
Julia Negron says that Florida has been lucky to have legislators who understand the overdose issue and are willing to run a bill.
"It's a start," she says of H 751. "We haven't had much support from law enforcement on this yet, which is strange because we are experiencing clusters of overdoses all over the place. But people are starting to talk about it."
She says the group plans to come back next year and enhance the bill to include standing orders for community distribution of naloxone and pharmacy access.
Alabama -- HB 208: Effective June 12, 2015
Just two days after Florida enacted a naloxone law, Alabama followed suit with HB 208, which combines a 911 Good Samaritan law (albeit watered down because although it protects from prosecution for some misdemeanor drug and alcohol offenses, possession of opiates is always considered a felony) and naloxone access, including liability protections, third party prescription and standing order distribution.
Ralph Hendrix, an advocate for the law, says, "I am really optimistic because [HB 208] introduced harm reduction into law. It's a step forward in terms of trying to deal with an epidemic and it can save lives. How it will roll out is another matter but for now I am optimistic that we can reduce heroin deaths."
Mississippi -- HB 692: Effective July 1, 2015
Mississippi kicked off July with the enactment of the Emergency Response and Overdose Prevention Act, which authorizes third party prescription, liability protections for those who administer, prescribe or dispense naloxone, and immunity from arrest and prosecution for certain drug offenses to people who seek help for an overdose.
Arkansas -- SB 543: Effective July 21, 2015
Arkansas joined the ranks of states with a 911 Good Samaritan law on July 21st 2015. Called the Joshua Ashley-Pauley Act, after a young man who died of an overdose in 2014, the law provides limited immunity from arrest, charge and prosecution for people who seek help for a drug overdose, including those on probation or parole.
"I think [the law] is good in terms of saving someone's life," says Diedre Levi from Living Affected Corporation in Little Rock, Arkansas. "This would be the prime opportunity to have a conversation about other harm reduction initiatives, especially with the particular legislator who sponsored this bill."
Arkansas also passed a naloxone access law earlier this year.
North Carolina -- SB 154: Effective August 1, 2015
The Tar Heel State is back for a second round. After passing a combo 911 Good Samaritan/Naloxone Access law in 2013 that launched a naloxone distribution program that has saved over 750 lives, advocates successfully passed a second law that expands upon the first. SB 154: Clarifying the 911 Good Samaritan Law expands protections to people on probation or parole who seek help for a drug overdose, clarifies that pharmacists can dispense naloxone under a standing order, protects victims of alcohol poisoning from prosecution if police arrive due to a 911 call, and adds some clarifying language for law enforcement.
"We had a diverse coalition of folks who came together to work on this bill, including the Sheriffs Association, the Chiefs of Police, the Department of Public Safety, the Medical Board and the Pharmacy Board," says Robert Childs, Executive Director of the North Carolina Harm Reduction Coalition, who advocated for the bill. "That just goes to show how important this issue is for so many people and how much more work needs to be done to continue to save lives in our state."

Louisiana -- HB 210: Effective August 1, 2015
Also effective August 1, 2015, Louisiana passed a law, HB210 authorizing the prescribing or dispensing of naloxone to third parties. It also provides civil and criminal liability immunity for prescribers, dispensers and administrators, and permits standing orders.
Texas -- SB 1462: Effective September 1, 2015
The story from Texas is one of mixed emotions. While the state legislature overwhelmingly passed a comprehensive 911 Good Samaritan/naloxone access bill, HB 225, in May 2015, Governor Abbott made a surprise veto.
"[The veto] felt political to me, like something else was going on," says Mark Kinzly, an advocate out of Austin, Texas. "Initially the Sheriffs Association had some opposition to the bill, but once they started getting calls from the law enforcement community in support they seemed to back off."
However, Governor Abbott did sign a separate bill, SB 1462, which contained a naloxone access provision authorizing third party prescription and explicitly permits organizations to dispense under standing orders, and people to dispense naloxone without a prescription.
"It's a decent law because it opens the door for other legislation, but it's not perfect," says Toby Clark-Pickens of Austin Harm Reduction. "Here in Texas we have to start somewhere."