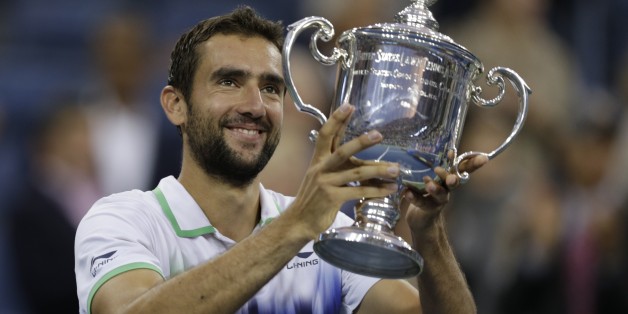 The world of professional men's tennis... that once amateur sport which was transformed in the '70s and '80s by a couple of fiery left-handers named McEnroe and Connors, seems to be in a bit of a flux currently. Of course, it is the offseason right now. But the thing I am thinking is that no one, apart from the ardent fans such as myself, seems to be paying any attention to it. Considering this then, I thought that I would in this article give a bit of a recap on the year that has been and what developments may be coming up next year.
This year in the men's game, there have been four different Slam winners, an occurrence we have not seen a lot of in recent years. The only other year since 2003 in fact that we have seen this occurrence was in 2012, when Djokovic, Nadal, Federer and Murray took out the titles. This year we only saw two of those names emerge as winners. I don't think many people would have picked at the beginning of the year that we would have seen Stan Wawrinka and Marin Cilic each winning Slams.
The emergence of this new group of players outside of the Big Four has been one of the biggest stories in the men's game this year. There were some members of the tennis community that said Wawrinka's win at the Australian Open spelled the end for the Big Four. But I think that Cilic's win at the U.S. Open was a much more telling sign of the end of the Big Four. The reason it was, was two-fold. On one side was that the final didn't feature one of the Big Four, and the other reason was that the beaten semi-finalists were Federer and Djokovic. There was actually a third reason, which was the way they were beaten. Everyone surely knew that Cilic was one of those players with immense talent and ability to beat anyone on his day. With Kei Nishikori however, I think that the fact he beat Djokovic would have been a surprise to many.
Outside of the Slams, the Masters tournaments were dominated by Federer and Djokovic. It was to my personal disappointment though, that Wawrinka beat Federer in Monte Carlo. Wawrinka's win in Monte Carlo however, would have shown many fans, and probably more so himself that his win in Australia was no fluke, and that he could indeed foot it with the big boys.
One of the more pleasing aspects of the year for me, came towards the end, with Andy Murray's return to prominence. After having not won anything since his historic title at Wimbledon 2013, he won titles in Shenzen (China), Vienna and Valencia. This run was incredible, and I believe was capped off with his fantastic match against Federer at the Year-end Championships (which he lost). This is an oddity since he obviously lost it. But sometimes you can have great moments in defeat, and in this match I think that Murray had one of those. I think that this performance will bode well for Murray next year.
Federer's performances in 2014 will not be as significant for the year ahead as what Murray's late season resurgence will be. Federer's year was no doubt vastly superior from 2013. But we shouldn't get swayed into thinking that the Federer of 2005 and 2006 will be back in 2015. That would be ignorant when you consider that he is still a 33-year-old man, which is practically a Grandpa in tennis years. The new players that emerged this year at the absolute top of the game, like Nishikori and Cilic, will benefit from the momentum they gathered. Those two players in particular are both in their mid-20s and will have years of great tennis ahead.
It breaks my heart to say this, but I think that considering the aggressive way he plays, Rafael Nadal may never again ascend to the top ranks of the sport. He perhaps could still win another one or two titles at the French Open, but I think he will only do so if he cuts hard courts from his schedule completely. Often he has complained that hard courts are too hard on player's knees, and shouldn't be the most-played surface in the sport. I actually agree with him on this point, but I don't think that the tennis administration will be making a radical shift in the surfaces any time soon.
So to wrap up, next year I think we will see the continued emergence of player's from outside The Big Four. We will see Murray win another Slam, perhaps again at Wimbledon. Whether or not Federer will win a Slam will depend a lot on favourable factors forming outside of his control, as they almost did at Wimbledon this year. I am not ruling it out, but I am just saying that it will be unlikely. Djokovic is no doubt a great player and still on top at number 1, but I am going to make a big call here, which is that he won't win a Slam next year. He will get toppled by the likes of Wawrinka and Cilic (again). In 2016 he will go back to his Slam-winning ways, but not next year. As for any McEnroe and Connors personalities that could emerge next year, I think that Bernard Tomic will make a run at one of the Slams, and will provide a good dose of controversy in that run to add to what will be a great and unpredictable year in the men's tennis calendar.