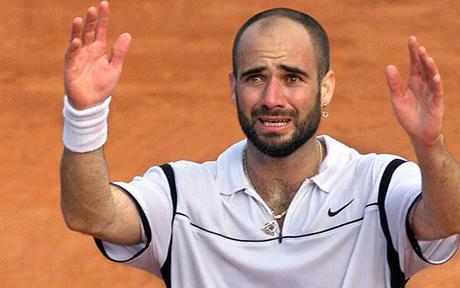 Federer's French Open win in 2009, Andy Murray's Wimbledon win in 2013, Rod Laver's Grand Slam in 1969, or do we go back to the Suzanne Lenglen vs. Helen Wills match in 1926? There are so many great moments in tennis history, surely there is no way to single out one moment as the greatest. Or is there? I for one believe that there is. I believe that there is a way to single out one moment as being the greatest in tennis history. The most significant moment I think is one that should resonate beyond the bounds of our greatest game. It should be one that we can all find commonalities in, it should be one that inspires us to become more, and it should be one that makes us all realize that we should never give up on our dreams. So without further ado, I will start discussing what I believe is the greatest moment in tennis history. Although before stating the greatest moment, I will begin by discussing some honorable mentions.
Rod Laver's Grand Slam win in 1969 is arguably still the greatest achievement in tennis history, because after all, noone else has done it the open-era. It was done in an era when tennis was still a gentlemanly and genteel sport though, not watched by the masses that it is today. It was also an achievement which is relegated to the tennis scene. It doesn't have a lot of ramifications in other fields. Laver had already won the Slam anyway (in 1962). Andy Murray's Wimbledon win in 2013, being the first British man in 77 years to win, was also an acheivement that doesn't have a lot of ramifications beyond the tennis world. In the early period of tennis, the greatest moment I believe was the match between Suzanne Lenglen and Helen Wills in 1926. This was a match between the greatest American player (at the time) and the greatest player from across the Atlantic. It was won by Suzanne Lenglen, after two hard fought sets, but unfortunately it was the only match-up between the two players. Because there was no jet-travel in that day, meet-ups between players' from opposite sides of the world didn't happen all that often. The public enthusiasm that there was prior to this match-up was therefore immense. It was arguably the first big event in tennis history. Again though, and especially at the time, this didn't have any real ramifications beyond the world of tennis.
Federer's win at the French Open in 2009 surely had ramifications beyond the world of tennis. It definitely made us sit up and realize that through persistence and continual trying, we can conquer our demons. After all, the French Open crown had been Roger Federer's demon for years. Time and time again he had come to the precipice of his crowning moment, only to the battered down by a certain Spanish Gladiator. But this time, Federer came to the final round without having to meet his Spanish foe. Instead, he saw Robin Soderling across the net, a player who had famously knocked Rafael Nadal out in the fourth round. Still though, the tournament path for Federer had not been all easy. He had been taken to five sets by Juan Martin Del Potro in the semi-finals, and had come back from two sets and a break-down against Tommy Haas in the fourth round. The reason why I am ruling this moment out from being the greatest; is because how many of us can aspire to winning a career Grand Slam? I mean in the open-era among hard-core professionals, only four players have done it. The achievement is practically inhuman, even among professionals. For that reason it is not at the top of my list, but definitely it deserves an honorable mention.
Andre Agassi's win at the French Open in 1999 is the other moment that I believe deserves an honorable mention. Not because it booked Andre Agassi in the career Grand Slam club though. The reason that this moment comes out as my number two greatest moment in tennis history, is because it made us all realize that we can turn ourselves round. As individual's we can decide, even if we are scraping the bottom of the barrel, to pick ourselves up and start over. After all, Agassi admitted in his autobiography to using crystal meth at the bottom of his barrel-scrapping journey. But just after that time, he relegated himself to the Challenger tour (the tour for player's below the ATP), and he made the choice to go clean and start over. Slowly he build his confidence, and his game back up, finishing 1998 at number 6. As he trampled through the draw in 1999 he must have thought that claiming the crown was his destiny. Yet, when he was down by two sets in the final, the destiny must have seemed to him to have crumbled. But, he picked himself up in that moment, won the next three sets and went on to claim the crown. In my mind, this moment (the three final sets of the final) comes very close to being the greatest moment in tennis history, but I am ruling it out for a couple of reasons. The first is because the fact that he lied to the ATP about doping, is dishonest, and is not something we should aspire too. The second is because, how many of us want to have to resort to going to the bottom of the barrel (and using cystal meth) before picking ourselves up off the ground? It, again, is not something we should aspire to do.
Finally, we have come to my final statement. This moment in tennis history, and this player in particular, is someone that we can all legitimately aspire to be like. This player didn't even get to number one in the world, reaching his career high point of number two in 1994. This player had been stopped by Andre Agassi in the 1992 finals, and by the great Pete Sampras in 1994 and 1998. At the start of the 2001 tournament he was ranked at number 125 in the world. He had to rely on a wildcard to get into Wimbledon that year. Back in 1990s he was rightly recognized as one of the greatest grass court players playing the tennis trade. Indeed in 1992, he was the favorite against Agassi in the final. His game was headlined by a monstrous serve and for many years, in fact he held the record for the fastest ever. He was relatively unnoticed by the public as he trampled unexpectedly through the draw, at least until he reached the semifinals. Across the net that day, stood a player who all eye's were on. Tim Henman, who twice previously had been to the semifinals only to fall. British fans were hoping that he could be the man to break Britain's 70-year (at the time) failure to have a player win their home Slam. Three times that match was interrupted by rain, altering the flow of the match each time. In the end Goran Ivanisevic prevailed in five sets. The final again went to five sets, with Ivanisevic beating Australian Patrick Rafter by 9-7 in the fifth.
I choose the moment when Rafter hit the ball into the net on Ivanisevic's fourth match-point, as being the greatest moment in tennis history; because it showed us all that we should never give up on our dreams. Goran's win displayed to us, that despite often the frustration of repeated failure, which we all face, we should keep persevering. Because one day, there may come a moment when we achieve our lives dreams. But as Ivanisevic showed, this will only happen through continued perseverance and grit. Obviously many players have won more Grand Slams (and Wimbledons) than Goran, but that actually makes his achievement seem human (unlike Federer's 2009 French). Winning Wimbledon was Goran's life goal, and he was in fact quoted as saying that he would have committed had he not won it. Within the context of tennis history, a player winning one Wimbledon title (and one Slam) is fairly mundane. But as a life lesson for the masses, and as a message for the common individual, Goran's victory at SW19 in 2001 is unbeatable.