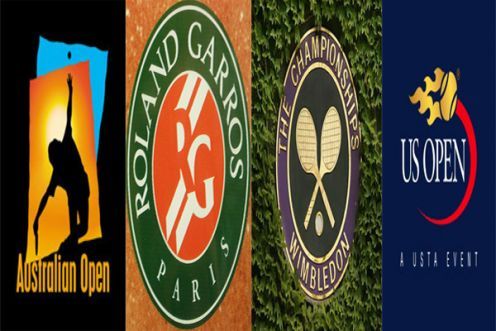 Funnily enough, this is a ranking list which I have never read about, and so because of that reason, it is exactly what I will be analyzing in this article. It is after all a very important issue, and one that should be analyzed. There are so many particular wins to choose from; like Jimmy Connors at the US Open in 1976, Ivan Lendl's French Open win in 84', Agassi's win at Wimbledon 92' or , French 99, Goran Ivanisevic's Wimbledon win in 2001, Sampras's final Wimbledon Championship, or Federer's eventual French Open win in 2009.
The first thing that is noticable about the list I have made above is that it features various Wimbledon wins most prominantly. The reason for this is that Wimbledon is (many would assume) the premier Grand Slam. It is the one which most players cherish. I have not listed any Australian Open wins above, and the reason for this is principally because it is often seen as the lesser Slam, at least it was for many years up till around the mid 90s.
The criteria for entry into my Greatest Ever Slam wins goes as such; it needed to represent an exceptionally big moment in the said players career (even more than usual), it also needed to generate huge interest in the tennis world, and it needed to represent a turning point in the wider tennis landscape. All of the wins I have listed did these things to one extreme or another. But for me there is one win which ticks the boxes more than the others.
I will firstly though discuss the various wins, starting with Jimmy Connor's win at the US Open. This was a big win for of a number of reasons. He had of course had that stellar year in 1974, when he had won 99 matches and three Slams. And although he had remained the year-end No. 1 at the completion of 1975, he had not won any Slams since Forest Hills (US) in 1974. So the 1976 Open was his chance for redemption and his way to prove to the tennis world that he had not gone away. And then there was the rise of Bjorn Borg who stood in his way in the final.
With Borg just coming off his first Wimbledon win, Connors had the tennis world on his shoulders, as he had the task of stopping Borg from controlling the entire tennis world. In the final he did this in four sets, after prevailing in a massive tiebreak in the third, that went to 11-9. Although Borg would go on to win eight Slams beyond this match, he never won the US Open. Connors win in the 1976 final was a big reason why, and another big reason why Borg retired in 1982.
Ivan Lendl's win at the French Open in 1984 was of course his first Slam, after losing his first four finals. It was this win which changed the perception of Lendl from a perennial choker to a perennial champion. He stopped John Mcenroe in the final, and even today Mcenroe says that he still has nightmares about that match. He stopped Mcenroe's 42 match win year-start win streak. Lendl's win in the final was definitely a massive contributor to Mcenroe's decline in 1985, and short-lived retirement in 1986.
The two biggest Slam wins in the 90s were Agassi's (first major) win at Wimbledon 1992, and his win at the French in 1999. They were in fact both important for similar reasons. Prior to his win at Wimbledon, Agassi was developing a bit of a (pre-1984) Lendl reputation. As he had lost three Slam titles, and had been earmarked since he was a small child as a future Slam winner. The fact was that for a long time he was not delivering on that promise. The bigger reason I believe this win was important though was because it is my belief that it was Agassi luckiest Slam, because the fact was that as a baseliner, Agassi was not a great Grass-Court player.
He was lucky in the final to beat a great Grass-Court player in Goran Ivanesevic. Agassi's win at the French in 1999 was his biggest win though. This is because at that time he was 29, and everyone thought he was past his prime. By coming back from two-sets down in the final and resurrecting his career, Agassi not only brought vast interest back into tennis from the outside public, but he also reinvigorated the idea that a Career-Slam was possible. An idea which had practically been dicarded by the player's and public afters Laver Slam of 69', and aforementioned US Open failures by Bjorn Borg.
In the 2000s we have had two highly notable Slam wins. The first was Sampras's win at Wimbledon in 2000. This win enabled him to pass Roy Emersons (which he held jointly at the time) all-time 12 Grand Slam wins. This was the culmination win of Sampras's career, as he had always put his focus into winning the Slam's. He had really given up on the idea of winning the French Open, and so this (numerical Slam record) was the record that he principally was aiming for. His career took a bit of a dive post this win, which sort of represents what enormous effort he put into getting his thirteenth Slam. Another big win of the decade was Ivanisevic's win at Wimbledon in 2001.
As a tall serve-and-volleyer Ivanesevic was perfectly suited to the grass courts of Wimbledon. It was a championship he seemed destined to win. But it continued to ellude him, losing in three finals in the 90s. In 2001 he was ranked at no. 125, and was really just not considered to be a title contender. But player after player he demolished, before coming back to beat Tim Henman in the semi-final, and eventually beating Pat Rafter in one of the most exciting Slam finals of mordern times.
The final other big Slam win was Federer;s win at the French in 2009. Federer in 2009 (as at the beginning of this year), especially after leaving the Australian Open in tears, was seen as past his best. His days of winning multiple Slams in a year seemed have been and gone. And at two sets and break-point down at the end of the third set against Tommy Haas in the fourth-round, a new era looked to be dawning... until it wasn't. Federer won that point with a sublime winner and went on to win that match. He beat Juan Martin Del Potro in the semi-final in five sets, and straight setted Robin Soderling in the final. It was the championship which capped Federer's career.
Now, for what I believe to be the greatest championship win of them all. It was Agassi's win at the French Open in 1999. In a similiar way to Federer's win in 2009, this championship win lifted tennis up hugely in public interest. Agassi's win helped lift tennis out of doldrums of the Marcelo Rios/Pete Sampras era of 1998. Agassi was in many ways (although he was a much different person) the Roger Federer of his era, because he did generate enormous interest at the time he played. When he went away in 1997 I would suspect there was a bit of sadness among the tennis public. It would of been to the publics' enormous glee I am sure that he came back in 1999, and went on towards more successes in the 2000s.
As mentioned previously, his win at the French also had a big influence on the players, due to a couple of reasons. The first is that he re-summoned the idea of the 'Career Slam' as a legitimate goal. The other reason is because he showed the other players that once you hit the age of 29 or 30, you don't have to drift into the shadows. At 30 and beyond you can still compete, and you can still win. The influence of his resurgence was shown by Ivanesevic's win (at 29) in 2001, Sampras's win at the US (at 31) in 2002, and even today's continued stellar performances by Federer at the grand old age of 33.