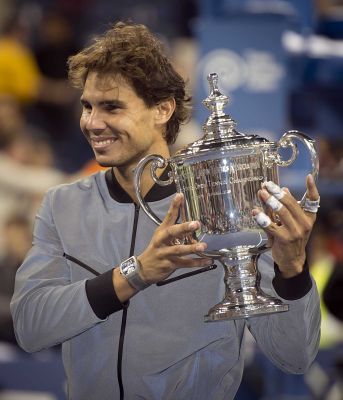 The tennis world at this time seems to be quite boring. Some articles are still coming out concerning Novak Djokovic's epic win over Federer in the Wimbledon final, which is quite surprising seeing that it was over 3 weeks ago, an article that recently came out discussed how Boris Becker called Federer the Greatest of All Time (yawn). Another article was out recently concerning how Boris does not call himself a friend of Novak's. But rather than chattering about supposed coach/player relationships or the monotonous GOAT debate, what I will discuss today is the real business that should concern the tennis world right now, which is the upcoming American Hard Court swing.
Novak Djokovic has effectively lined himself up as the favourite to have the most successful US Open Series. Nadal is not going away any time soon, and will arguably be more of a threat on hard courts than he was through the short grass season. In terms of points to defend, Nadal has by far the most. There is a lot of doubt though, that he will be able to repeat his effort this year with what he did last year and win the US Open series (Cinncinati, Toronoto and US Open). I would not put him as the second favourite this year, just because he has never traditionally performed well in the second half of the season. Last year was an odd occurrence in that respect.
The culprit for the second favouritism position this year could rest with Andy Murray, who has no points to defend and is coming under the radar. His performance at Wimbledon was encouraging after his long down period since his Wimbledon win last year. His strongest surface is perhaps hard courts, which is demonstrated by his 2012 US Open title and 3 Aussie Open final showings. Stan Wawrinka could perform well this summer, but since the Aussie Open has not looked like a Grand Slam winner. Jo Tsonga is another contender, but I think he will only do well enough through a week (or 2) to win one of the American summer tournaments, if any. I have always felt that Jo is the sort of player who is able to play lights out tennis for a period. And he could do this at any time.
The real second favourite though, should be Roger Federer, who has traditionally performed well on the American hard courts and is in resurgence this year. And the fact he lost the Wimbledon final could be good, because unlike in 2012, there will be a feeling this year that he still has something to prove. Last year he was having back problems, and so I think that it is not fair to compare his 2013 with 2014. The level he is playing at is similar to 2012, and the Wimbledon final in particular was reminiscent of Wimbledon 2009.
All things considered, Novak Djokovic should have the best period in the next couple of months. If all players are playing at their best on hard courts, I believe Novak is king. Unlike on clay, where I think Nadal still has the edge. Novak has only the one US Open title and will be hungry to grab another. However, the danger of the young up-and-comers will be more persistent this summer than any other time in recent memory. The showing of Nick Krygios (and Milos Raonic) at Wimbledon is a direct example of this.
Rafael Nadal will be fighting hard to defend his titles. The field lining up against him is led by Novak, but is flanked by some notable old names and exciting new comers. It will be interesting to see how it pans out.