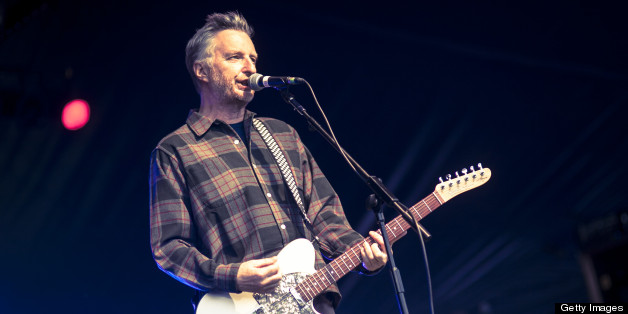 Billy Bragg, post-punk troubadour of protest songs and paeans to the working class, took to the stage at Town Hall last week and, almost instantly, danced on Margaret Thatcher's grave. An audience filled largely with Americans who never voted for Ronald Reagan didn't seem offended at all.
So fitting that Bragg is on tour simultaneous with all the many testimonials to Thatcher, the British prime minister who died recently long after serving three terms in office and serving up fiscal austerity and Cold War British bravado like no other prime minister since. She reclaimed the Falkland Islands and helped vanquish the Evil Empire, but the British Empire didn't fare so well under her leadership -- at least not the underclass. The disparity in wealth widened as Great Britain privatized industries and fell in love with free markets and the helter-skelter of deregulated economies. Sound familiar anyone?
Greetings to the New Brunette.
For this reason, Bragg and Thatcher, who probably never met, were co-dependent on one another: one angry bloke who championed the rights of the common man, and one tough Tory who had little patience for malingering strikers and public charges of the welfare state.
Thatcher is now dead, but Bragg has aged gracefully over the decades with a short-cropped white beard and facial lines that glistened with each jangling jolt from his electric guitar. His skills as anecdotal storyteller have matured, as well, and in addition to the repeated jabs against the Iron Lady, Bragg didn't hesitate to sound off on the lack of universal health coverage in the United States, the renewed rise of fascism in Europe, and the deep social divisions within his own country.
And, of course there was plenty of country-inflected music (the lap steel guitar always at the ready), and the rediscovered songs of Woody Guthrie that Bragg first recorded with Wilco and that has made him such an enigmatic, eclectic singer-songwriter.
The Saturday Boy brought his best anthem-laced repertoire on Saturday night. All that musicality emanating from a solo electric guitar always seems to enchant. And those full-throated songs for sad sack lovers found a willing New York audience. Bragg has had one of those rock-'n'-roll careers that, on paper at least, never made sense.
Good thing he doesn't read sheet music.
Bragg's soaring ballads of the angry, disaffected left improbably arose out of the ashes of The Clash and ended up having more in common with early Bob Dylan than with the nihilism of The Smiths, a band that also spoke to the rage of the unemployed and the brutality of alienated youth.
While the Iron Lady was laid to rest, Billy Bragg toured the world, still shaking his fist, oddly beholden to the excesses of Thatcherism and the many deficits of modern life.