Billy Idol has no regrets about medical marijuana.
Summer is here, it's that special time of the year when your favorite musicians come out to give their fans the live experience. I had the opportunity to make the first show of the season with the one and only Billy Idol. I also had a little one on one time too. This was no ordinary concert however; on this night he is performing to help raise money and awareness for safe access to medical cannabis, specifically for proposition D in Los Angeles.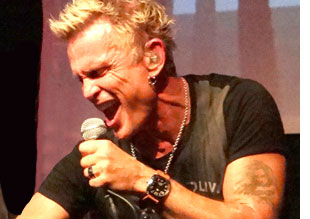 It was arranged for me to meet with Billy backstage before the show for a quick Q&A. Finally! Someone, other than the usual suspects, (Willie Nelson, Snoop Lion) that is open and willing to talk about his experience with cannabis. Many artists hide in the cannabis closet; artists that we all know partake, but won't speak out about it or in a positive manner that helps the cause. The tabloid TV shows love to humiliate or frown upon celebrities that use cannabis, but we see them as heroes. My goal for the evening; to really dig in on the cannabis questions and to get a photo with me and Billy F'n Idol! (Achieved!) After all, it's not every day that you get to meet an Idol like this!
At 57, Billy is in great shape and has aged well; considering that he's had his share of life well lived during the decade of decadence ('80s and early '90s.) I had read somewhere that he first tried cannabis at the age of 12, so I asked, is it true? "Yes, yes, that would be correct" he replied with that famous smirk. Are you a medical cannabis patient? I asked, "yes, absolutely."

I wanted to loosen him up and throw him off a little, so I ask; is cannabis is the secret to your youthful energy and general hotness? He laughs and blushes, "I do like to think that could be a factor, yes."
Billy is known for being generous with his fans and surprising them at times. I wanted to know what inspired him to get involved with the medical cannabis movement. "Well, I know a lot of people that medical cannabis has helped. It helped me a lot at one point in the mid 2000s, during a time when I had to undergo a chemical therapy for a year, the only thing that helped me get through it was having access and use of medical cannabis."
"I also knew this older lady, that didn't want to get out of bed and had pretty much given up on life, so her family gave her some medical pot cookies. With inside of a week, she was up; eating, cooking and gardening, so she was happy. It helps people with their quality of life, especially when they're not feeling good."
Can singers smoke cannabis? According to his manager, Billy is very careful with his voice; he prefers to vaporize as well as ingesting edibles. He prefers sativa strains to help with pain and the occasional creative inspiration, indica for strong pain relief and good sleep.
Some artists' careers have benefited by being open about their cannabis use and others the opposite. I asked his thoughts on the subject. "I haven't really thought much about that, but I'm not worried about it. What I mainly care about is that I'm helping a cause that I believe in, and this is my way of doing it."
Billy is on the move this summer on tour, which just kicked off late May. He's also performing at one of the largest music festivals in the country, Bonnaroo music festival in Manchester, Tennessee. This enormous four day festival introduces the audience to multiple stages, tents, and types of artists. "I won't have the chance to see other artists perform much that day, since we're flying in and performing that day. It's exciting to know that I'll be performing in between "weird Al" Yankovic and R. Kelly, each on their own stage at the same time, so it will be a shmorgishborg of talent. It's a party time and it should be a good show."
Billy and his band have been working on new songs, which we can only hope will lead to a new album in the near future. If you have the opportunity, don't hesitate and see Billy Idol on tour this summer, you won't regret it. He is amazing to see live and can still rebel yell, like only he can. Support those that support you: follow Billy on twitter, @BillyIdol or visit BillyIdol.net for tour dates, videos and more.
Special to The 420 Times by WildFlower