**By Insiyah Seeed**
WEST TAMPA, Fla., 12:35 a.m. -- Part of Obama's grassroots strategy in Florida is to get minorities -- especially the Latino community -- to get out and vote and the capaign opened separate office here, known as Casa Obama, in West Tampa to support the effort.
As we walked in, the volunteers, had sent out canvassers to go door to door to make sure people were voting. Some volunteers were taking voters by the hand to an early voting location at the West Tampa Library.
The Latino community is fighting to influence policy on key issues, including immigration, education and healthcare. Cubans have been historically Republican, though many are switching paths, according to many of the volunteers. Other members of the Latino community are said to be very pro-Obama, but they just need to get out and vote, said Carlos, one of the managers.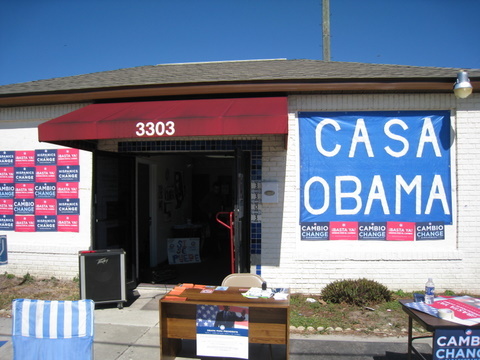 Casa Obama in West Tampa.
Casa Obama has been home to many of its volunteers for the past week or month, some who come from abroad and are not even U.S. citizens. Yesterday a gentleman arrived from London to help with the final ten-day effort, another one from the Netherlands has been here for a month, and a young woman, Juanita Saenz left her job and family in Colombia to volunteer for Obama for three weeks. It's her first time in Tampa.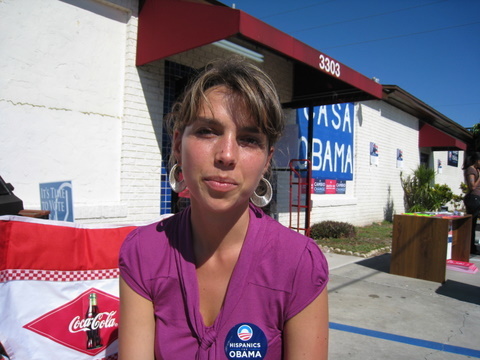 Juanita Saenz from Colombia is a tireless volunteer.
"It only happens once in four years. I took a chance and decided to come," she said. "I think this is the most important election that affects us all."
Though the campaign offers to find its volunteers only housing, other expenses such as air fare, money to live on, and all other expenses is on their own dime. Casa Obama, however has helped out with a few meals when possible but not every day. Today there are grilled hot dogs, and maybe even Indian food later today, says Mridu Sekhar, a volunteer from Chicago.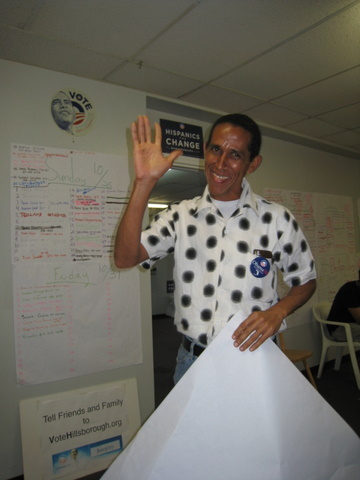 One office volunteer draws second-looks.
But the volunteers don't care. They believe they're in a cause for the greater good, and this is their passion.
-