Arthur Bovino, the Executive Editor for The Daily Meal, announces the names of the '101 Best Pizzas in America' for 2015.
This is our fourth annual attempt to seek out America's best pizza, and our third 101 (our first list covered a mere 35 -- what were we thinking?). You know the expression, "It's a hard job, but somebody has to do it"? Well, we love pizza, but we make this list as hard on ourselves as we can. It's one of The Daily Meal's most compulsively tracked rankings. Why? Because Americans love pizza. It's a truly democratic food, an inexorable part of Americna life, something everyone knows (or thinks they know). People take pizza very seriously. So we do too.
Click Here to see 101 Best Pizzas in America
Have you had a stranger tweet that he wants to take you on a pizza tour of Queens, drive you around in a truck for a classic Flushing slice, then pull out a med kit filled with fresh basil, oregano, and Parmigiano-Reggiano to "Dom DeMarco" it up? Have you ever collected a year's worth of pizza suggestions drenched in love and vitriol from hundreds and hundreds of readers? Tried to locate and make sense of every single national and local media list of America's best pizzas to ensure you haven't missed a pie? Arranged and rearranged travel schedules in an attempt to personally sample the purported best pizzas in as many American cities as possible? We've ridden in that truck. We've done all that, and more, since compiling last year's 101.
No list is perfect. And we have to remind ourselves at least once a year that other people are allowed to write about pizza, even when they're wrong (especially when they're wrong) -- even when, as TripAdvisor did this year (two years after naming San Diego America's Top 10 Cities For Pizza... San Diego?), they name Brooklyn's Juliana's (No. 41 on our list last year) the best pizza in America (tasty for sure, but really?) and round out the top three with places in St. Augustine, Florida, and Anchorage, Alaska. No such thing as bad press, right? (OK, we'll say it: Some people really should have their pizza-writing licenses revoked.)
Click Here to See The 101 Best Pizzas in America 2015 Slideshow
So unlike many arbitrary lists, rankings diversified for the purpose of geographical engagement, and "expert" listicles chosen by a handful of New York's food writers, we approached our rankings methodically and comprehensively.
We started big, ordering extra-large, extra-cheese, considering 800 spots in every corner of the country -- about 100 more than last year. How did we narrow this number down to just 101? To begin with, we eat at as many pizzerias as we can ourselves. This editor has personally visited nearly half the places that made the list this year. The Daily Meal's in-house pizza experts -- including eight-time James Beard award winner and editorial director for The Daily Meal Colman Andrews, Eat/Dine editor Dan Myers, and Restaurant editor Kate Kolenda -- along with our city editors, Culinary Council experts, and Culinary Content Network bloggers, pitched in.
But we also called upon a blue-chip, geographically diverse list of pizza panelists -- chefs, restaurant critics, bloggers, writers, and pizza authorities -- asking them to share their considerable pizza experience with us, and to vote only for places where they've actually eaten. (If you're in food media or are a recognized pizza expert and you disagree with this list and didn't vote for it, send us an email with your pizza cred and we'll consider you for our panel in 2016.)
We're going out on a thin-crust slice to say there's never before been such a comprehensive list of pizzas voted on by such a large and qualified group of experts. Certainly, this year's 109-member panel is The Daily Meal's longest, most impressive, most star-studded pizza-expert roster ever, including 31 more pizza mavens from across America than we had last year.
So who says the 101 pizzas on this list are the country's best? How about "The Pizza King" Dan Janssen, for starters, the owner of an artisanal Maryland woodshop who last year revealed that he has survived on a diet of pizza alone for the last 25 years? Other panelists included television personality, chef, food writer, and lover of gas-station pizza Andrew Zimmern; restaurant critic and wine columnist for the Los Angeles Times S. Irene Virbila; 2012 Classic Italian first-prize winner at the World Pizza Championships in Naples (Italy) Elizabeth Falkner; New York City pizza tour impresario, Viva La Pizza! The Art of the Pizza Box author, and Guinness World Record holder for his pizza box collection Scott Wiener of Scott's Pizza Tours; New York City's modernist cuisine pioneer chef Wylie Dufresne of Alder (chef of The Daily Meal's 2014 Restaurant of the Year); New Haven culinary walking tour expert Colin M. Caplan; Broward Palm Beach New Times food critic Nicole Danna; James Beard Award-nominated author of How Italian Food Conquered the World, How Italian Food Conquered the World author John Mariani of Mariani's Virtual Gourmet; lead senior content strategist and managing editor at MSN Ilana Bergen; USA Today's "Great American Bites" regional cuisine columnist Larry Olmsted; and other experts from HuffPost, The Detroit News, Food Network, Thrillist, the Miami Herald, The Virginian-Pilot, and numerous pizza blogs across America. (Read on for this year's full panelist list.)
We also have a special expert this year: America's foremost authority on pizzaology (says it right there on the July 8th comic strip), "Blondie's" Dagwood Bumstead. That's right, Dagwood weighed in. Can't top that.
WEDNESDAY, JULY 08, 2015
How about his take on what makes for the perfect pie? "An outer crust that is crispy but still bread-like and bubbly, not too much sauce but definitely homemade," advised Mr. Bumstead. "An emphasis on cheese, (lots of cheese!). It must have cheese dripping off the sides of the slice, so it makes a stretchy mess when you pull your slice away from the whole pizza. Last but not least, only the freshest ingredients to top it with! And how about some jalapeños to spice it up a little!" You knew there was a reason you always liked that guy, right?
This year, Dagwood and his fellow panelists finalized a list that spanned 24 states. The top 10 states for pizza (nine, technically, plus the District of Columbia -- "Pizza Without Representation") included New York (27); California (11); Connecticut (nine); Pennsylvania (seven); Illinois (six); Massachusetts (six); Washington, D.C. (four); New Jersey (four); Oregon (three); and Texas (three).
For the third year, the birthplace of American pizza, New York, featured the most pizzas. But for the first time, the Empire State's share of the pie diminished, with only 27 spots (it scored 30 spots in 2013 and 35 last year). And within the state, the percentage of places from New York City's five boroughs was also less than last year (85 percent in 2015 versus almost 90 percent in 2014). In 2014, Brooklyn reigned with 13 spots, leading Manhattan (11), Queens (four), Staten Island (three), and the Bronx (one). Those 31 spots fell to 23, with Brooklyn and Manhattan tied at nine, Staten Island and Queens ranking two spots, and the Bronx's tried-and-true Louie and Ernie's representing it once more
After New York City, Chicago, Los Angeles, and Philadelphia tied for second, featuring six spots each, with Boston and New Haven, Connecticut, not far behind with five apiece. Portland (Oregon), San Francisco, and Washington, D.C., also tied with four spots each, and then seven cities tied with two pizzas per: Atlanta, Austin, Vegas, Milwaukee, New Orleans, Providence, and yes, Robbinsville, New Jersey (population 3,041).
Among out honorees, you'll find old standbys like Joe's in New York's West Village, Una Pizza Napoletana in San Francisco, and Pizzeria Bianco in Phoenix, and a few surprise climbs up through the ranks: Buddy's in Detroit and Chicago's Coalfire made it into the top 10. But you'll have to check out the full list below, then read the gallery captions to learn why each place landed where it did. We will say that the top two pies were separated by just one vote (this is a big year for both of the pizzerias that produced them: one 90 this year and the other is about to celebrate its 50th anniversary).
One last thing: We know who we and our many panelists think serves the best pizzas in America, but we'd also like to know who you think does. That's right, we'd like you to vote too. Check out the list, then click into our survey (learn more about the popular vote) and weigh in with the places we missed or that you think should have been ranked higher (or lower). We'll publish the results in a few weeks.
#101 Ghigiarelli's, Old Forge, Pa. (Red: Tomato, brick cheese)
The Twilight Zone of pizza.
You have to credit a town that calls itself the "Pizza Capital of the World," especially if no one would have heard of it otherwise. Not Naples, Italy. Not New York City or Brooklyn, not Chicago, San Francisco, Los Angeles, or New Haven. Nope, Old Forge, Pennsylvania, claims this distinction, and on placards for the town, no less.
Some six places -- Anthony's, Arcaro & Genell, Brutico's, Revello's, Rinaldi's, and Ghigiarelli's -- make up the pizzerias that constitute this gutsy claim. This Twilight Zone of pizza, this pizza capital of its own fashioning, might as well be a different country, too -- they even have their own pizza language. Order by color (red or white) or by the cut or by the tray.
The mysterious cheese combination that covers the pizza in Old Forge is an enigmatic brick that coats your teeth and tongue in a curiously comforting yet puzzling way. The white pizza is calzone-like in that it has crust on top and bottom, but the way to go is the red pizza.
Click Here to See The 101 Best Pizzas in America 2015 Slideshow
#100 800 Degrees Neapolitan Pizzeria, Los Angeles, Calif. (Margherita)
California is one thing, but how will New Yorkers take to 60-second cooked Neapoltian pies?
New Yorkers are still waiting for the planned five New York City locations of the West Coast-based Chipotle of pizza that co-creator and former Michael Mina corporate chef Anthony Carron and Umami Burger founder Adam Fleischman announced in late 2013, promising they would start "opening within the next year."
Anyone doubtful of the possibility of quality, personalized, 60-second-cooked Neapolitan pies cooked by 800 Degrees Neapolitan Pizzeria and showing up next to the Starbucks in every neighborhood can nurture their chain-pizza skepticism, but they can't ignore the seven locations in California, two in Nevada, one in Illinois, and international offshoots in Dubai and Japan (where seven more are slated to open over the next decade).
#99 Piece, Chicago, Ill. (Pepperoni and banana peppers)
In a city known for deep-dish, Chicagoans long ago learned how to give Wicker Park brewery and pizzeria Piece a chance ("Pizza is good for you!"). Owner Bill Jacobs had already started, sold, and made Piece with moving beyond the successful Windy City bagel family business they sold in 1999 (you'd say "rest in Piece," but after his pizza success with Piece, he's actually now back into bagels too!) three years before this New Haven homeboy ventured into pizza in 2002.
The haters protested, but they were soon at Piece eating this New Haven-style joint's thin-crust red, plain (no mozz), and white (plain crust brushed with olive oil, diced garlic, and mozz) pizzas, all of which get at least a small Piece of Parmigiano-Reggiano, oregano, and olive. Ingredients. You can have a classic New Haven pie with fresh tomatoes or clams (of course), and, in some kind of pan-New Haven Piece accord, there's also a nod to Bru Room at Bar's signature mashed potato pizza (No. 61). Is it puzzling to see chips and salsa and warm spinach and tomato dip on the menu? Sure, but having brought quality New Haven-style pies to Chicago and bought out his lease so he can do so for years to come, Jacobs has brought Piece of mind to Windy City denizens, and delivery to boot.
Piece out.
Click Here to see The 101 Best Pizzas in America
#98 Artichoke Basille, New York, N.Y. (Artichoke Slice: Artichoke hearts, spinach, cream sauce, mozzarella, Pecorino Romano)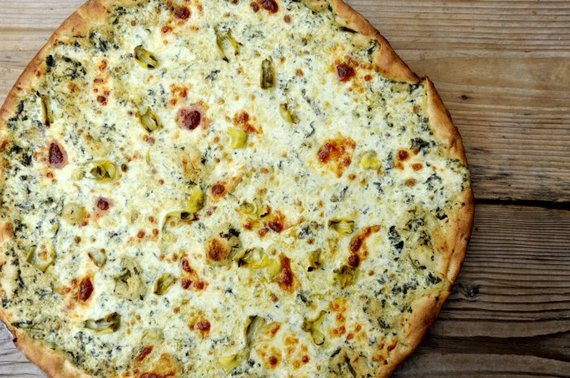 Photo Credit: Artichoke Basille
In 2008, using what they learned while working at their family's restaurant Basille's in Staten Island (now closed), pizzaiolos, cousins, and best friends Francis Garcia and Sal Basille took a party dip, put it on a pizza, and turned a sliver of a shop on New York City's 14th Street into a pizza icon and cash cow.
They now have five other New York City locations of Artichoke Basille's Pizza (and one in Berkeley, California), and there is still a line out the door, along with pizza fiends standing outside trying (unsuccessfully) not to burn the roofs of their mouths on the creamy, cheesy signature artichoke slice.
They've made it to The Tonight Show and even landed their own show on Food Network's Cooking Channel. Not bad at all. There are some who might argue that the crust isn't what it used to be, but (and we say this with love) "Cuz, you can't argue it's not a New York City pizza icon!"
#97 Tony's Place, Philadelphia, Pa. (Tomato Pie: mozzarella and tomato sauce)
You want fancy pizza? Yeah? Think you can handle fancy pizza? OK, go somewhere else. You won't find it at Tony's, thank all things holy. Like several great pizzerias on this list, Tony's started as a place that only served tasty, salty things in order for you to buy more booze. Yes, Tony Mallamaci opened a small bar on the corner of 10th and Jackson Streets in South Philly in the late 1940s. His brother Dominic joined him, and they started selling homemade sandwiches (specialties included roast beef and meatballs) as well as thin crusts with homemade tomato sauce on top (no mozz!).
Dominic and Tony moved to the present location in 1951, drawing customers in with free slices of tomato pie. The menu has long since expanded to include pasta dinners, burgers, chicken Parm, "filet of flounder," jalapeño poppers, and a variety of other doubtful bar menu, Italian-American, and Restaurant Impossible standards. But the pizza? As anyone from Philly will tell you, "Best. Tomato. Pies. Ever." You can top them with anchovies, pepperoni, green peppers, mushroom, sausage, and onion, and, for a limited time around Valentine's Day, they're even served in the shape of a heart.
Click Here to see The 101 Best Pizzas in America
#96 Micucci's Grocery, Portland, Maine (Sicilian Slab: San Marzano tomatoes, garlic, mozzarella)
Micucci Grocery was opened in 1951 by Leo and Iris Micucci, and has been family-operated ever since. It's more sandwich counter-meets-deli-meets-dry-goods store than pizzeria. But the reason to visit this Portland icon is in back, up the stairs to the left where "slabs" of American-interpreted Sicilian-style pizza are baked and set on shelves.
The word "slabs," doesn't do these slices justice -- a curious hybrid for sure, they're nowhere as heavy as the gut-bombs most descriptions convey. Half-again bigger than the conventional Sicilian slice, and just as thick if wetter and more doughy, Micucci's slabs may not be authentic Italian, but they feel like an idealized iteration of the focaccia style you've always sought, but never experienced.
Each is about a half-foot long. There's an uneven inch-and-a-half to ¾-inch cornicione, which is not much different from the rest of the slice, save that it's dryer for not being covered by the brush of sweet sauce and incomplete layer of mozzarella coating the rest of it.
"Pillowy" and "airy" have been used to describe these pizzas, and undoubtedly will be as long as Micucci continues to do things this way (the right way, mind you). Imagine a fluffy, light focaccia -- almost an inch high in some places but no thinner than one third of an inch anywhere -- that's doughy and a bit wetter than most with layers of bubbles. There's a scattering of Italian herbs on top, with cheese rivulets and sauce undercurrents around raised puffy sections of dough. There's no undercrust to speak of, but some crispy spots of cheese in places, especially along the edges.
It's not pizza in any other traditional regional American sense, nor can you say it's precisely Italian. But there's something intensely right and satisfying about it. Consider the warm, airy pleasure of freshly baked dough without much crust to speak of, the tang of sweet sauce, and the salty pull of just-melted cheese, and you get the idea of a fresh Micucci slice.
#95 Pizzeria Locale, Boulder, Colo. (Funghi: Mozzarella: pecorino, fontina, porcini, roasted white mushroom, garlic, shallot)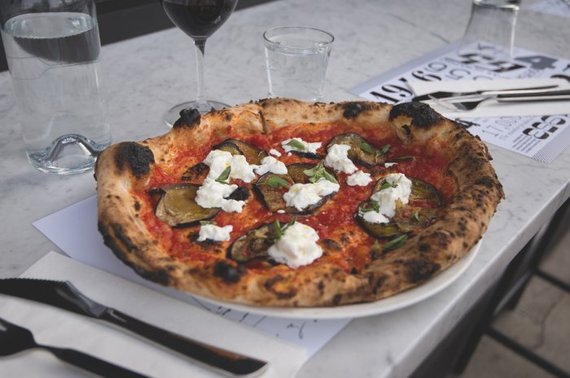 Photo Credit: Pizzeria Locale/Alex Joyce
It shouldn't be surprising that Frasca, one of America's best restaurants, launched an offshoot that serves some of the best pizza in the country. What happens now that restaurateurs Bobby Stuckey and Lachlan Mackinnon-Patterson have teamed up with Chipotle to launch the restaurant as a fast-casual concept, however, remains to be seen.
There seems to be a thought out there that America needs a high-quality fast-casual Neapolitan pizza chain. Maybe it's true that there's a gap in a market dominated by somnambulant franchises that have been content to churn out doughy, overly sweet-sauced gut-bombs for years. Maybe there's really nothing wrong with the idea of rotational hearth ovens powered by gas and infrared of rotational hearth ovens powered by gas and infrared that largely take the human element out of cooking. Or maybe Americans will think pizza from a fast-casual spot should be able to be eaten with one hand and without a knife or fork, you know, like what New Yorkers would call "a slice."
What has been made clear so far is that this self-described contemporary pizzeria inspired by the traditional pizzerias of Naples knows how to bring it.
The full-service Pizzeria Locale in Boulder serves 14 pies (seven each white and red), among them the funghi, which, for $20, you can next-level with Umbrian black summer truffle. The menu at the "quick-serve" Pizzeria Locales in Denver (where there are two), Kansas City, and soon Cincinnati features 10 11-inch pies that are a little more mainstream (though a version of the mais pizza with sweet corn, ham, crème fraîche, and garlic did make the cut). But you can craft your own interesting combos with their 25 toppings.
Click Here to see the Original Story on The Daily Meal
Arthur Bovino,The Daily Meal
More Content from The Daily Meal:
America's 10 Most Outrageous Pizza Toppings
11 Pizza Styles You Need to Know About
11 Best Frozen Pizzas
101 Best Pizzas in America for 2014
America's 25 Best Pizza Chains
Also on HuffPost:
PHOTO GALLERY
Best Pizza Recipes