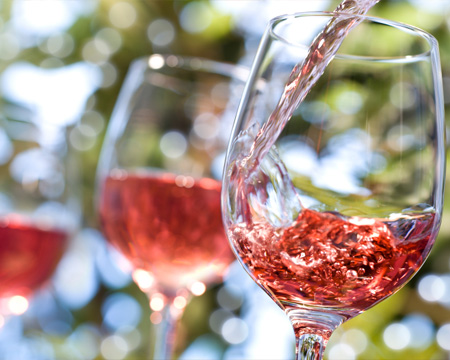 Though it may have felt like summer for some time already, the season's arrival has only just become official. That deserves a toast now, don't you think?
The better question, of course, is: What should you be toasting with? Cocktails and refreshing lagers aside, there's the whole spectrum of summer wines to consider. And it's a vast one at that. Which is why we turned to the experts -- sommeliers, wine writers, and the like -- to offer a little advice. What wines are they excited to drink this summer?
Greek wines received several shout-outs, as did rosé sparklers and Rieslings. Other interesting picks included a mineral-driven white from the Canary Islands, a "wine geek wine" that also appeals to the "eco crowd," and even a sherry (which Eater.com's Talia Baiocchi claims to stock "like most stock Budweiser").
Joe Campanale, beverage director and co-owner, dell'anima, L'Artusi, Anfora (New York, N.Y.)
Scarpetta Brut Rosé 2009. "Fresh and fizzy with loads of bright strawberry and crisp acidity. Dry sparkling rosé is one of the most versatile wines in the world with food and one of the few I can drink on its own -- this is one of my favorites."
Venica & Venica Fruilano "Ronco delle Cime" 2009. "A crisp white from one of Italy's top-quality white wine areas. This wine has a lot of minerality and fresh apple, pear, and raw almond notes. I love the whole Venica line but am a sucker for this delicious norther Italian grape because it is so unique and delicious."
Los Bermejos Diego Secco 2010. A mineral-driven white wine from the Canary Islands. In fact, I'm drink a bunch of Canary Island wines this summer, they represent great value and are some of the more interesting wines emerging in New York City right now."
Foillard Morgon "Côte dy Py" 2009. "A Beaujolais from one of the leading producers -- here you have a chance to have the very best example of a wine from an area an not spend much more than $30. I bought a case of this with the intent of aging it but can't stop opening them as they are drinking so good. I've been drinking a bunch of Beaujolais and other producers I like are Lapierre, Thevenet, and Louis Tête."
Talia Baiocchi, wine columnist, Eater.com
La Cigarrera Manzanilla Sherry. "I stock this like most stock Budweiser. It's the idea introduction to the many joys of Manzanilla -- salty, smoky, and super lean. It's awesome on its own but also goes well with pretty much everything I crave in the summer: cured meat, olives, seafood, and more cured meat.
Skouras Moschofilero. "I was in Greece this past spring and absolutely fell in love with Moschofilero. This bottling comes from George Skouras, one of Greece's original artisan winemakers and still one of the country's best. Moschofilero is pink-skinned like Pinot Gris and often has a slightly rosy hue as a result. The nose takes a cue with trademark notes of rose water and minerals. At $15, it's one of the best values in white wine out there."
Denis Jamain Reuilly Pinot Gris. "Year after year, this is one of my favorite rosés. Light and coppery in color -- like Lopez Rosado light -- it's irony, earthy, and grassy with plenty of tart citrus fruit. If you can find this with just a couple years on it, it gets even more mineral-driven and that tinge of oxidation adds another layer of complexity. Right out of the gate it's reminiscent of doilies, warm days, and tiny lockets. Perfect for summer."
Thierry Puzelat "KO" In Côt We Trust. "Again, this to me is such a summer wine. A Malbec from the Loire Valley (where it's called Côt) from one of my favorite producers. It's honest, likeable, and unabashedly fruit-forward. The best with a chill and a view."
Marie Courtin Champagne Resonance & Efflouresence. "So, this may not be the sort of thing any of us drink on a casual weekday, but it's still one of the great values in Champagne ($50/$57). Dominique Moreau of Marie Courtin is one of my favorite new grower-producers (the estate was created in 2005). All of the vineyards are farmed biodynamically and the wines -- which are both 100 percent Pinot Noir -- express such terroir and purity. The Resonance is vinified entirely in stainless steel and the Efflouresence is fermented and aged in neutral oak."
Tanner Walle, bartender, Terroir (New York, N.Y.)
"Of course I have to default back to Riesling as the perfect summer grape. The acid, the fruit, the versatility. The fact that you can find bone dry, off-dry, medium sweet, sweet -- the possibilities are endless. Not only that, but it pairs with damn near any type of food. It's the perfect summer juice, no doubt about it!"

James Tidwell, master sommelier and beverage director, Four Seasons Resort & Club (Dallas, Texas)
Pewsey Vale Riesling 2010. "Lip-smacking crispness, steely notes, and a range of fruit flavors from citrus to stone fruits, make this a perfect wine to relish beside the pool with light summer fare or as an apéritif."
McPherson Cellars Bingham Vineyards Reserve Roussanne 2010. "Ripe peach, nectarine, and lemon aromas and accented by a delicate floral perfume. The ripe roundness of the wine is surprising. While richer in texture than many summer white, the aromas and flavors are too pleasing for this not to be a summer favorite."
Fairhaven Vineyards Chambourcin 2010. "Brilliant tart berry fruit of huckleberries, Morello cherries, and wild raspberries makes this a pleasing, light-bodied wine for summer. It's not a well-known grape variety, but a fun and tasty wine for easy summer drinking."
Spy Valley Envoy Pinot Noir 2009. "This a premium offering from Spy Valley, New Zealand. The wine has ripe cherry fruit with fragrant sweet spices and chocolate-mocha aromas. It's mid-weight and supple, making for a perfect summer red."
To see the rest of the expert picks, including recommendations from the beverage directors at Kin Shop, Wallse, and Morrell Wine Bar, visit The Daily Meal.
- Marsye Chevriere, The Daily Meal
More from The Daily Meal:
5 Creative Ways to Open Wine Without a Corkscrew
How to Reject a Bad Wine
15 Ridiculous Wine Labels
How to Start a Wine Cellar
155-Year-Old Wine? That's a Good Scion