Put down the take-out menu, because we have 5 chicken recipes that will make a quick, healthy, and delicious chicken dinner a reality even on hectic nights.
The last thing anyone wants to do after a long day commuting, working, and running errands is slave over a hot stove. Luckily, you don't have to spend hours in the kitchen toiling away to produce delicious, flavorful, mouthwatering meals.
Click Here to see the original article: 35 Chicken Recipes for Busy Weeknights
We selected 5 of our best chicken recipes that won't compete for your attention while you multi-task cooking dinner, helping out with homework, and finishing last-minute house chores.
Why chicken? It's nutritious, inexpensive, and versatile. That picture-perfect roast chicken might appear like too much work for a busy weeknight, but Katie Workman, author of Dinner Solved! and Associated Press columnist, says don't waste time trussing and carving your chicken. Instead, buy a pre-cut chicken.
Click Here to see The 35 Chicken Recipes for Busy Weeknights Slideshow
"Buying chicken already cut into parts (bone-in) allows you to pick the pieces or assortment of pieces you like best, takes less cooking time, and cuts out that pesky carving step. Roasting chicken pieces is a great way to go. You still get the wonderful qualities of roasting: the juiciness, the moistness, the tenderness, and the flavor," explains Workman.
If you are looking for creative baked chicken recipes, we're your source. Need a slow-cooker chicken meal that will cook while you're away at your job? It is on our list. Taking time, taste, and technique into consideration, we broke down our best chicken recipes into categories based on cooking technique, so whether you want a healthy grilled chicken dish; an indulgent, simple fried chicken recipe; or a basic stuffed chicken to serve to last-minute dinner guests, all the recipes you need are right at your fingertips.
Still not sure you can cook a chicken dinner on the fly? Jessica Fischer author of Good Cheap Eats: Dinner in 30 Minutes (Or Less), shared her favorite chicken cooking hack explaining, "For busy nights, I rely on a quick sauté of frozen chicken tenders that I keep on hand in the freezer. They are easy to portion and cook quickly without needing to thaw first. I heat some coconut or olive oil in a pan, add the chicken pieces and one of my custom seasoning blends. I can mix and match the seasoned chicken with vegetables alongside rice, pasta, polenta, or couscous. It's a fast, affordable versatile preparation that everyone loves."
Now that you have our expert cooking tips, check out our 35 best chicken recipes for some cooking inspiration to help you get dinner on the table in a snap even on those busy weeknights.
Baked Chicken with Spinach, Pears, and Blue Cheese
This easy baked chicken dish with pears and blue cheese is perfect for busy weeknights.
This baked chicken dish uses the vibrant flavor of the sweet pears and salty blue cheese to bring lots of flavor to a simple and easy to prepare meal.
For the Baked Chicken with Spinach, Pears, and Blue Cheese recipe, click here.
Easy Feta-Chicken Bake
This simple baked chicken with feta is the perfect Greek-inspired dish for busy weeknights.
All you need is 10 minutes to prep a lively Greek-inspired baked chicken dish with peppers, parsley, and feta cheese. -- Athenos
For the Easy Feta-Chicken Bake recipe, click here.
Click Here to see The 35 Chicken Recipes for Busy Weeknights
Sweet and Tangy Chicken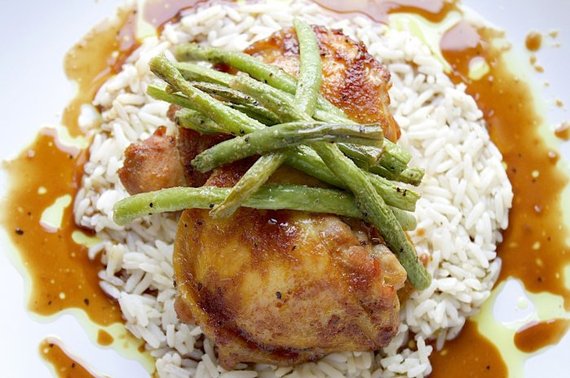 Photo Credit: Aaron Hutcherson
I've made a version of this sauce before and applied it to country-style ribs, but this time I switched it up a little bit for use as a delicious seasoning for chicken. It's so simple to prepare and it has so much delicious flavor to excite your taste buds. You'd be a fool not to give it a try. -- Aaron Hutcherson
For the Sweet and Tangy Chicken recipe, click here.
Lemon-Crusted Chicken Breast
This easy and delicious baked chicken breast is perfect for topping a light and healthy salad; it has lots of lemon flavor and an irresistible crunch. -- Kristie Collado
For the Lemon-Crusted Chicken Breast recipe, click here.
Click Here to see The 35 Chicken Recipes for Busy Weeknights
Spicy Baked Chicken Recipe
Don't let the spices in this dish scare you away -- if you have them in your pantry, then this is a quick, satisfying, and easy dish to make for dinner. You can eat the chicken breast as is or serve it with rice, toasted pita bread, or turn it in to a baked chicken sandwich (great for if there are leftovers). -- Yasmin Fahr
For the Spicy Baked Chicken recipe, click here.
Click Here to see the Original Story on The Daily Meal
Angela Carlos, The Daily Meal
More Content from The Daily Meal:
America's 75 Best Fried Chicken Spots
101 Best Chicken Recipes
9 Grilled Chicken Salads That Will Make Healthy Eating Easier
101 Ways to Cook Chicken
10 Things You Didn't Know About Kentucky Fried Chicken