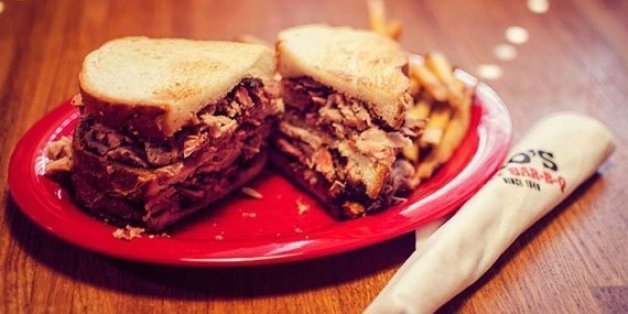 Barbecue is one of those foods that's fiercely regional. In Texas, it's all about the beef; in Carolina, the focus is pork; and so on. Thankfully, there are great barbecue restaurants all across the country with multiple locations that are spreading the barbecue gospel far and wide. We surveyed nearly 10,000 folks from across the country, and these are the 25 chains that received the most votes.
Click Here to see America's 25 Best Barbecue Chains

Chains tend to get bad raps, because (for the most part) they rely on production lines and cost-cutting measures to deliver food that's as inexpensive and quickly-made as possible (think pizza chains versus an actual pizzeria). But when it comes to barbecue, there's really no way to cut corners. Because if you cut corners with barbecue -- by using low-grade meat, for example, or employing artificial means to give it smoky flavor -- people will know. And not only will they know, they'll get angry. You can screw around with burgers or pizza, but you can't screw around with 'cue.
All the owners of the restaurants on our list keep this fact close to heart, and it comes through in the food they serve. In order to assemble our ranking, we created a survey with 67 chain barbecue joints and asked the public to weigh in and vote for their favorites. Nine thousand, six hundred, and seventeen votes later, there was a clear champion.
Choosing a favorite type of barbecue is a subjective matter, but I think we can all agree that when done right, there's nothing on earth that's more delicious. And while some of these chains specialize in Texas-style barbecue and others focus on St. Louis, we should be mighty thankful that they've decided to expand and grace parts of the country that might otherwise not have access to great barbecue. So loosen your belt and read on to learn which 25 barbecue chains are America's best.
#25 Dickey's BBQ Pit
With more than 470 locations in 42 states, Dickey's, founded by Travis Dickey more than 70 years ago, is the world's largest barbecue franchise. Each location pit-smokes its meat on the premises, and free kids' meals are still offered every Sunday. While it's certainly old-fashioned, that's more the result of an "if it ain't broke, don't fix it" philosophy. Meats are served by the pound, and include Southern-style pulled pork, hickory-smoked brisket, honey ham, spicy Cheddar and Polish sausages, pork ribs, chicken, and turkey breast. There are no frills at Dickey's, just solid, honest-to-goodness barbecue.
#24 City Barbeque
With six Ohio locations, two in Kentucky, and one each in Raleigh, North Carolina, and Indianapolis, City Barbeque has been dishing up award-winning craft barbecue since 1999. Meats are smoked upwards of 18 hours, and while the owners don't claim to hew to any particular region's style, they're really representing the best of all worlds -- and doing it well. Brisket, pulled pork, pulled pork with slaw, turkey, pulled chicken with Alabama white sauce, and smoked sausage are sold on a bun, on their own, or by the pound, and St. Louis-cut ribs come slathered in their classic barbecue sauce. Sides and desserts are scratch-made daily; don't miss the gumbo, hush puppies, or banana pudding.
Dan Myers,The Daily Meal
More Content from The Daily Meal:
The Dos and Don'ts of Outdoor Entertaining
Between-Season Centerpieces
50 Best Burger Recipes
America's Favorite Pizza Chains
Want to Throw the Perfect Outdoor Party?