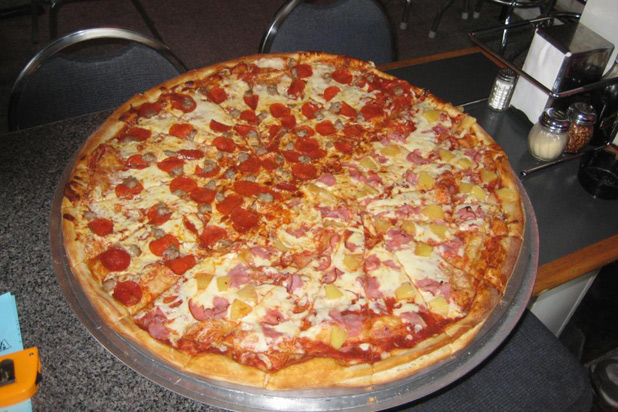 A well-done pizza rarely goes unnoticed. America is a country that seems to survive on three main food groups (pizza, hot dogs, and burgers), and each American undoubtedly has a special relationship with a great pizza. With the unlimited combination of toppings, cheeses, and styles available, pizza-making is a veritable art form here. Now, envision the combination of Americans' love for pizza and the love for all things super-sized. Across the country, from the West to the East Coast, pizzerias have been besting their competitors not just with new flavors or outrageous toppings, but also with larger and larger sizes.
The Guinness World Record for the largest pizza in the world goes to a pie that was created in South Africa in 1990. Weighing in at 26,883 pounds, this gargantuan pizza used almost 10,000 pounds of flour and measured 122.6 feet. And while there isn't another pizza of that monstrosity lurking out there, some pizza chefs are definitely sizing up this world record.
Click here to see The 60 (Plus) Coolest People in Food & Drink
Many of the pizzas included in this list are the focus of eating competitions, and often stump competitors who couldn't rise to the occasion. Many of these pies were chosen based on size, ranging anywhere from 22-inches to 36-inches in diameter (most standard large pizzas are 14-inches in diameter) and topping out at 50,000 slices. Some are simple cheese and tomato pies, while others are much more elaborate and stuffed with an array of toppings.
The pizzas here are some of the biggest that were ever recorded but if you know of any big pies out there, let us know by leaving a comment below.
- Diana Feng, The Daily Meal
More from The Daily Meal:
The Daily Meal's Best Dressed Chefs
America's Best New Sandwiches
Fast-Food Mashups We Wish Existed
America's Highest-Grossing Fast-Food Chains
Deep-Fried Gravy, the Burger Topping of Champions
PHOTO GALLERY
Biggest Pizza Challenges