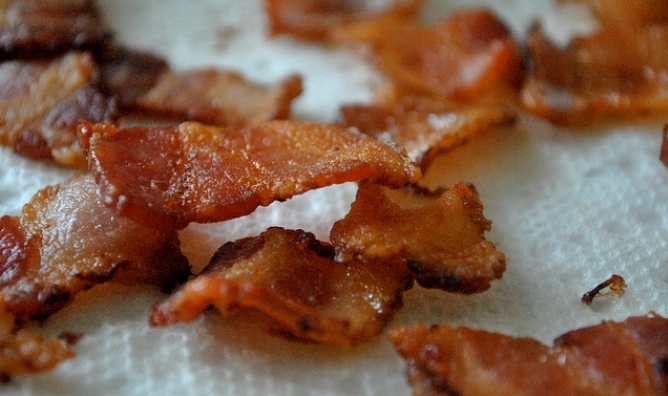 Ah, bacon. You're the music to our ears, the peanut butter to our jelly, the... well, bacon to our eggs. You're basically the Miss America of foods, if Miss America was a little greasy and well, not a stick-thin model. It's clear that bacon is no longer relegated only to the breakfast dishes, so hey -- let's just drink all the bacon. (Credit: Flickr/ cookbookman17)
Click here to see 7 Ways to Drink Your Bacon
It's no secret that bacon makes a great addition to your cocktails. In fact, your whiskey is basically just begging for it. And so are your Bloody Marys. (Why do you think bacon-flavored vodka exists, anyway?) But there are plenty more ways to enjoy  your bacon, like in a milkshake (yes), or in your coffee (heck yes). And hey, did you know you could even pair your Negronis with bacon?
RELATED: 15 Mind Blowing Bacon Dishes
But if you're willing to take a bit of a hike during the game -- obviously, we recommend doubling up on beer orders to make up for lost time -- and search, certain NFL stadiums will have the local craft beer you're craving. In fact, stadiums now are hearing the craft beer cry and building in beer gardens and craft beer "houses" to provide dozen of local taps. That makes game day just a bit more exciting for the beer lover.
RELATED: 25 Best Craft Breweries in America
Yep, we just really like bacon.
- Marcy Franklin, The Daily Meal
More from The Daily Meal:
America's Best Sports Bars
America's Best College Bars
Coke Versus Pepsi: Taste-Testing the Brands
America's 40 Most Powerful People in Drink
PHOTO GALLERY
Ways to Drink Your Bacon