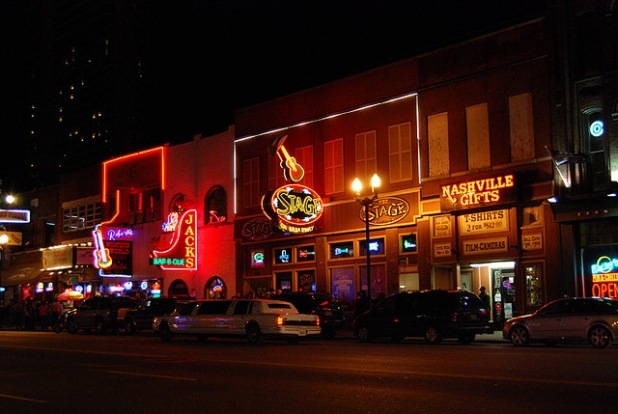 Some go to Nashville for the music. I go for the creative inspiration that pours out of everything and the gorgeous Southern city touches. It's hard to do Nashville in a long weekend, so just know that you'll be back and that all your preconceived notions will be blown to smithereens. (Photo courtesy of Flickr/jeffreylcohen)
Here's a fantastic weekend in Nashville.
Day One:
You'll want to bunk down close to South Broadway, near the Ryman Auditorium and Tootsie's Orchid Lounge where Willie Nelson sold his first song. It was called "Crazy" and he sold it to Patsy Kline for $25.
Related: Starbucks Items You Need a Passport For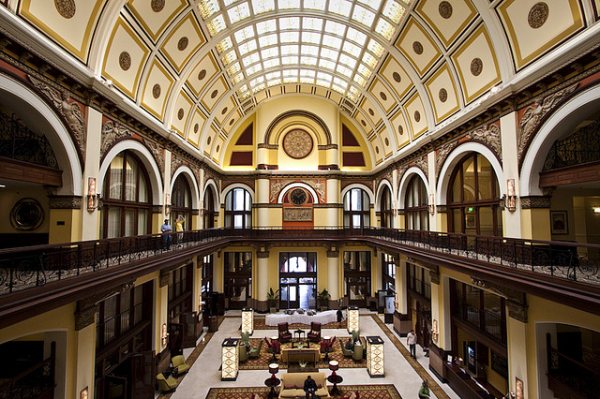 Check in to Union Station, a splendidly restored former train station-turned-hotel with custom-made furniture and more than a century of celebrity stays including Mae West, Franklin D. Roosevelt and mafia kingpin Al Capone, who was being escorted to a Georgia penitentiary. (Photo courtesy of Flickr/Dave Newman (newmanchu))
Every one of this boutique hotel's rooms are different, but request one on the fifth floor that overlooks the stunning lobby with barrel-vaulted, 65-foot stained glass ceilings and gleaming Italian marble floors. Prime 108, named after Bully 108, the first steam engine to chug through Nashville, is among the city's most celebrated restaurants.
Related: World's Healthiest Cuisines
After dinner, head to one of Nashville's world-famous honky-tonks. Don't miss Tootsie's, the bright purple lounge that Tootsie Bess bought with her divorce settlement. She kept a pot of stew bubbling for the Grand Ole Opry stars who snuck over between sets. There's still live music basically every waking moment of the day.
Just down the street is Robert Western's World, a former western wear store that's cramped, dingy and incredibly hip. The burgers are 100 percent Angus and the desserts -- moon pies or goo-goo clusters -- are a mere buck. Friday and Saturdays, Jesse Lee Jones, the Brazilian proprietor who learned English watching Sesame Street, and his band Brazilbilly, spread the gospel of country music as it used to be.
Related: 9 Indulgent Sweet Tooth Trips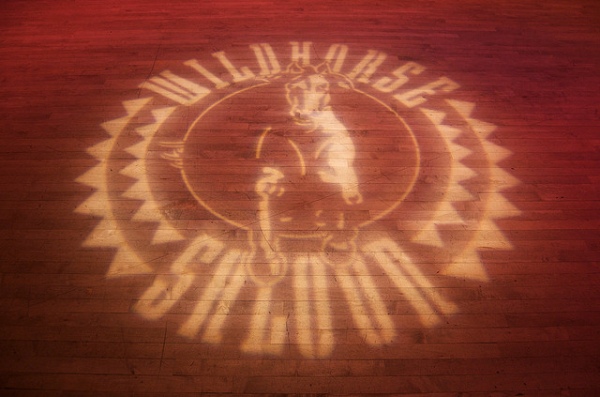 Just around the corner is Wildhorse Saloon, a sprawling three-level former warehouse that happens to have Nashville's largest dance floor. Also notably large are the Texas-sized ribs, the stars (try Miley and her dad), the volume (if you want to whisper sweet nothings, steer clear), the number of dancers and the fried pickles. Fifteen-minute dance lessons are held four times a night. (Photo courtesy of Flickr/Neuski)
Day Two: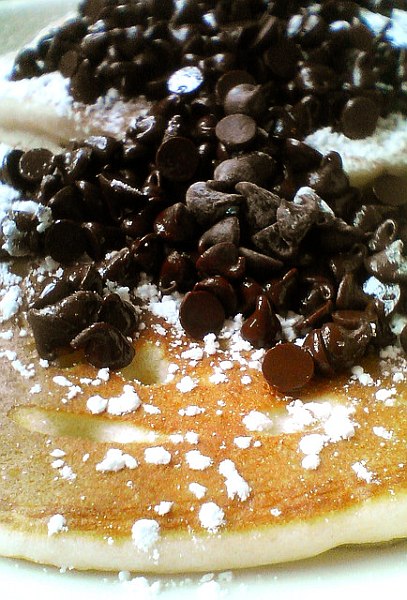 There's a t-shirt in Nashville that says, "Music: It's why I get up every afternoon." Don't let that be you: There's too much to do.
To start, belly up to the Pancake Pantry for more than 23 kinds of pancakes made with fresh ingredients, family recipes and accompanied by homemade syrup. The line snaking out the front door -- part of the experience that often leads to celebrity sightings -- is a testament to these divinely-inspired stacks, especially the best-seller of sweet potato pancakes made with real sweet potato flakes and sprinkled with powdered sugar and cinnamon. (Photo courtesy of Flickr/toastforbrekkie)
Related: 9 Top Tours for Cheese Lovers
Next stop is the Frist Center for the Visual Arts. Once the Nashville Post Office, this 1934 art deco splendor morphed into an art museum in 2001 with exhibits rotating in and out every six to eight weeks. The black marble floors, gleaming silver fixtures, sweeping staircases and 22-foot-high ceilings make it an impressive spot to showcase its traveling exhibits. Showing through January 8 is "To Live Forever: Egyptian Treasures from the Brooklyn Museum," an exhibition of 4,000-year-old coffins, jewels and mummies from Egypt. I'm partial to the Frist's upstairs ArtQuest Gallery, a hands-on space where wannabe's can make prints, collages and start their own portfolio, all matted and scanned, in 30 unique, educational stations.
While you're in art mode, stop by the Rymer Gallery and ask if curator Herb Williams is in. Williams is also an artist, one who never quit playing with crayons. Only instead of using them to draw, the 30-something father of two makes giant sculptures using the crayons themselves. He has sculpted Marilyn Monroe, a life-size statue of Johnny Cash and a nine-foot cactus, all out of crayons. Marilyn Monroe alone took a quarter million crayons.
Related: 5 Bites of Savannah
For lunch, head to Barbara Mandrell's house. Or rather, her former house. The 136-acre property where she and her husband built a 27,000-square foot log cabin, one of the world's largest, also has a farm-to-table restaurant. It's called, not surprisingly, The Farmhouse and serves locally raised beef, veggies and hand-crafted local cheese. Spend the afternoon touring Fontanel, the log cabin mansion where singing tour guides dispense gossip (Oprah Winfrey once cooked in Barbara's kitchen), play guitar and show you the six bedrooms, indoor shooting range, soda fountain and indoor pool.
Plan a late-afternoon pick me-up at Las Paletas in Nashville's trendy 12South neighborhood. Two Mexican-American moms dispense all-natural, handmade gourmet popsicles. An oft-erased chalkboard hangs over a freezer case with the day's two dozen flavors -- anything from mango and coffee to banana-nut or chocolate almond. Irma Paz-Bernstein and Norma Paz-Curtis never advertise and close up shop at 7 pm, and when chef Bobby Flay caught wind of the Paz sisters and challenged them to a "Throwdown" on the Food Network, he lost.
For dinner, don't miss Hutton Hotel's 1808 Grille. Since it opened three years ago, it has pulled down every award in Nashville. Executive chef Charles Phillips has cooked for everyone from Bill Clinton to Bill Gates and uses local, sustainable ingredients in his whimsical, yet healthy menu.
Although you hear live music everywhere -- "In a city with 1.3 million, at least 1.2 million of them are pickers and singers," says singer Steven Whitson -- Bluebird Café is tonight's destination. It's tiny and unassuming, but it is the place for aspiring songwriters. Garth Brooks, Keith Urban and Taylor Swift are just a few discovered there. There are two intimate, acoustic shows a night and reservations are highly recommended.
Have drinks afterward at the Patterson House. Named after former Tennessee Governor Malcolm R. Patterson who vetoed the return of statewide prohibition in 1909, this dimly lit speakeasy has dark wood bookshelves, damask wallpaper and more than 50 cocktails, carefully fussed over and poured over eight types of twice-filtered ice. Patterson's mixologists (don't dare call them bartenders) make such specialties as a bacon-infused old fashioned and the Jennings, inspired by Waylon, and made with Jack Daniels and hickory smoked cola, cooked with hickory chips right on the premises.
Day Three:
After a quick shot of caffeine at Bongo Java's, one of Nashville's local coffee shops, plan on breakfast at the Farmers Market. Unlike most cities that offer fresh, farm-grown produce on weekends only, the Nashville Farmers Market is open seven days a week. Its 16 acres feature nearly everything the Tennessee Organic Growers Association can come up with from organic beef, lamb and rabbit to goat cheese and pies for diabetics. Market House offers restaurants and a weekend Flea Market, too.
Related: Foods You Should Never Bring On Planes (and Some You Should)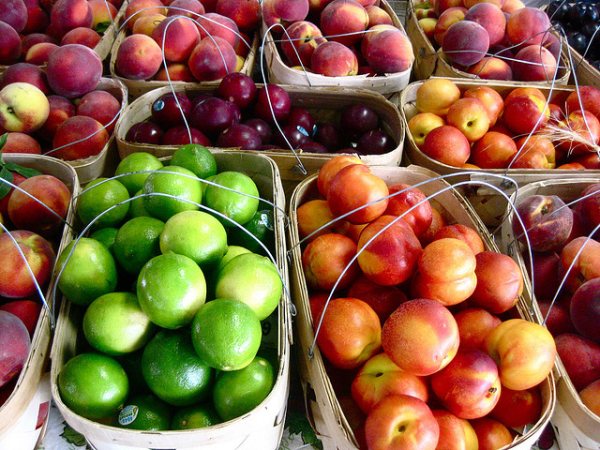 The Farmers Market is across from Bicentennial Mall State Park, named as one of the country's best lawns along with Central Park, Pebble Beach and Boston's Esplanade. Built to commemorate Tennessee's 200th birthday, the park stretches from the north end of the State Capitol and includes a 200-foot map of Tennessee, an 18,000-pound granite globe that floats on 1/8 inch of water and a wall of history with an actual crack to signify the Civil War. (Photo courtesy of Flickr/CJ Sorg)
One ticket gets you into the Country Music Hall of Fame and Studio B. More than a million artifacts and every country recording ever yeehawed can be found in this 136,000-square foot museum. You'll see Patsy Cline's cigarette lighter, salvaged from the 1963 plane crash that killed her, Willie Nelson's bandana, a signature Hank Williams suit designed by Nudie Cohen and Elvis Presley's custom 1960 solid gold Cadillac, sitting, of course, next to Webb Pierce's pistol-and-rifle-trimmed 1962 Pontiac Bonneville convertible.
Final stop and centerpiece is the Hall of Fame itself, a reverential circle honoring Patsy, Merle and dozens of others beneath the title of the AP Carter country classic, "Will the Circle Be Unbroken."
Studio B, also owned by the Country Music Hall of Fame, is located in Music Row where more than 100 music studios keep the tradition going. From the drab cinderblock building known as Studio B, more than 35,000 songs were brought to life including more than 150 recordings by Elvis Presley.
Next up is Loveless Café, a Nashville institution that won't be hosting Weight Watchers anytime soon. Since 1951, when Lon and Annie Loveless set up picnic tables in their front yard and sold pan-fried chicken to travelers on Highway 100, this icon of Southern cooking has been serving food it's best not to count fat grams by: country ham, red-eye gravy, made-from-scratch biscuits and dessert classics like sweet potato pie, peach cobbler and Red Velvet cake.
If you want to have a really good time, check out my Nashville Scavenger Hunt app on iTunes. First one to complete all 48 missions and snap a photo to prove it wins a grand prize worth more than a $1,000.
-- Pam Grout, The Daily Meal
Related Stories from The Daily Meal:
9 Luxury Casinos with The Finest Fare
Best Eats in Amsterdam
9 Record-Breaking Dishes
5 Bites of Philadelphia
Guide to Gallery-Hopping Across the Country