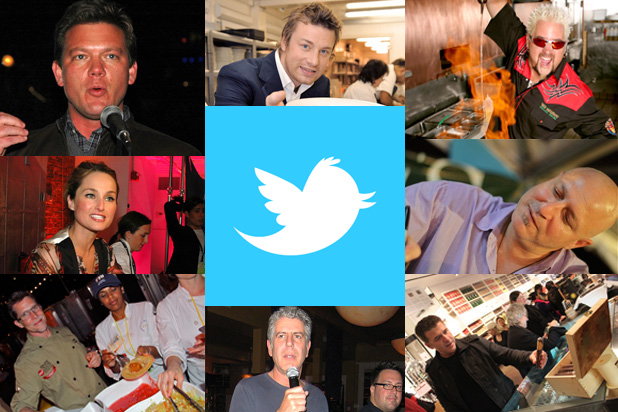 These days, it's not enough to have a great restaurant with innovative dishes and good service, or to have parlayed a restaurant into a successful career as a celebrity chef on television. It's not necessarily even enough for a chef to have a blog. If you're not in social media -- if you're not on Twitter -- you're not in the game.
For some chefs, sharing new dishes, recipes, latest meals, and comments about everything from social activism to competitive cooking shows in 140 characters or less is a natural extension of giving concise direction in the kitchen and glad-handing customers. For example, Jamie Oliver has more than a million followers and 4,000 tweets. For others, Twitter might not seem a natural medium, but notoriety is enough to still draw thousands. Alice Waters, who just recently joined Twitter, as of this article had yet to tweet, but still had more than 2,400 followers. Then again, you don't necessarily need to tweet that much for people to hang on your every word. Guy Fieri has only tweeted about 460 times, but still has more than 225,000 followers.
So, who are the most followed chefs on Twitter? With new people joining Twitter every day it's a fluid, dynamic game -- this a look at 15 of them. Does Anthony Bourdain have enough followers to edge out Tyler Florence? Who has more followers: Giada or Bobby Flay? View the slideshow below to find out. Think one of your favorite most followed chefs is missing? Let us know!
- Arthur Bovino, The Daily Meal
More from The Daily Meal:
America's 50 Most Powerful People in Food
8 Foods Not to Cook Naked
10 Athlete Epicures
Late Night's Culinary King: The Best of Jimmy Fallon
10 Best iPad Food Apps
PHOTO GALLERY
15 Most Followed Chefs on Twitter