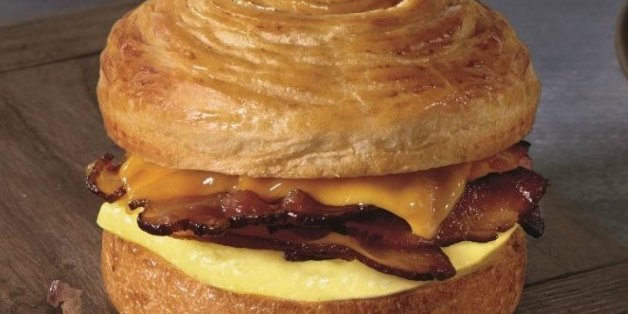 The coffee-centric company is looking to diversify its menu and double food sales within the next five years.
As part of its new plan to double its food sales in the next five years, Starbucks rather quietly rolled out a new breakfast sandwich, the Double-Smoked Bacon, Cheddar and Egg Sandwich, on Tuesday, February 17.
Click Here to see Starbucks Launches New Double-Smoked Bacon, Cheddar, and Egg Sandwich
Starbucks, which recently appointed a new vice president of food development -- a position created to enhance the company's menu "during the breakfast, lunch, and evening dayparts" -- has made it clear that it is stepping up its food focus.
The chain also plans to make alcohol available in-store for 20 to 25 percent of its domestic markets.
The decision to include a greater variety of afternoon and evening options speaks to the company's desire, not surprisingly, to reach more customers.
"Given they have these stores, they could fill them a lot more in the afternoon and evening if they had an offering that was appealing," Sara Senatore, an analyst at Sanford C. Bernstein, told Bloomberg.
Click Here to see the Original Story on The Daily Meal
- Karen Lo, The Daily Meal
More Content from The Daily Meal:
Updated Starbucks App Lets Customers Tip via iPhone
7 Failed Starbucks Drinks and Products
Healthiest Starbucks Sandwiches
Unusual Starbucks Frappuccino Flavors Around the World
8 Unhealthiest Hot Starbucks Drinks