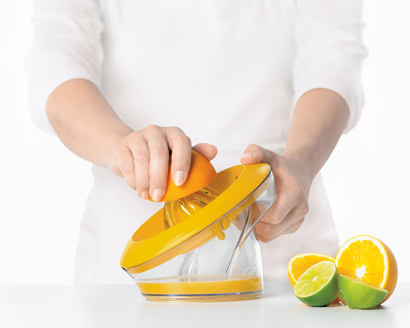 Summer brings out the best of us, culinary-speaking. Amazing seasonal produce, warm weather and that extra energy in the air make us yearn to get into the kitchen and try new recipes or throw the best summer dinner party. While the heat rises and our culinary juices start to flow, now is a better time than ever to stock up on some of the latest and hottest kitchen gadgets. (Photo Credit: © Cuisipro)
Click here to see the Hottest Summer Kitchen Gadgets
A nifty ice cream scoop makes it easier than ever to serve up summer favorites, while a premium Microplane set helps you grate, zest and prep just about anything for your summer meals. Make your grilling process the most efficient with the new three-in-one grilling Stake, and keep your beach diet in check with T-Fal's latest yogurt maker.
Click here to see 10 Summer Super Foods
No matter what new culinary skills you're sharpening this summer, these gadgets are the perfect assets to have on hand in the kitchen. Easy to use and affordable, they'll make sure your summer cooking goes off without a hitch.
- Anne Dolce, The Daily Meal
More from The Daily Meal:
How to Make a Big Mac at Home
How to Keep Cool in the Kitchen This Summer
13 Zesty Zucchini Recipes
The Great American Pie Extravaganza
10 Easy Ways to Eat More Sustainably