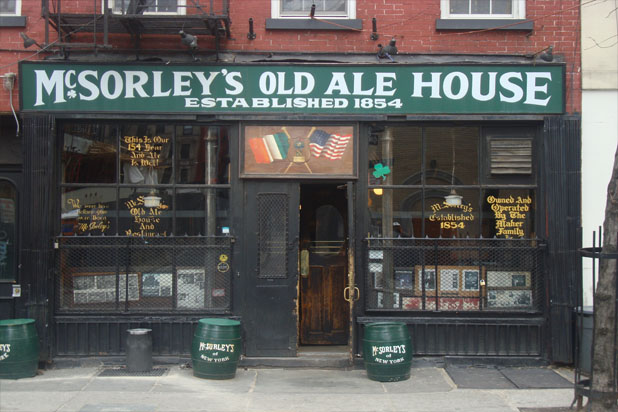 It's that time of year when instead of heading to a trendy cocktail bar, a loud and rumbling sports bar, or -- better yet -- hibernating and drinking at home rather than venturing out in the cold, we search for the ultimate bar for spring. And on St. Patrick's Day, what most people define as the drinking holiday of the year, we know where we'll be spending our time -- at an Irish pub. Because while the snow is still melting, we can indulge in a good shepherd's pie, drink a dark, dark beer, and still feel like spring is coming (Photo Credit: © Zak Williams).
Check out the Most Authentic Irish Pubs in the US
Fortunately, we don't need to book a flight to Ireland to enjoy an Irish evening, as America is home to a budding number of truly authentic Irish pubs, from California to Florida to the Northeast. What makes a pub more authentic than any old O'Malley's/O'Connor's/Mc-something's you'll find just about anywhere? Like we noted last year, it's not as easy as you think to find an authentic pub, but there are a few telltale signs. Dark wood paneling is often a tip-off, a good Guinness or Black and Tan is a good start (bonus points if you can find more than one Irish beer on the menu), and established bartenders who know the differences between Redbreast, Bushmills, and Tullamore and know how to pull the perfect pint of Guinness -- that's just a bonus.
Click here to see 20 Facts You Didn't Know About Guinness
What makes the bars on our list authentic? Time, for one thing; the majority of the bars on our list have been open for at least 30 years -- some more than 130 years. And these places are usually devoid of loud thumping music and watery house drinks. (Note to self: if you hear Drake blaring from your Irish bar's speakers, you're probably in for a good night, but maybe not an authentic Irish kind of night.) Instead, you'll find history seeping from the walls (heck, one bar on our list actually had parts of a 19th-century pub shipped in), thanks to the relics, photos, and old Guinness signs. The food and drink at the bars on our list mimic what you'd find at a pub in Dublin. While you may find a nachos plate here and there, you won't find any wasabi burgers on the menu. (No really, we had to axe an Irish pub with a wasabi burger on the menu.) You'll find pubs that are loud and boisterous, cozy and homey, and rollicking and downright hilarious -- the exact kind of place where you want show off your green duds and kiss someone Irish. (There's one bar on the list that claims success for 5,000-plus marriages thanks to "bar hookups" -- we want to go to there.)
- Marcy Franklin, The Daily Meal
More from The Daily Meal:
8 Great Beers to Drink on St. Patrick's Day
9 Green Drinks for St. Patrick's Day
8 Irish Whiskies Beyond Jameson
America's Best Sports Bars
PHOTO GALLERY
Most Authentic Irish Pubs in America