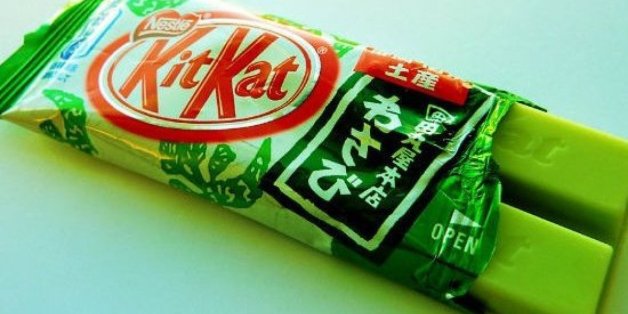 Some candies are a lot more than just a sweet treat. All around the world, sweet manufacturers are churning out countless varieties of interesting candied-creations. When you think about it, there are just so many ingredients you can put in candy: chocolate, fruit, peanuts, cookie pieces, various nondescript chunks of other sugary candies... some companies even put sea salt and bacon in their products to add a salty-sweet dimension to the taste.
Click Here to see the Complete Slideshow Unusual Candies From Around the World
There are some candies, though, that go the extra mile when it comes to special ingredients. Ever thought of adding wasabi to your candy bar? Well, in Japan, you can feast on a wasabi Kit Kat, which is both sweet and spicy enough to make your eyes water. And if you're fond of insects and other creepy crawlies, then a California confectioner has just the thing for you -- a range of candy-covered insects from chocolate-dipped scorpions to insect candy suckers -- with real insects, of course.
Japan has, by far, the widest range of strange candy concoctions. Aside from those Wasabi Kit Kats, they also have Popin' Cookin' Happy Sushi House, a crazy gastric adventure which comes in tiny kits where you mix together the ingredients and watch the candy form right in front of you.
Across the globe, sweet-a-holics have shown they're willing to try the strangest combinations and flavors, all for the love of candy. It's really no surprise... just a few years ago the global confectionery market accounted for $150 billion in retail sales. And despite the Japanese propensity for coming up with the largest number of strange sweet creations, it's still the U.S. that remains the world's largest candy consumer, spending around $10 billion a year on sweets alone. According to the Census Bureau, the average American indulges in about 25 pounds of candy per capita, per annum.
When it comes to favorites, chocolate seems to be the definite frontrunner, followed closely by flavored chewing gum. But perhaps sometime soon one of these unusual candies from around the world will become the world's new favorite candy... chocolate-covered ants, anyone?
PHOTO GALLERY
Unusual Candies From Around the World
-- Serusha Govender, The Daily Meal
More Content from The Daily Meal:
10 Candy Bars You'll Never Eat
Most Bizarre Ice Cream Flavors
9 Guilt-Free Candies That Won't Derail Your Diet
10 Most Expensive Cupcakes Ever