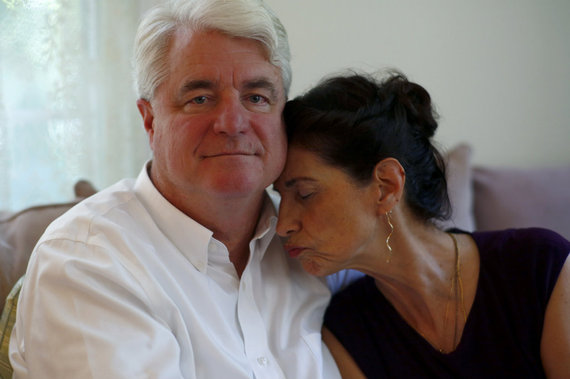 By Charles M. Sennott
ROCHESTER, New Hampshire -- One month after the horrific video of American journalist James Foley's beheading at the hands of the Islamic State was released, the Foley family finds itself at the center of a global debate over the US government's policy to forbid the payment of ransom to terrorist organizations.
You'd never know all this was swirling around this faithful and dignified family here in the quiet New England town where they live and where Jim, 40, came of age along with his four siblings. But they have now stepped into a very public and emotional argument over how to address the rising scourge of kidnap and ransom.
To help focus that debate, the Foleys established a fund that will provide resources to families caught in the nightmare of a hostage situation, and that will also seek to enshrine a legacy for their brother and son who was executed after being taken hostage in Syria and held for nearly two years during which time he was beaten and tortured.
In announcing the formation of the James W. Foley Legacy Fund on Friday, John and Diane Foley have sought to confront their anguish by promoting Jim's "passions and ideals among future generations."
According to a statement about the nonprofit organization, which was conceived of in the Foleys' home by family, friends and supporters over the last few weeks, "The Fund's foremost aim is to build a resource center for families of American hostages as they work to bring their loved ones home."
This is an issue that weighs heavily on the Foleys, who have shared that they feel deeply for those families who still have loved ones held captive by the Islamic State or by other terrorist groups and criminal gangs around the world.
The Foleys have spoken out recently to the media, granting interviews to CNN, ABC News and the New York Times to share their frustration at the way the US handled the investigation into their son's capture and, as they see it, its hands-off approach to helping them find a way to bring him home.
"The FBI didn't help us much -- let's face it," Diane Foley said in a recent New York Times article titled "For James Foley's Family, US Policy Offered No Hope."
For months, the Foleys' sense of desperation and anguish, now also punctuated with some very human frustration and anger, was visible to those who know them and have spent time with them.
They privately shared some of these feelings with me in recent weeks during visits to their home. In addition to frustration with the FBI, the lead agency on Jim's case, they also expressed their disappointment with the inability of the State Department and the White House to do more. But only in the last few days has the family decided to go public with its strong feelings about the need for America and the larger world to reconsider how it deals with hostage situations.
The US and UK are among those countries with strict laws forbidding such ransom payments, and the Foleys have now publicly stated that they were warned that they would face prosecution if they violated those laws and made payment.
It has also been GlobalPost's policy, borrowed from long-standing and existing policies at the BBC and other major international news organizations, to refuse to ever pay ransom in the event of a hostage taking and to immediately involve the US government in handling it as a criminal matter.
While they struggled with the stark reality of US law, the Foleys learned that there were a number of European countries, including France and Spain, actively coordinating to secure the release of other hostages held by IS alongside Jim Foley by making payments of between $3 million and $5 million. Diane Foley reached out to these families and traveled to Europe. She returned desperate to try to do the same, if that was indeed the only way to save her son.
"It was horrible -- and continues to be horrible. You are between a rock and a hard place," as Diane Foley described her ordeal to the New York Times.
Senior US law enforcement officials have insisted that they were in constant contact with the Foley family. But they said,they were limited in what information they could share, as much of it was classified.
These officials added that they were bound by US law, which mandates a zero concession policy: The government refuses to accede to terrorist demands for money or the release of prisoners, arguing that doing so creates a perverse incentive that would encourage more kidnapping. Indeed, there is some evidence that IS stepped up its kidnapping efforts in part to finance its operations, stunning the world when they pushed forward across the Syrian border and captured the city of Mosul and a swath of territory about the size of Maryland.
In early July, the Foleys were told, the US military secretly landed in the IS stronghold of Raqqa, Syria in a failed raid. They did not find Foley or his fellow captives, who had apparently been moved to another hiding place. The Foleys say they were not made aware of this raid until after the FBI confirmed the video that depicts his execution.
I spoke with a private investigator, who was formerly a member of an elite military unit that had conducted similar raids, about kidnap and ransom cases. He has worked in this shadowy world for many years and spoke on the condition of anonymity. He said the Foleys have every right to be frustrated and angry because US policy on the matter has been inconsistent and confusing, pointing out that the publicly stated policy was violated when five Taliban prisoners held at Guantanamo were released in exchange for the captured US Army Sgt. Bowe Bergdahl.
He added that he believes every family should be allowed to pursue buying their loved ones' freedom.
"Anyone in this world who has a child or a loved one understands that very human response to want to save a life at any cost. You can do that, and not give up the fight to destroy those who carried out the kidnapping and the organization that is behind them," said the investigator, who was not among those who worked with the Foleys on their case.
This summer just after the terrible news of Jim's death, I ran into the acclaimed Harvard University law professor and expert on terrorism, Alan Dershowitz, and we discussed the complex set of legal and moral questions around whether or not to pay ransom to a terrorist group like the Islamic State to secure freedom for a loved one.
"Any parent would do anything to save a child's life. And I think they should be able to," he said. "I would think of it as paying with one hand while preparing with the other hand to destroy the terrorists who do this."
He said that the Americans and the British were not alone in having a fractured and flawed policy, but that Israel also proclaims publicly to have zero tolerance for paying ransom or exchanging prisoners. But he said they frequently do prisoner exchanges, including the release of some 1,000 Palestinian prisoners, including many convicted of multiple murders and terrorism, in exchange for the 2011 release of the Israeli soldier Gilad Shalit, who was held by Hamas for five years.
David Rohde, a Pulitzer Prize-winning journalist for the New York Times who now writes a column for Reuters, has been outspoken on this issue and speaks with perhaps more authority than any other journalist. That's because he has lived it. He was held in captivity by the Taliban for seven months, while his family was told it was not legal to pay the Taliban for his release, before he managed to escape on his own in 2009 using a rope that he had stowed away.
The policy questions surrounding the debate are agonizingly difficult. But, as Rohde points out in his Aug. 20 column, what is needed most is for thought leaders, diplomats, victims as well as international businesses, aid agencies and news organizations to all come together and deal with the peril they face, and try to agree on a set of recognized standards and practices. Rohde writes:
"The payment of ransoms and abduction of foreigners must emerge from the shadows. It must be publicly debated. American and European policymakers should be forced to answer for their actions.

Foley believed that his government would help him, according to his family. In a message that was not made public, Foley said that he believed so strongly that Washington would help that he refused to allow his fellow American captives to not believe in their government.

A consistent response to kidnapping by the US and Europe is desperately needed. The current haphazard approach is failing.

James Foley must not die in vain."
There is something about the Foley family's intense faith, their extraordinary strength and their undying belief in their son's work as a journalist that gives anyone lucky enough to know them a great confidence that Jim Foley will never die in vain.
The James W. Foley Legacy Fund seems to be their way of making sure that Jim is honored. And not only do they want to honor him by working with other families who are enduring the agony of a kidnap and ransom situation. But as they describe the mission of the fund, they also want to honor Jim's service at Teach for America and his many years teaching and mentoring disadvantaged, urban school kids about writing and about life.
Perhaps most poignantly, the Foleys want to honor Jim's great passion for reporting on the ground, telling stories that mattered, and his great compassion for the people he reported on.
As John and Diane wrote in the statement announcing the Fund, "Jim's life challenges us all to love and forgive one another, and to make this world a better place."
GlobalPost Co-founder Charles M. Sennott is Executive Director of The GroundTruth Project which trains and mentors the next generation of international correspondents to do social justice reporting that can make a difference, and to do it safely.