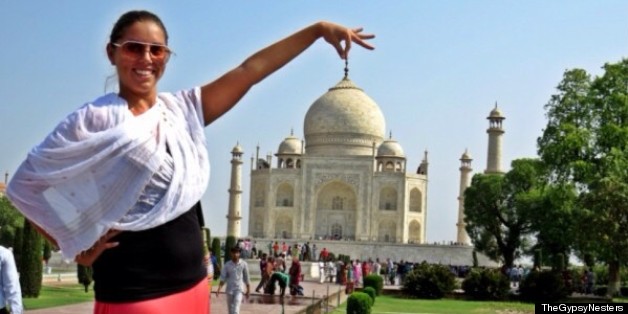 Everyone who travels eventually succumbs to that cheesy tourist moment -- we've certainly had our share. But why should we have all the fun?
To share the wealth, we asked the web's top independent travel bloggers to send us their best, cheesiest tourist moments and we hit a gold mine of the craziest, funniest and just plain weird travel photos in the world!
From Josh of Traveling 9-5: In Chiang Rai, Thailand the popular tourist restaurant is called "Cabbages and Condoms". And, yes, they have mannequins at the door whose attire consists entirely of...condoms.
From Suzanne of Boomeresque: Sometimes the tourist contributes to the cheesiness of the moment. Here, a blogger (moi)  confers with FDR while Winston Churchill looks on. In self defense, I maintain that this sculpture called "The Allies" on Bond Street in the Mayfair section of London, England is a cheese magnet.
From David & Veronica of GypsyNester.com: Folks rub statues for various reasons, but for the life of us, we couldn't out why the tourists were rubbing this one THERE. Spotted in Prague in the Czech Republic.
From Tom of Travel Past 50: I'm sorry, but it just doesn't get any cheesier than the "World's Biggest Ball of Twine" in Darwin, Minnesota. Thousands of people drive out all the way from Dassel, Minnesota, 4.9 miles away, every weekend just to see it and be photographed with it. Eat your heart out all of you who think your photo of you in front of the Eiffel Tower is hot stuff.
From Abigail of 1,000 Miles On My Own Two Feet: In a wax museum, I feel like a somebody either glamming up with Marylyn Monroe, locking arms with Brad Pitt, or even staring down Anthony Hopkins as Hannibal Lector (of course in real life, my knees would be wobbly to see all these celebs!). Here I am with Jack Black in the Hollywood Wax Museum in Branson, Missouri!
From Gadi and Tun of Being in Awe: We are getting cheesy and dirty in mud bathes of Moon Water Cave in Yangshuo, China
From David & Veronica of GypsyNester.com: Finally a tourist spot where we felt comfy being ourselves!
From Craig of Flashpacking Around the World: We had this picture taken at the Terracotta Warriors at Xian.  You pay to get your photo taken in front of a painting of the warriors in a room to the side of one of the pits. It was tacky, cheese, but we just had to do it.
Alexandria of Fluent in Frolicking insists: The tour guide made me do it!
From David & Veronica of GypsyNester.com: At the Equator in Ecuador, the Intiñan Solar Museum teases tourists into balancing an egg on the top of a nail. After about an hour of lip-biting work, Veronica succeeded.
From Ted of Traveling Ted: Snaps to Ted for doubling up on the cheese!

From David & Veronica of GypsyNester.com: The Mermaids of Weeki Wachee Springs are the best and biggest cheesy tourist diversion in Florida - and Florida has a lot to offer in this category!
From Adam of Getting Stamped: The life size statue of Arthur "Fonzie" Fonzarelli, from the TV Show "Happy Days" cast in bronze is worth the trip to Milwaukee alone. I give this attraction two thumbs up!
From Cam of Traveling Canucks: We took this photo while in Gravenhurst, a small town in the Muskoka region of Ontario. This is the world's biggest Muskoka chair. I don't know why anyone would want to take a photo beside a massive wooden chair, but apparently we've become the type that pulls over the car in order to do so. My how the times have changed!
YOUR TURN: Which photo do YOU think is the cheesiest?