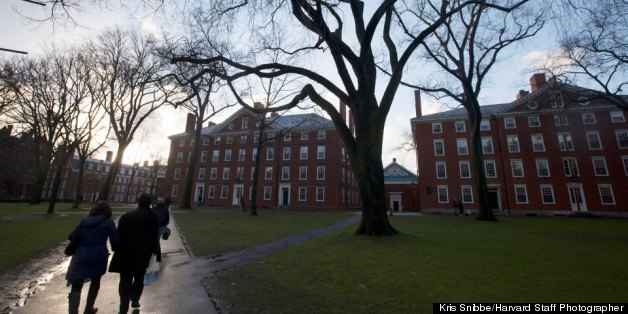 This article is presented in partnership with The Crimson.
By MADELINE R. CONWAY and NIKITA KANSRA, CRIMSON STAFF WRITERS
In the wake of two bomb explosions that killed three people and injured more than 130 others, Harvard students criticized what they described as the University's slow communication with undergraduates.
The bombs at the finish line of the Boston Marathon exploded around 2:50 p.m. on Monday afternoon. By 3:51 p.m., the Cambridge Police Department had tweeted about a potential bomb threat in Central Square that was later cleared. For the next two hours, Harvard undergraduates were inundated with tweets, news articles, and alerts about potential bomb threats in the Cambridge, including several near Harvard's campus. The University sent out its first email communication regarding the incident to the entire Harvard community at 5:17 p.m.
Following the more than two-hour gap between the first reports of the incident and the University-wide response, messages from the administration came in quick succession. Over the next one and a half hours, undergraduates received emails about the incident from Dean of the College Evelynn M. Hammonds and Dean of the Faculty of Arts and Sciences Michael D. Smith. At around 6:20 p.m., undergraduates subscribed to the University-wide alert system MessageMe received a communication notifying them of the cancellation of Monday evening classes. MessageMe, an opt-in notification service, sends news alerts to members of the Harvard community via text, email, and voicemail.
Christopher C. Walleck '14 was among the many students who told The Crimson that he thought the message from Harvard should have come sooner. Walleck first heard about the Boston Marathon bombing through a text message from a blockmate at 3:30 p.m. By the time he first heard from Harvard, he already had received "dozens of emails" from friends, student organizations and peers.
"I hadn't received so much as a single message from Harvard saying, 'Stay in your dorms,' or 'Be safe,' or simply what to be mindful of, and I found that extremely perturbing," said Walleck, who subscribes to the MessageMe.
In an email to The Crimson, FAS spokesperson Jeff Neal wrote that MessageMe "is reserved for situations in which we have an imminent threat or when we are asking members of the Harvard community to take a specific action in a short timeframe." Because the cancellation of classes required Harvard affiliates to immediately alter their plans, Neal said, administrators chose to communicate that decision through the service.
Students at the Harvard Kennedy School also received MessageMe notification at 4:57 p.m. informing them that their campus was being evacuated.
Sabrina N. Bukenya '16 said she was disappointed that administrators took "a while" to respond to the incident, leaving students confused about the status of their classes and exams.
Benjamin K. Moss '13 wrote in an email that he thinks the University's "lack of communication" left students "helpless and confused" and facilitated the spread of misinformation about such things as locked gates in the Yard.
"For two and half hours, all the student body heard from University Hall was a deeply unsettling silence," wrote Moss.
But other students interviewed said they thought the University's response was appropriate given the circumstances.
Lakshmi Parthasarathy '14 said she thought that since the explosions did not happen on campus, it was not the University's responsibility to immediately respond to the incident.
Undergraduates said they appreciated the actions of their resident deans, tutors, and House Masters, who spent Monday afternoon and evening reaching out to students in Boston and on campus.
Leverett and Winthrop House administrators used House email lists to solicit names of Harvard affiliates present at the marathon, staff from multiple Houses urged students to tap into services on campus such as Mental Health Services and the Bureau of Study Counsel, and Adams House sent a message to students Monday evening confirming that all Adams students were safe.
Marathon runner Jessica A. Wright '14, who was personally contacted by a House administrator, said she was "livid" about the timing of the University's official email communication, but that staff "did a good job of contacting" Harvard marathon participants. Members of the Dunster House staff and some teaching fellows contacted Alana I. Ganz '15, who said she appreciated their efforts to ensure her safety.
Hammonds echoed the messages of House administrators in her email later in the evening, encouraging students to send their resident deans the names of Harvard affiliates present at the Boston Marathon, as well as to utilize House administrators and MHS as resources if "struggling with [the] incident."
In an interview with The Crimson, Undergraduate Council President Tara Raghuveer '14 praised students for working together to confirm that their peers who had been at the marathon were safe.
"I hope that we can learn as a community from these tragic incidents and improve communications in the future," she said.
--Nicholas P. Fandos contributed to the reporting of this story.
--Staff writer Madeline R. Conway can be reached at mconway@college.harvard.edu. Follow her on Twitter @MadelineRConway.
--Staff writer Nikita Kansra can be reached at nkansra01@college.harvard.edu. Follow her on Twitter @Nikita.Kansra.