Located just outside of Cairo, Giza has been the home to the Egyptian pyramids for thousands of years. Today, it is also home to Shia LaBeouf.
Egyptian President, Hosni Mubarak, cut the ribbon on what he's calling the nation's finest achievement, a pyramid-sized Shia LaBeouf.
Fulfilling the nation's longtime demand for a giant Shia LaBeouf, Mubarak did not hesitate to compare it to the original pyramids, built thousands of years ago and regarded as one of the Seven Wonders of the World.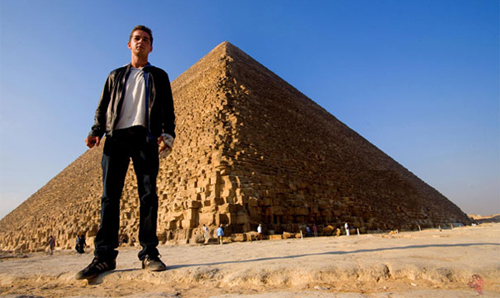 "At first, we thought it might take away from the historical significance of the actual Pyramids," Mubarak said of The Shia. "But have you seen The Greatest Game Ever Played? I think that more than explains our pride in this achievement."
Talks of The Shia have dated back to his breathtaking performance in Holes, but it wasn't until the charming actor came to Egypt for the filming of Tranformers 2 that the construction crew finally got the permits.
The chief architect of the project was Kamal Nazif, who claims to have followed the styles of Imhotep, the architect that designed the Pyramid of Djoser, built during the third dynasty.
"I really think my creation will blend in seamlessly with the landscape," said Nazif, who repeatedly took pictures of himself next to the giant Shia LaBeouf as if he were at a Wax Museum. "You think the Pyramids didn't stick out like sore thumbs when they were built?"
After the ribbon cutting ceremony, President Mubarak added that he'd like to be buried inside The Shia with all his riches, including his prized possession: The Even Stevens Boxed Set.