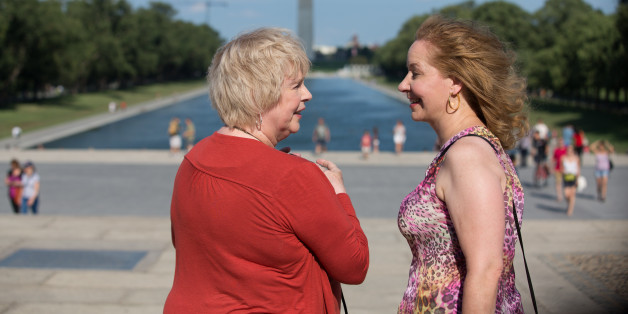 Look out Washington, D.C. the Koch Sisters are back in town!
We are so excited to be back in our nation's capital and continuing in our fight to stand up for working families across the country. Our pocketbooks may not be stuffed with billions of dollars, but we're determined to make our voices heard. From protecting Social Security and Medicare to ensuring equal pay for women, we're bringing the issues that most Americans care about to the center of the debate.
We've got a message for any politician we see this week who wants to cut Social Security or Medicare: Don't even try it!
These are essential programs millions of retirees rely on every day. Simply put, Social Security is a safety net that keeps hardworking Americans out of poverty when they reach retirement.
Nearly two-thirds of Social Security recipients rely on the program for at least 50 percent of their income. Social security comprises at least 90 percent of the income received by 36 percent of the nation's seniors.
Without Social Security, 14 million seniors would be impoverished or forced to rely on their children or other family members for assistance. That's not the American Dream and that's not right.
While the Koch Brothers fund organizations to end Social Security and Medicare as we know it, we understand the real value these essential programs are to hardworking Americans. Whether you're retired or not, the fight to protect Social Security and Medicare is every working class Americans fight.
Social Security provides for surviving spouses and the children of retirees as well as for people with disabilities. Although thousands of Americans rely on Social Security to make ends meet, Republicans in Congress have repeatedly tried to dismantle the program instead of trying to protect it for generations to come.
That's why on Thursday, we'll be joining Senator Majority Leader Harry Reid, House Democratic Leader Nancy Pelosi, Senator Elizabeth Warren, Congressman Bruce Braley and others to kick-off the We Earned It national campaign. We're so excited to lend our voices to the call of: "Hands Off Social Security and Medicare -- We Earned It!"
You know who else earns it? Working women. But do they actually get it? Nope.
Today, women make up half of the workforce but they are paid 77 cents for every dollar earned by men doing the same work. That gap is even wider for women of color. For more than 50 years, equal pay law has been on the books but it hasn't been enough.
And yet, not one Republican Senator thinks women deserve to be paid equally to men.
Earlier this week, every Republican senator voted against ending debate on the Paycheck Fairness Act so it could be brought to a vote. They would rather play Koch Brother style politics than help improve the lives of thousands of hardworking women.
It's despicable and we intend to let them know it.
America's women and seniors shouldn't have to worry about their economic future. It is time to pay working women a fair wage and ensure Social Security for all of our country's workers.
Join us in standing up for the middle class. You can be a Koch Sister too! www.kochsisters.org