By Jennifer Ishimoto, Adult Librarian, Silver Lake Branch
Approximately 8,500 Native Hawaiians and other Pacific Islanders have lived in the Los Angeles area since the 1960s, and their story of migration and assimilation to Los Angeles, while attempting to keep Native Hawaiian culture alive, is a complex and fascinating one.
Exploring this local history of Hawaiians for the first time is a groundbreaking addition to the Images of America historical series by Arcadia Publishing, Hawaiians in Los Angeles. The book was a labor of love, written and researched by Elizabeth "Nani" Nihipali, Lessa Kanani'opua Pelayo-Lozada, Christian Hanz Lozada, Cheryl Villareal Roberts, and Lorelie Santonil Olaes.
Released on May 15, 2012, the book nearly sold out on Amazon.com on its first day. Authors Pelayo-Lozada and her husband Christian Hanz Lozada could not have been more pleased. "We had no idea that we would sell so many copies right off the bat," says Pelayo-Lozada, " When the listing first went up for pre-sale we were surprised at how many were purchased, but after a week or so our Amazon ranking went way down so we figured everyone had already bought theirs. It was exciting to find out that Amazon only had a few left in stock after the release."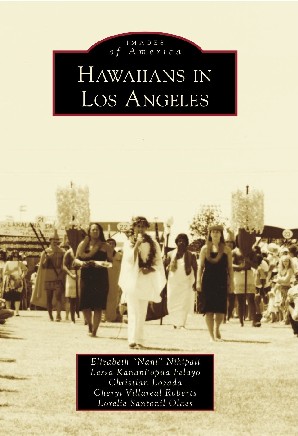 In the book, she found that the number of Native Hawaiians living in Los Angeles had been on the increase since the 1960s. Her husband writes that "since the 1960s, Native Hawaiian families have taken part in this migration to Los Angeles, bringing their unique culture as well as heartbreaking stories of loss of their ancestral homeland."
"There are so many stories we had the privilege of hearing creating this book and many of them discussed the need to leave Hawai'i in order to be successful," noted Pelayo-Lozada, underscoring her husband's statement. "After the arrival of explorers and missionaries and entrance into Statehood, Native Hawaiian literacy and education decreased dramatically in comparison to what it had been under the Hawaiian Monarchy. This meant that Native Hawaiians were placed in a position of servitude and poverty within the islands. In order to get an education and/or to provide adequately for their families, many Native Hawaiians have had to leave the islands to seek economic opportunities -- most frequently in the Continental United States. The number of Native Hawaiians outside of the islands continues to grow, even today, and census statistics project that eventually there will be more Native Hawaiians living outside of the islands than in the islands."
"This is the heartbreak that we speak of in the quote," continues Pelayo-Lozada. "Leaving isn't really a choice. It's a necessity. And once you leave you also leave behind your culture and your ancestors in a way. What Hawaiians in Los Angeles is about is that drive to keep the culture and knowledge of our ancestors alive, despite being driven from our ancestral homeland in order to become functioning members of American society."
Pelayo-Lozada and some of the other authors felt that due to time and space constraints of the publication, not enough of the historical local events of Native Hawaiians unearthed could be explored, which may happen in a future book projects. "For instance," she adds, "we wanted to find pictures of all of these hot night clubs in the '50s and '60s where a lot of college students who came from Hawai'i frequented and met their future spouses. We also wanted to include more people. This book is simply a snapshot of the people who were available during our narrow time frame, who had pictures, and who had the time to tell us their stories. This book is in no way definitive and, I feel, also isn't a historical book. It's a book about our journey as a community and the journey is far from over. People of my generation need to start taking it upon themselves to carry out what our grandparents and parents created so that we can continue to perpetuate the culture for our own children. The history of Hawaiians in Los Angeles is continuing to evolve and will continue to evolve as long as we're here to say something about it."
This year's publication of Hawaiians in Los Angeles has inspired several events tin Southern California, including a "Meet the Author" event at L.A. Public Library -- Silver Lake branch on Saturday June 30 at 11 a.m., with music and hula starting at 10:45 a.m. A book talk will feature Pelayo-Lozada, and some of the other authors. "At most of our events for the book" she says, "we are inviting other Hawaiian artists, musicians, poets, chefs, etc., to participate and share their work. At our Silver Lake event we have Geri Kuhia (sister to author Nihipali), and Mehana Band and Shawn Ishimoto accompanying us musically. At Society Art Gallery in Long Beach, we are having a reading by one of our authors, Christian Lozada, other Hawaiian writers, and we are showcasing art by Native Hawaiians, many involved with the Pacific Talent Academy of the Arts, who also sponsored our book release party at the Toyota Automobile Museum in Torrance. We also want this book to be an inspiration to community members to tell their stories and record them." Copies of the book will also be for sale and signing at the Silver Lake event.