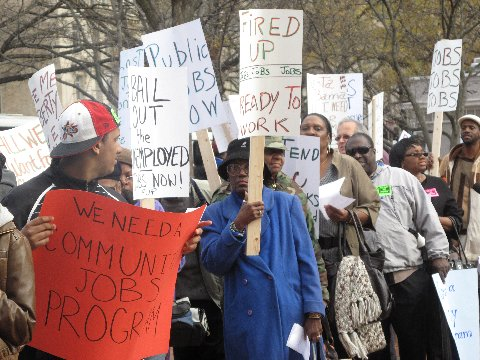 We remain in one of the worst job crises in our nation's history. Although the unemployment rate has slowly started to inch down, almost 23 million people remain unemployed or underemployed and there are still many more job seekers than available jobs. While job loss and unemployment hurts everyone, low-income communities and communities of color are particularly hard hit. Last month, the unemployment rate for Hispanics was 9.7 percent and for African Americans it was a whopping 13.8 percent.
As a nation, our primary focus right now should be on putting the millions of Americans who are out of work back into jobs. We should also be paying particular attention to those job seekers with the most limited work experience and skills that have been and will continue to face substantial challenges in finding and maintaining jobs. In this environment, we need to fight to implement proven solutions to our jobs crisis, particularly for those with limited experience, such as transitional and subsidized jobs programs. Transitional jobs offer a great balance of paid work, mentorship, and training which ensures that workers who have little labor market experience have the support they need to succeed on the job and maintain stable employment.
Community organizing groups have recognized the power of the Transitional Jobs strategy to help workers find and keep jobs, so they have fought to expand this model at the local and state level. In New York, Community Voices Heard fought for and won transitional jobs for welfare recipients; including the creation of the Parks Opportunity Program - a transitional jobs program which employs workers to maintain parks and playgrounds throughout the city. Community Voices Heard also fought for the implementation of a statewide transitional jobs program which has resulted in employment for thousands of low-income New Yorkers.

For the past several years, the Center for Community Change has been working with community organizing groups around the country to secure federal support for direct job creation programs including transitional jobs and subsidized jobs, in addition to making sure that effective programs are implemented at the state and local levels. We recognize that in times of crisis, the government has a powerful tool at its disposal, the ability to directly create jobs to put people back to work quickly.

Direct job creation helped our nation emerge from the Great Depression, through the creation of the Works Progress Administration and the Civilian Conservation Corps. During this past recession, the federal government provided support for direct job creation through the Temporary Assistance for Needy Families (TANF) Emergency Fund, one of the programs created by the Recovery Act. The TANF Emergency Fund provided resources to states to create temporary jobs by subsidizing wages of newly hired workers. This program was extremely successful; in just two years, 39 states used new funds available to create over 260,000 jobs across the country, which provided a lifeline for unemployed workers in search of work. Unfortunately, when this program expired, despite the support of the President, champions in Congress, and intense organizing efforts around the country, it was not renewed due to opposition from certain members of Congress, who argued against any increased spending.
Right now, with state and local governments fighting to avoid further cuts and layoffs and our economy still struggling to recover, renewed federal support for job creation programs and particularly for subsidized employment and transitional jobs programs is critically important. Yet instead of calling for investments in job creation programs, many in Washington continue to push for even more spending cuts which would drastically reduce services that help people weather the ongoing devastating effects of the recession and lead to more job loss. That bears repeating - while millions of workers remain unemployed, instead of trying to help put people back to work, some politicians continue to advocate for more cuts that would put more people out of work and further weaken our fragile economy.
That's why the groups we work with around the country are out in their communities organizing against cuts to critical social programs and for new revenues that can go toward job creation. Through government investments, we can grow our economy and generate new jobs. With unacceptably high unemployment continuing to tear families and communities apart, the time for action is now.
By Steve Savner, Director of Public Policy, and Allegra Baider, Senior Legislative Associate, Center for Community Change.
Learn more about the Center for Community Change at www.communitychange.org.