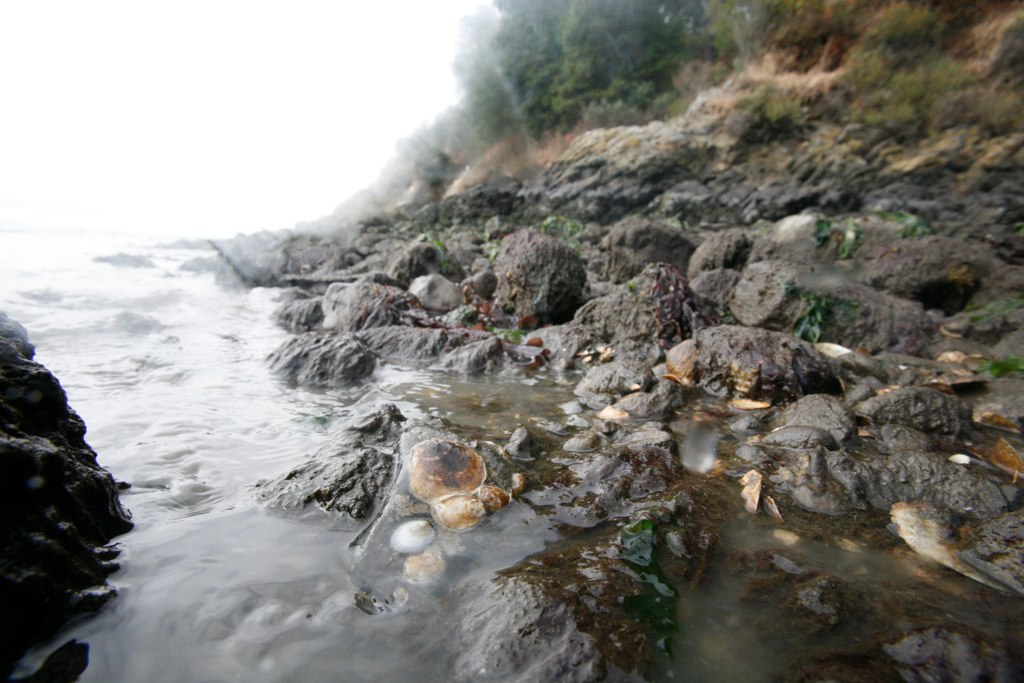 Guest blog from Sarah G. Newkirk, Coastal Project Director for the Conservancy in California. She focuses on restoration of native oyster reefs to San Francisco Bay, an effort that may slow erosion caused by climate change, as well as bring habitat benefits.
What one thing can we do to protect our shores from climate-change driven erosion, clean our water, provide habitat for diverse organisms and eventually enjoy a delicious appetizer?
Restore native Olympia oysters to San Francisco Bay, that's what!
The Nature Conservancy is hosting a large-scale pilot oyster and eelgrass restoration project at one of its submerged parcels along the western shoreline of San Pablo Bay, the northern extension of San Francisco Bay.
The "San Francisco Bay Living Shorelines: Near-shore Linkages (Living Shorelines) Project" is a multi-objective habitat restoration pilot project managed by the State Coastal Conservancy. It aims to use a variety of habitat restoration techniques to minimize coastal erosion and maintain healthy coastal processes while protecting, restoring, enhancing, and creating natural habitat for fish, aquatic plants and wildlife.
The goal of the project is to provide living space for estuarine and coastal organisms through the strategic placement of native vegetation, natural materials, and cement and oyster shell for native shellfish settlement. Objectives also include evaluation of the potential for oyster reefs and eelgrass to reduce flow velocities, attenuate waves, and provide other natural benefits to coastal communities.
San Francisco Bay is the largest estuary in California and one of the most important, both for the habitat it provides for fish and wildlife and for the many benefits and opportunities it offers people. Its natural beauty gives the Bay Area the iconic identity for which it is known throughout the world, while its waters ensure an enviable climate and quality of life for more than 7.5 million residents.
Historically, native Olympia oysters were an abundant and ecologically important part of the fauna and fishery in West Coast estuaries. Increasing harvesting of oysters, along with other habitat impacts, resulted in the collapse of native oyster populations along the West Coast of the U.S. during the late 19th and early 20th centuries. Not only was the fishery lost, so were the key ecosystem services provided by native oysters. By attaching to hard substrates, oysters form beds that provide habitat for many other species, thus promoting increased diversity and providing food for fishes and other invertebrates.
Construction on The Nature Conservancy site began in July of this year, with the placement of nets filled with clean oyster shell on the bottom. The shell provides the hard surface that native oyster larvae need to settle.
Marilyn Latta - project manager at the State of California Coastal Conservancy - said, "We could expect a billion to settle." The project will be monitored through 2017.
The Nature Conservancy will be watching and evaluating the project results closely to see whether the approach could be applied at an even larger scale, and in other estuaries along California's coast.
Visit The Nature Conservancy's California Climate Change Program to learn more about innovative nature-based solutions to limit the severity of climate change.
(Photos courtesy of Marilyn Latta of the Coastal Conservancy)