By Angela Montefinise
University of Missouri Ph.D. candidate Steven Carl Smith was sitting in a coffee shop near campus when he got the email that changed his life as a young historian.
It was from The New York Public Library, informing him that he had received one of 21 fellowships to do short-term research at the landmark Stephen A. Schwarzman Building on 42nd Street.
"I had to really contain myself from screaming in the middle of this very popular, crowded coffeehouse," Smith, 29, recalled. "I ran outside and called a bunch of people and immediately started making plans. I was overjoyed, and felt honored to have been selected. It's a privilege to be able to do research [at the NYPL]."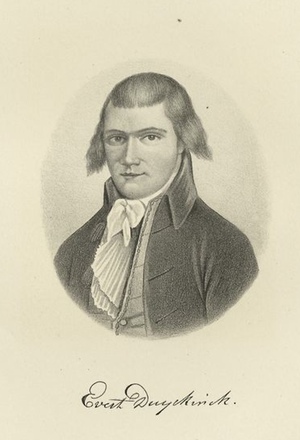 The Library is currently offering 20 new short-term research fellowships, which come with $2,500 stipends. Fellows will use the Library's collections for two to three weeks from June 1, 2011 to June 30, 2012 in their research. For further information and to see how to apply, go to the Fellowship home page.
"I highly recommend it," Smith said. "The Library is an invaluable resource for research. The staff in the Manuscript and Archives Division was so helpful, especially Assistant Curator Thomas Lannon and Curator Bill Stingone. They really went out of their way to work with me and to help me with my research, Thomas especially. I guess you could say I was treated like a rock star."
"The Library had the collection I needed for the project," said Smith. "It will make or break how this thing turns out."
Smith is working on a dissertation about New York City in the 19th century, with a focus on the publishing industry and how it developed. He used several collections while he was at NYPL in July and August 2010, but primarily looked at the Duyckinck Family Papers, which included materials from Evert Augustus Duyckinck, a "somewhat famous" contemporary of Melville, Poe and Hawthorne who edited several large literary newspapers in the 19th Century.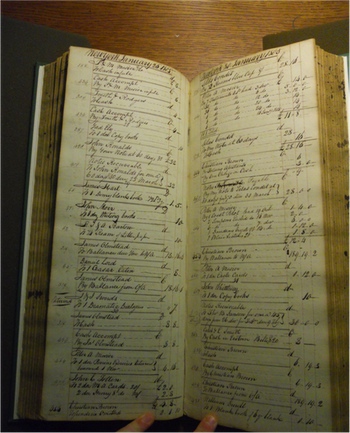 Excerpt from Evert Duyckinck's Daybook, 26 - 30 January, 1805, Duyckinck Family Papers, Bound Volume 24, Manuscripts and Archives Division, New York Public Library: Astor, Lenox and Tilden Foundations
"My main interest in that collection were actually the papers of his father, also named Evert Duyckinck, who was a bookseller in New York from 1795 to 1825," said Smith of the collection, located in the NYPL Manuscripts and Archives Division.
"There's a very large gap in the historiography regarding New York's role in the American publishing industry," Smith said. "New York was kind of the third wheel of the publishing business in early America behind Philadelphia and Boston, but I think the Duyckinck records show that early nineteenth-century New York needs to be taken very seriously because, in addition to his local business, he became an important national wholesaler."
"The elder Duyckinck represents a missing period of 30 years," he added. "He grew his business to the point where New York was able to become the center of the American publishing industry in the 1830s and 1840s."
Smith looked at 14 manuscript day books, an exchange book, and several receipt books in the Duyckinck collection that listed the day-to-day activities of the elder Duyckinck's shop on Pearl Street (the current site of a Starbucks).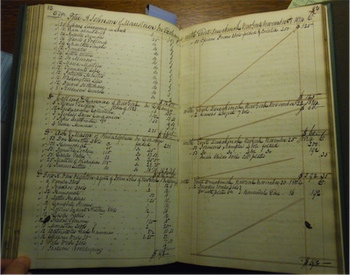 Excerpt from Evert Duyckinck's Exchange Book, 18 November 1824, Duyckinck Family Papers, Bound Volume 35, Manuscripts and Archive Division, New York Public Library: Astor, Lenox and Tilden Foundations.
"These books are massive," Smith said. "I'm currently taking notes and transcribing the transactions into a searchable database, so I can trace the long-term development of his business and, as a result, the long-term development of the publishing industry in New York."
Smith also looked at legal papers, Duyckinck's probate will and four receipt books that list customer transactions from the collection.
"I found this collection by accident, to be honest," Smith said. "I was looking through the finding aid of the Duyckinck papers... when I discovered financial records of the elder Duyckinck. Nobody has really mentioned this guy other than to say that he was a wealthy bookseller. How did he become a 'wealthy bookseller'? This has never been explained, which is what I hope to do."
Smith said finding information in stacks of old manuscripts is "spine-tingling" and like a "shot of espresso," and said, "It's amazing. You can take the probate will of an old bookseller and it becomes a key part of telling the story of New York City."
He added, "I gained a true appreciation for the NYPL as a place where small ideas can grow into big ideas."
History of the Duyckinck Family Papers
Beginning in November 1878, the library of Evert A. Duyckinck was transferred to the Lenox Library, following wishes expressed by Duyckinck himself. From time to time during the next four years about half of the entire collection was transferred. By the will of Mrs. Duyckinck, who died Feb. 20 1890, the remainder of the library was bequeathed as a memorial of her husband and his brother, George Long Duyckinck.
Duyckinck's library, at the personal residence of Evert A. Duyckinck No. 20 Clinton Place, was significant in its day and open to New York's literary circle. Melville borrowed books from Duyckinck. This collection of books is now part of NYPL's collection. Some may even be on Google Books. It may be worth mentioning the Duyckinck family library was a foundational collection of what is now NYPL.
The family papers, including the papers of Evert Sr., are held in the Manuscripts Division. The Duyckinck family papers have been explored by many scholars. It is from this collection the Library boasts its manuscript of Nathaniel Hawthorne's "The Old Manse." However, the papers of Evert Duyckinck senior (1764?-1833) have been overshadowed by the significance of his son.