This kitty was certainly in the wrong place but luckily, it was the right time. Southern California resident Paula Tiberius noticed a mama cat moving her kittens along her fence. Paula figured the mother was looking for a more secure, sheltered home. Out of curiosity, Paula ventured into her unlocked shed where sure enough she found a small kitten looking back up at her. Paula didn't pick up the kitten right away knowing his mama would be looking for him.
Soon after the discovery in the shed, Paula and her family heard a mournful mewing every night. It sounded as though a kitten had made its way into the attic. After another restless night, Paula decided to brave the attic and find the kitten. On her hands and knees, she crawled around unable to find the source of the woeful cries.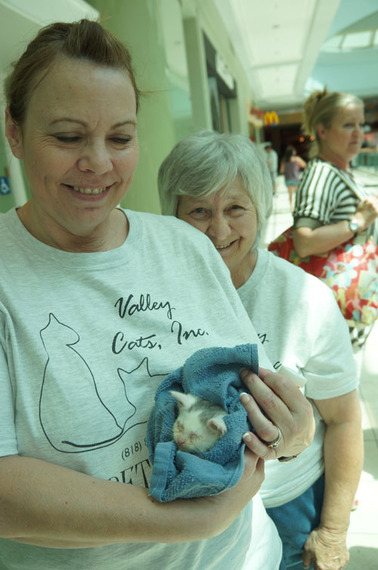 The sound of the meowing suddenly moved to the first floor wall in the front hall. The meowing continued. The kitten had somehow fallen in between the walls and couldn't get out. He was trapped. Time was ticking for this three-week-old kitten.
Paula and her husband, Richard, didn't hesitate. They immediately got to work. Using a jigsaw blade, Richard slowly sawed through the wall. Within minutes, a four-inch square piece of drywall came loose revealing an emaciated and flea infested white and gray kitten. The kitten was worse for wear.
The kitten was covered in fleas. His eyes, covered in discharge, could barely open. The number of fleas and amount of blood loss resulted in near anemia. Paula and her sister, Kiry, and daughter, Violet, gave the kitten a needed bath as they carefully hand picked the fleas from his fur. If Paula hadn't been so adamant about finding the meowing kitten, the kitten would not have survived long.
Paula called founder of Animal Rescue Alliance and Farm Sanctuary, Kelly Roland, who instructed her to take the kitten to their vet and finally to Petopia, where they would be willing to take the kitten in and find him a happy home.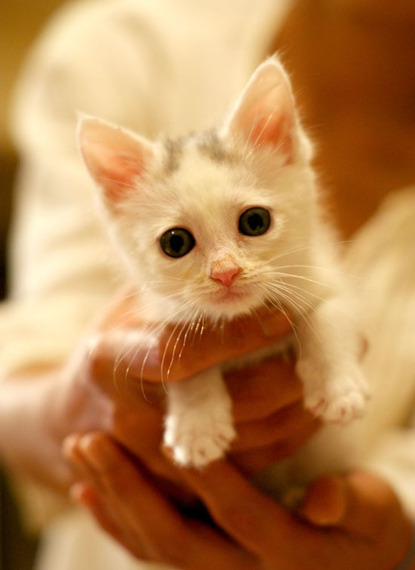 Petopia gives names to all of their rescues. Paula volunteered the name "Valentino" for the heart shaped marking on the kitten's head. A fortuitous symbol that this kitten's life is certainly not over and has still so much more love to give.
True to his name, Valentino, now Atticus, was lucky a second time. He was adopted from Petopia last December. He is now thriving in his new home.
Follow Petopia on Facebook!
Do you have a Tail of Hope or Survival? We'd love to hear it! Visit us at thepetcollective.tv and tell us your story!
Visit The Pet Collective Website for more amazing Tails of Hope!
Connect with The Pet Collective:
The Pet Collective YouTube Channel: /ThePetCollective
The Pet Collective Cares YouTube Channel: /TPCCares
The Pet Collective Facebook: /thepetcollective
Share The Pet Collective with your friends and family, because everyone needs their daily dose of cute!