It is hard to believe that someone would abandon Rosebud. Rosebud, an English Bulldog who loves sloppy kisses and belly rubs, was tossed on the streets by her previous owner. She lived in a kennel her whole life as a breeding dog used to breed English Bulldog puppies. Rosebud had multiple litters in her lifetime, and was malnourished from having given birth so many times without proper care from her owner. Once Rosebud could no longer have puppies, she was considered useless and left to die on the streets.
Rosebud was later picked up by Animal Control and taken to a Los Angeles animal shelter. It was there that she was placed on the 'red list'. The 'red list' is when an animal is to be euthanized within a 24 hour period. Emma, a foster for the rescue organization, Dogs Without Borders, saw Rosebud's picture on the red list online, and raced up to the shelter the day she was to be euthanized to save her life. Lucky for Rosebud and Emma, they found each other and Emma brought her home. If it was not for Dogs Without Borders, Rosebud would not have lived through the day.
When a veterinarian looked at Rosebud, it was discovered how severe her health problems were. She was emaciated and at least 20 lbs underweight. This is extremely dangerous for any dog, but especially a recent mother who had gone through several litters in this condition. Beyond her malnourishment, Rosebud had parasites and worms covering her body. The vet discovered she had inverted eyelashes which scratched her corneas and caused her constant severe discomfort.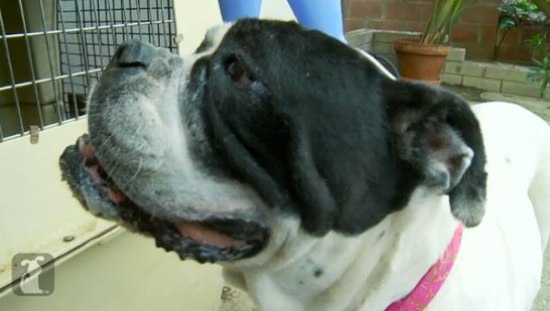 In addition to Rosebud's physical problems, she was also suffering from a skin condition called lick granuloma, which is when animals self-inflict licking in the same spot on their body until it is raw, red and bleeding. Rosebud had so much stress and anxiety from the abuse and neglect, that she had several of these lesions all over her body and had even chewed the tip of her tail off.
Rosebud was hardly given a chance at life because her previous owner was doing pretty much everything possible to make sure Rosebud would die. Now, just a few weeks after being put on the red list for euthanasia, she's in her foster home with Emma, eating properly, and has more energy than ever. Rosebud has gotten the medical treatment she needed, and is living the life of a goofy and lovable English Bulldog. Emma named Rosebud after the flower, since she knew the dog would boom like a rose with a little love and nurturing. Rosebud is blooming now and looking for her forever home.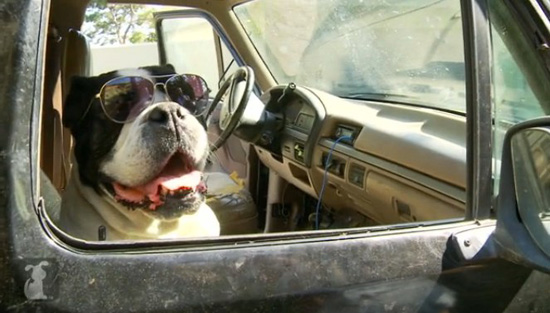 To learn more and to DONATE to Dogs Without Borders visit their WEBSITE!
Do you have a Tail of Hope or Survival? We'd love to hear it! Visit us at thepetcollective.tv and tell us your story!
Visit The Pet Collective Website for more amazing Tails of Hope!
Connect with The Pet Collective:
The Pet Collective YouTube Channel: /ThePetCollective
The Pet Collective Cares YouTube Channel: /TPCCares
The Pet Collective Facebook: /thepetcollective