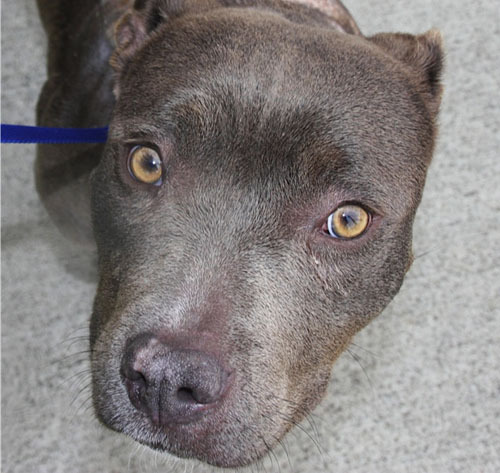 Tess, a 1-year-old blue pit bull, was turned in as a stray to the Indio Animal Care Center in Indio, Calif. in January 2013. As soon as shelter workers saw her condition, they immediately started calling rescues knowing they couldn't financially absorb the medical costs she would need to recover. Tess was covered in third degree chemical burns.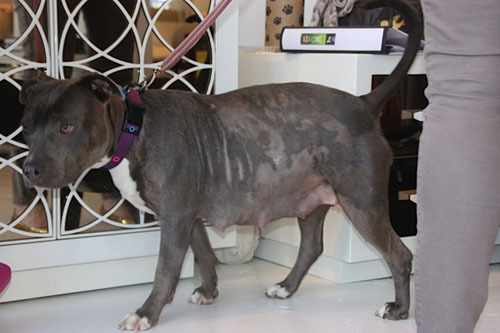 The first call went to Wags and Walks, a non-profit organization based in Los Angeles, Calif. Founder and Chief Animal Lover Lesley Brog heard the story and immediately said she would take in Tess. Time was of the essence. With third degree burns, Tess was extremely vulnerable to infection due to the numerous open wounds. Upon first seeing Tess, Lesley was taken aback. "It was painful to look at. I mean you wonder who would do such a thing and how she is still able to wag her tail?"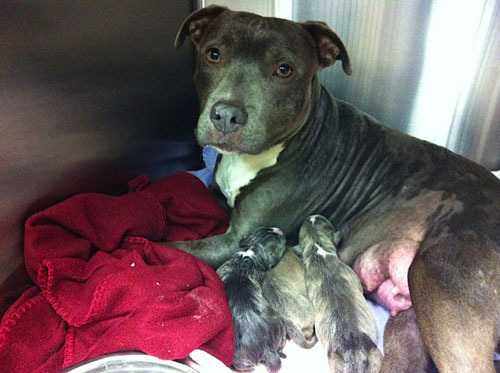 Tess's burns covered three quarters of her body. She had lost nearly all of her hair covering her back and legs, leaving only raw, exposed flesh beneath. Only her head and sweet face were thankfully untouched. Lesley took Tess to the veterinarian who deduced that a, "chemical was viciously poured over her." The incident had likely occurred just prior to being turned in to the shelter.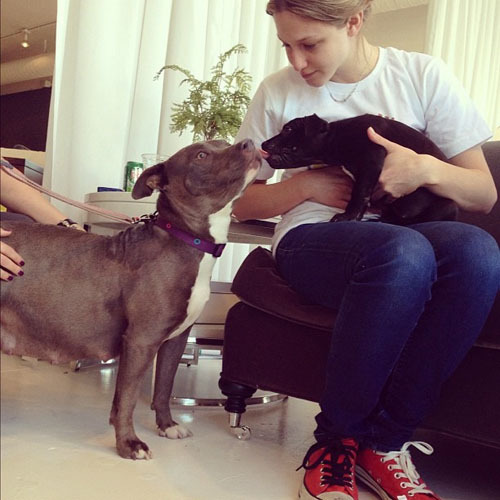 It would take a week for Lesley to know with confidence that Tess was in the clear but her treatment wasn't easy. "[She was in] the worst pain in the world. Painful like the worst sunburn times a thousand." Tess would have to withstand numerous medical baths, lotions, and medication. Through it all she would shiver from the agony but would maintain a brave face and give "kisses" to the medical staff and rescuers. It was unbelievable how sweet she was.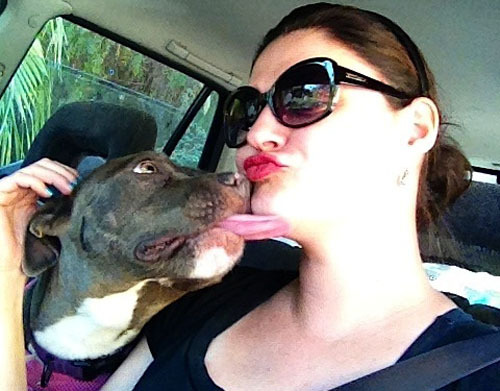 After the week, Tess was deemed well enough to go into the care of foster mom and professional dog walker, Sylvia. Sylvia kept up the salves and medication and within a month, Tess was growing back hair. Soon enough, she would be ready for adoption, that is until Sylvia noticed something else. Tess was gaining a lot of weight and seemed more tired than usual. Sylvia feared the worst.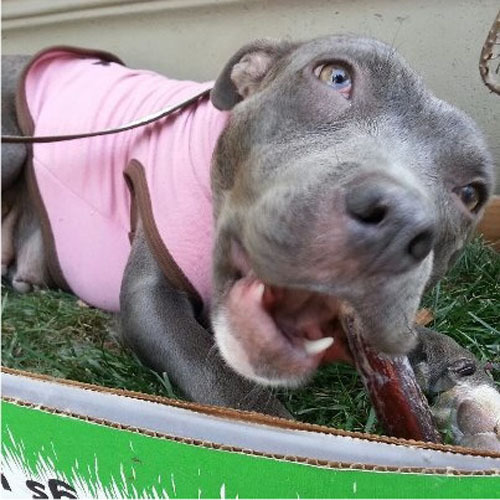 At Wags and Walks it had become a running joke, they had just pulled a dog from the shelter that had turned out to be pregnant. Sylvia immediately took Tess to the doctor and it was confirmed. Tess was also pregnant.
According to Lesley, "It was another complete shock. [We realized] our journey was just beginning."
Within two weeks, Sylvia helped deliver Tess's three puppies: Sicily, Chantilly and Valentino, the only boy. Tess was the perfect mom, "doting and caring," even though she was just a pup herself.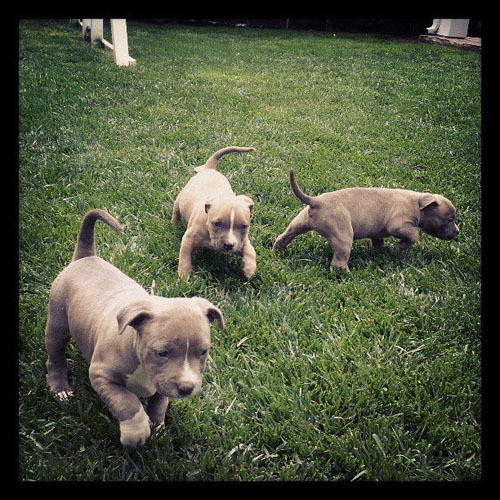 In April, all four were up for adoption. The pups were adopted first. Tess was adopted weeks later to a woman who was looking for a special dog. Tess's "calm and eager to please" disposition made her the perfect fit for a medical assistance dog in training. Tess is now developing the skills to detect medical crises before they happen and to take the right course of action should they occur. It seemed apt that a dog that took a village of rescuers and medical staff to love and mend her was now giving back herself.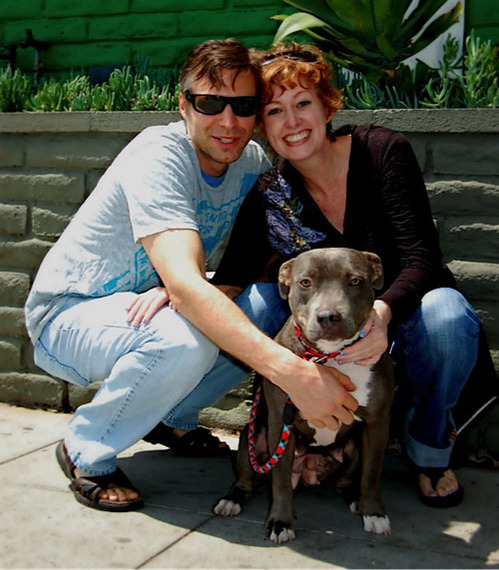 Now that Tess has found her forever home, Lesley has had the opportunity to look back on everything that has happened to Tess and it gives her pause. "Sometimes [animal rescue] feels thankless and hopeless but once this happens, it all feels worthwhile. What we do does matter and we can make a difference."
To adopt from Wags and Walks or to donate to the numerous medical expenses like Tess's, visit the Wags and Walks Website and like their Facebook page.
Do you have a Tail of Hope or Survival? We'd love to hear it! Visit us at thepetcollective.tv and tell us your story!
Visit The Pet Collective Website for more amazing Tails of Hope!
Connect with The Pet Collective:
The Pet Collective YouTube Channel: /ThePetCollective
The Pet Collective Cares YouTube Channel: /TPCCares
The Pet Collective Facebook: /thepetcollective