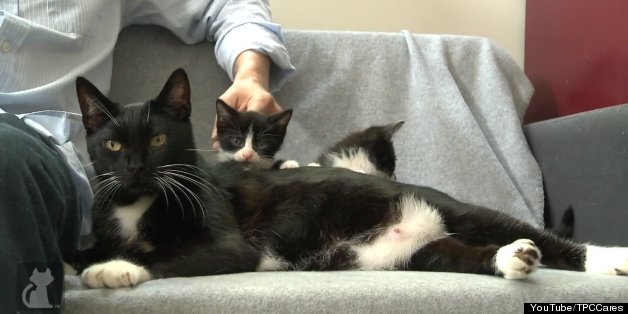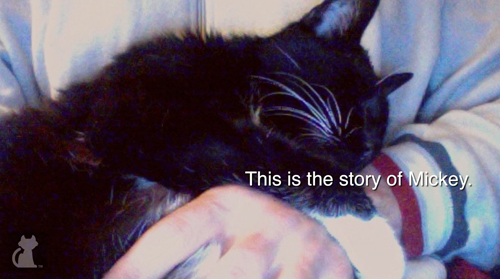 The story of Mickey the mama cat is a testament to a mother's instinct and love for her children. There are so many stories of pregnant cats and dogs winding up at the shelter, and the horrors all animals, especially vulnerable newborns, face in that environment. The statistics are grim, and disease runs rampant.
This sweet pregnant mama cat found herself at the shelter; she was pulled by a rescue group, placed in foster care and gave birth to a beautiful litter of healthy kittens, only to be struck with a near fatal illness, as happens all too often with animals who have been in the shelter. Clinging to life, she barely survived only to find that she had lost her entire litter of kittens to the same illness that almost took her life. Her will and mothering instinct were strong; she mourned the loss of her family, and then a miracle happened. An orphaned litter of kittens came into her life, making mama and orphans whole again.
Mickey is named after the famous Disney character. She's black with white paws, just like the famous mouse. She arrived at the shelter pregnant.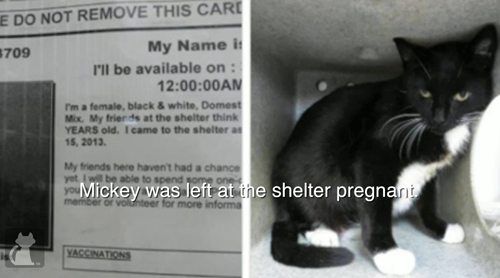 It is unclear whether she was picked up as a stray, or was relinquished by her owners. You almost never know the full story behind animals that end up at the shelter. Cats At the Studios of Los Angeles pulled her, and within three days she gave birth to five adorable black and white kittens that looked just like their mama.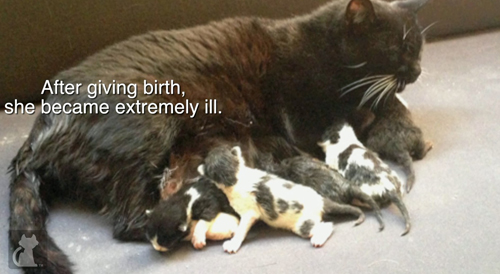 A day after giving birth, Mickey was struck down with a horrible upper respiratory infection. URIs are common at shelters. They are easily transferable, almost impossible to control, and can be deadly. Shelter workers do as much as they can, but it's impossible to stop the spread of these infections. You touch one animal, and then another ... and sometimes they are transferred in the air they breathe.
New mom Mickey was suddenly congested, and seemed to be having trouble breathing.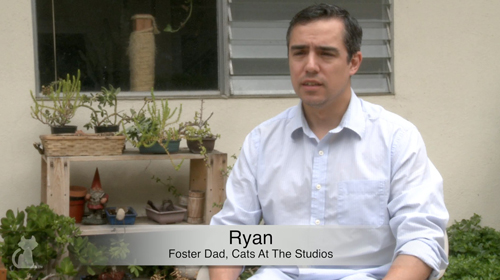 Her foster dad immediately contacted the rescue group, and Mickey and her babies were taken to the vet. It was a URI. She was immediately separated from her babies, but it was too late. The kittens had only fed on her milk for a single day, but unfortunately the URI was passed down to them in their mother's milk before anybody knew she was sick. Normally their mother's milk would help them to build up their immune systems and battle an illness, but instead Mickey's milk was making them sick. She had a fever of 106.5 F for a week, she stopped producing milk, and worst of all she refused food and water.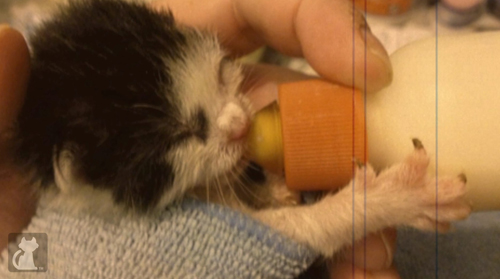 Mickey's babies were taken to emergency foster care where they were bottle fed, tube fed, and treated for their illness. But it wasn't enough, without their mother's milk to help build up their immune systems, one-by-one the babies lost the fight with this horrible infection and died.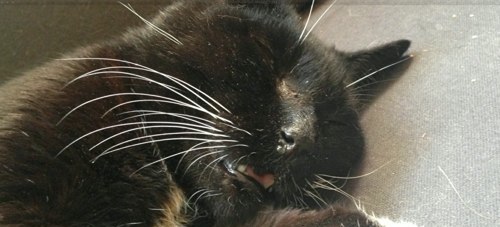 Mickey was in the ICU for a week. She was given multiple rounds of medication, and placed on an IV to keep her alive. It was a miracle that Mickey survived, but she did. Once she recovered it was clear to volunteers that Mickey was depressed and missing her babies.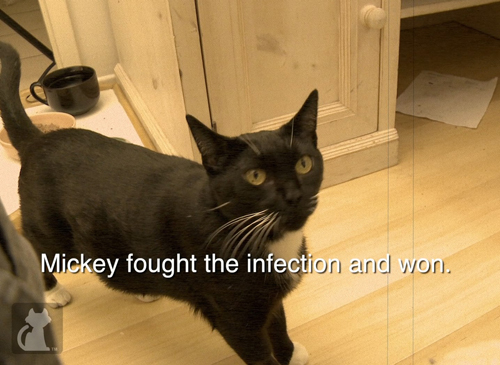 Losing all of Mickey's kittens affected foster dad, Ryan Kemp, as well. "It was really tough ... for everybody." Ryan promised Mickey he would take care of her kittens for her when she fell ill, and reunite Mickey's family when she got better. Ryan felt he had failed her. Everyone was heartbroken, but, by sending out this sweet and simple promise into the ether, the universe answered.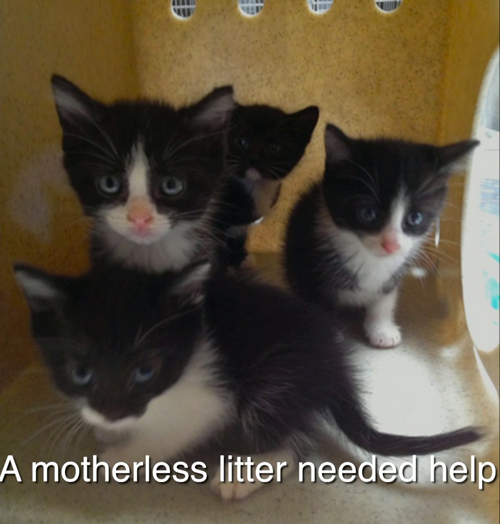 Two weeks after first rescuing Mickey, Cats At The Studios received another call: a litter of four orphaned black and white kittens without a mother. The stars had aligned and the emptiness in their hearts was about to be filled.
Ryan and other volunteers united Mickey with the orphaned kittens and they took to each other immediately. Mama Mickey began licking her new babies, and the kittens suckled on Mickey.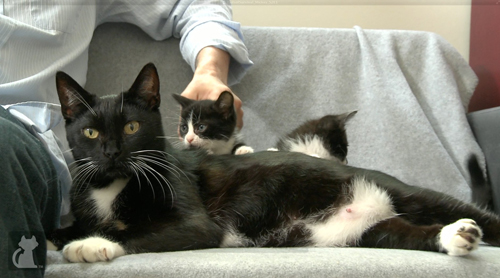 Today, Mickey and her new kittens are healthy and doing well, but their story isn't over yet. They are now looking for their forever homes. If you are able to adopt or would like to support Mickey or her kittens, contact Cats At the Studios in the Los Angeles area. They are still working to raise money to pay for the costly treatment for Mickey and her first litter. You can donate at Kitten Rescue and simply label the donation "Mickey."
Visit our friends at Cats At The Studios on their website and like them on Facebook.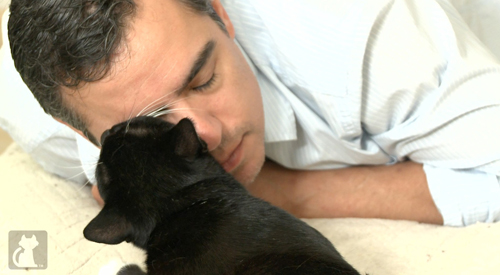 We can't thank Ryan, Cats At The Studios, and Kitten Rescue enough for the wonderful work they do every day to help homeless animals in their area. Every creature deserves a chance in life, and thanks to kind people like these, Mickey and her new babies are happy and healthy.
*Foster Dad Ryan wanted to send out a special thank you of his own to Kitten Rescue foster Betsy Lee Koski, who lovingly cared for Mickey and her babies, and guided Ryan through this entire ordeal.
Do you have a Tail of Hope or Survival? We'd love to hear it! Visit us at thepetcollective.tv and tell us your story!
Visit The Pet Collective Website for more amazing Tails of Hope!
Connect with The Pet Collective:
The Pet Collective YouTube Channel: /ThePetCollective
The Pet Collective Cares YouTube Channel: /TPCCares
The Pet Collective Facebook: /thepetcollective