Our kids were not overly fond of fish until we began serving it in parchment paper pouches. They loved cutting through the paper to find their dinner inside. Besides offering a fun way of serving food, baking in parchment is actually one of the healthiest ways to cook fish. The fish steams in its own juices so it stays delectably moist, while the vegetables, olives, and capers meld into a flavor-packed broth. What's more, this dish is just as wonderful cooked on the barbecue. Whichever way you cook it -- in the oven or on the grill -- all that's needed is a crusty loaf of bread to sop it all up.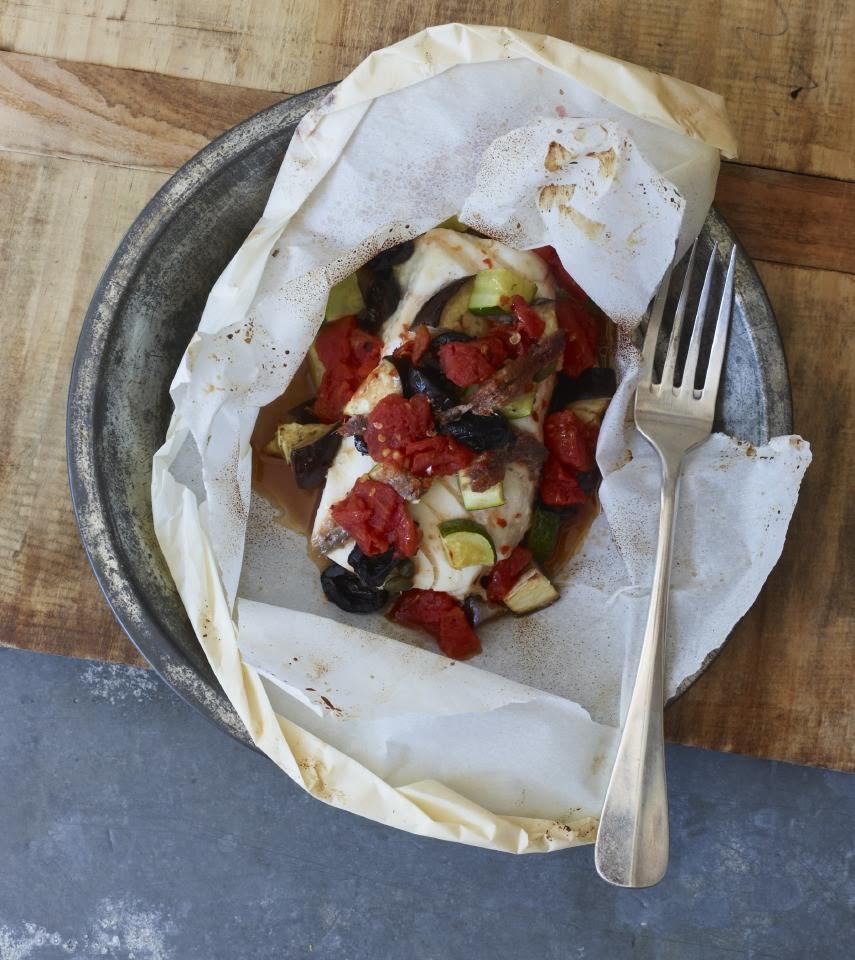 Halibut Puttanesca en Papillote
(4 servings)
Ingredients:
Organic olive oil cooking spray
Four 6-ounce skinless halibut or cod fillets
Kosher salt
Freshly ground black pepper
2 cups peeled and diced eggplant, cut into 1⁄2-inch cubes
2 cups diced zucchini, cut into 1/2-inch cubes
1 tablespoon minced garlic
20 pitted black olives, halved lengthwise
4 teaspoons capers, drained
8 anchovy fillets in oil (optional)
One 14.5-ounce can diced tomatoes, drained with juice reserved
4 tablespoons dry white wine
Pinch of crushed red pepper flakes, or to taste
Preheat the oven to 400°F, or set a grill to medium heat. Prepare four pieces of parchment paper, 14 by 15 inches each; fold each piece in half and cut a half circle to form a full circle when open.
Spray one side of a parchment disk with a little oil. Place a piece of fish in the center of the parchment paper, about 1 inch away from the fold. Season with salt and black pepper. Top the fish with 1/2 cup of the eggplant and 1/2 cup of the zucchini. Add one quarter of the minced garlic, 10 olive halves, 1 teaspoon capers, 2 anchovy fillets (if desired), 3 heaping tablespoons tomatoes, and 1 tablespoon of the tomato juice. Top with 1 tablespoon wine and red pepper flakes.
To close the pouches, fold the edges of the parchment paper together to form a semicircle, and working from one end, begin tightly folding and crimping the edges together to form a seal.
Repeat with the remaining parchment and ingredients. Arrange the pouches on a rimmed baking sheet. Bake until the parchment puffs up, 15 to 20 minutes. Or, using a wide spatula, carefully place them on the grill, cover, and cook for 10 to 15 minutes, until the parchment is puffed and golden brown.
Serve the pouches on individual plates.