The West End is an umbrella term for a hodgepodge of high-energy, tourist-friendly enclaves. From the footlights of the Theatre District to the flashbulbs of media center Bloomsbury, and the blinking neon of Soho's pulsing nightspots to the soft glow of Chinatown's dumpling houses, the West End offers a glimpse of London at its brightest. With such a bewilderingly diverse range of offerings, it can be hard not to be dazzled to distraction.
So, let's break this down a bit. Want to connect with the stylish young professionals who run in this part of town? Make for media hub Bloomsbury, where high-profile publishers and digital media firms abound and cultural institutions like the British Museum and University of London set a smart, worldly tone. If you're here for hardcore networking with the most plugged-in set, check in at the Charlotte Street Hotel, but keep in mind that while it hums by day, even hotspots like this cool down after dark when the savvy crowd heads for the bright lights of neighboring districts. (If the demands of the job rule that out, grab a bite at Thai joint Busaba Eathai before buckling down.)
Ready to swap your suit for something a little more unbuttoned? Whether you want to hobnob with clients or run with rock stars, the best areas to head are Soho and Fitzrovia, where the buzzing after-dark scenes welcome schmoozers and revelers of all stripes. For a party prelude, try cultured tapas bar Barrafina or rustic Italian joints Sardo or Bocca di Lupo. For a more electric experience, check in at a high-design hotel-cum-nightlife destination like The Soho Hotel or Sanderson. (Agua at the Sanderson spa is a great spot to rejuvenate pre-party.) Next, kick off a killer night on the town by hanging with the celeb crowd and nibbling on trendy Asian bites at Hakkasan before imbibing in its sexy bar area, Ling Ling at Hakkasan. Later on, mingle with the cocktail-connoisseur set at clubby Milk & Honey or head back to the hotel and scope the beautiful people at Sanderson's Long Bar or The Soho Hotel's Refuel Bar.
If all that revelry leaves you tuckered out, then don your coolest shades (the West End's lights can be a bit too much sometimes) and indulge in an upscale chill-out session at some of the area's more laidback establishments, like artisan coffee shop Fernandez & Wells Café or Milanese bakery Princi. Once you've got your verve back, spend an afternoon making one-of-a-kind finds at extravagant fashion and furnishings emporium Liberty and Co.
For a retreat from the sometimes exhausting West End scene, consider checking in at relaxed Firmdale properties (known for their eclectic Kit Kemp décor) Haymarket Hotel or Covent Garden Hotel. These hotels attract aesthetic-minded globetrotters looking for discreet R&R. In the Covent Garden area, you can browse eclectic offerings from arts and crafts to confectionary and clothes in the local markets (including Apple Market, East Colonnade Market, and Jubilee Market) or take a snack break at historic fish and chip shop Rock and Sole Plaice. In nearby Holburn, you can shop for quirky finds at underground silver and antiques market Silver Vaults, get massaged at the Spa at Chancery Court, seek inspiration for an artsy-intellectual West End lifestyle at Sir John Soane's Museum, or grab a classic British bite at gastropub Great Queen Street.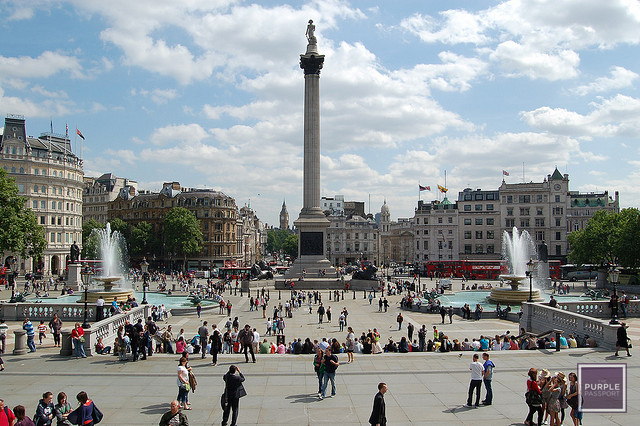 Of course, no matter what your pleasure is in these parts, there are certain bright spots in the West End that no one can afford to miss. The National Gallery and the National Portrait Gallery in Trafalgar Square are must-hits during daylight hours, as are the dim sum delights of nearby Chinatown (we suggest Jade Garden). After dark, swing by classic Leicester Square foodie hotspots like J Sheekey or The Ivy before indulging in a splashy hit musical. It's the ultimate bright-lights London experience!
This is the third in a mini-series on the coolest neighborhoods in London. Our previous posts explored the upscale bohemian charms of Notting Hill and the edgy urban vibes of Shoreditch and surrounds.
For more, see our Passport to the West End or follow our West End Guide on Foursquare.