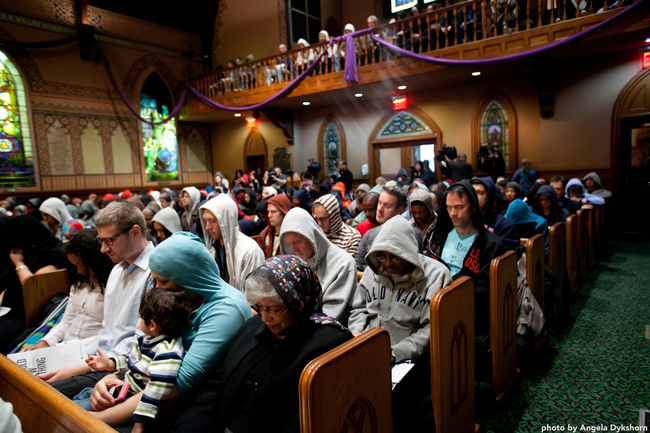 This week marks the 44th anniversary of the assassination of the Reverend Dr. Martin Luther King, Jr. I imagine while King would be proud of the election of President Obama, he would be deeply disappointed in the state of our union. We erect gates to keep the "other" out of our communities, and those gates only increase our fear. The deaths of Trayvon Martin and Shaima Alawadi remind us that we profile people in hoodies and hijabs. And, sadly, most Christians worship at 11:00 AM on Sunday mornings in segregated congregations.
I am convinced that our strongest defense against the virulent racial/ethnic tensions in our nation is the development of multiracial/multicultural communities of faith. It is easier to cling to our own kind when we gather for worship, but that is not going to get us closer to God's Shalom.
Here are some ways to start multiracial congregations:
1) Commitment: Even though you might live in a place that seems to have no racial/ethnic diversity, every neighborhood has diversity: Chinese students in an Italian neighborhood; new immigrants in a farming community; German Lutherans in a Dutch Reformed town. Name and embrace the diversity in your context, and welcome it into your congregation.
2) Celebration: Worship, music, preaching, and the arts are expressions of cultural diversity. Preach texts like Isaiah 11 and Revelation 7 which paint a picture of God's peaceable reign. Make worship a joyous expression of music from many cultures. Start a gospel choir, no matter the racial or ethnic mix in your congregation. Secular music like jazz, R&B, classical, rock, and rap can help to build cultural bridges. For example, Michael Jackson's "Man in the Mirror" is a secular song with spiritual meaning. Music draws diverse people together in the world and does the same within our congregations.
3) Collaboration: Find partners in your community with whom you can do social justice work. Nothing creates community more quickly than working side by side for God's justice. Build a relationship with the congregation near you that is of a different race or ethnicity. Have your youth groups do a service project together. Worship together and share pulpits. Do a joint Bible study for your leaders on racial reconciliation. Use movies like Crash and books like The Bluest Eye to spark conversation and community.
As the deaths of Trayvon and Shaima are investigated, I urge you to take these two actions:
On Easter Sunday, invite your congregation to swap their Easter hats for hoodies or hijabs. At 11:00 AM, ring your church bells 44 times, tolling the years since Dr. King's death. With their heads covered, invite your congregation to spend that time praying in silence. Let the bells ring out a prayer for justice and reconciliation.
Racism and profiling can seem overwhelming. But when we gather rooted in our faith and connected to others who seek change, our spirits and our communities may take steps toward transformation.