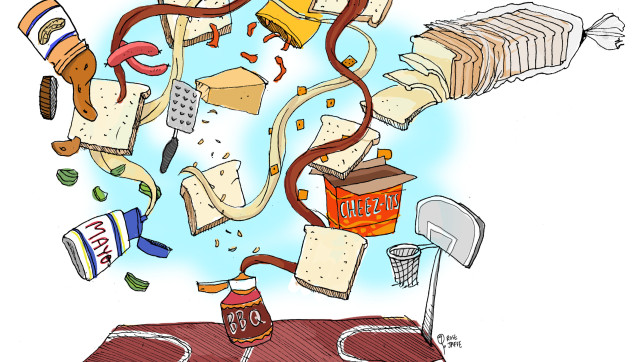 By Sam Hiersteiner; Illustration by Rose Jaffe
Were the titans of food to bestow an award for accomplishment in the field of contrarian invention, I feel sure my father would win.
For many years, he has quietly and humbly led an eating school that ascribes to the adage "one man's trash is another man's treasure." The movement rejects traditional beliefs about what flavors and foods can be enjoyed together, even going so far as ignoring accepted standards of food safety. Its subscribers are mainly so-called "grazers" who lurk in dark kitchens long after the dinner bell has rung. The abrasive light of open refrigerators guides their attempts to achieve a higher understanding of the midnight snack.
My father has ascended to the rank of capo di tutti capi (boss of all bosses) by deftly wielding a weapon that is recognized as the great gastronomic equalizer: A single slice of white bread. Holding it gingerly in a hand, he can catalogue the full contents of a refrigerator in a blink, before surgically fashioning a half-sandwich out of ingredient mixtures that are all but illegal in most of the developed world. His economy of motion makes it difficult to even catch a glimpse of the final product before it disappears.
A lifelong lover of the National Basketball Association, Dad named some of his greatest concoctions after players whose names are ignored or forgotten:
The Mike D'Antoni: Mayonnaise + parmesan cheese
The Rafer Alston: Mayonnaise + peanut butter
The Royal Ivey: Mayonnaise + Cheez-its
The Danny Schayes: Mayonnaise + dill pickles
The Oliver Miller: Peanut butter + hot dogs/ bologna/ ham/ turkey
The Chet Walker: Barbecue sauce + Cheetos
The Jerome Moiso: Plain hollandaise sauce
The Detlef Schrempf: Braunschweiger + anything
Although I have long tried to forge my own path, away from the cult of my father's culinary personality, I often succumb to weakness. Recently, I ate a rice cake covered in poppyseed filling. The apple, topped with horseradish mustard, never falls far from the tree.
RECIPE: The Mike D'Antoni -- For Company
Recipe courtesy of the Runcible Spoon. Serves four as an appetizer.
2 slices of Texas toast, edges trimmed
1/3 cup shredded parmesan cheese
1/3 cup shredded sharp cheddar cheese
1 tablespoon pineapple chunks, chopped and drained
1 tablespoon diced pimentos
mayonnaise to moisten
salt and pepper to taste
paprika (for garnish)
Mix parmesan, cheddar, pineapple and pimentos together. Add enough mayonnaise to make the mixture spreadable, then season with salt and pepper. Cut Texas toast into quarters. Slather cheese mix liberally on squares. Put under the broiler for about 4-6 minutes, until the cheese is bubbling and golden brown. Garnish with a dash of paprika. Serve with a cold beer.
Sam Hiersteiner has contributed to the Washington City Paper, Edible DC, Flavor Magazine and Hypervocal.com. He is a pork enthusiast. Follow him on Twitter at @SamsGoodMeats.
The Runcible Spoon is an independent food magazine based in Washington, D.C. Community-driven and DIY, the Spoon captures the pleasure and humor of eating food through storytelling, collage and illustration. Buy the new issue of the GROSS ISSUE here.