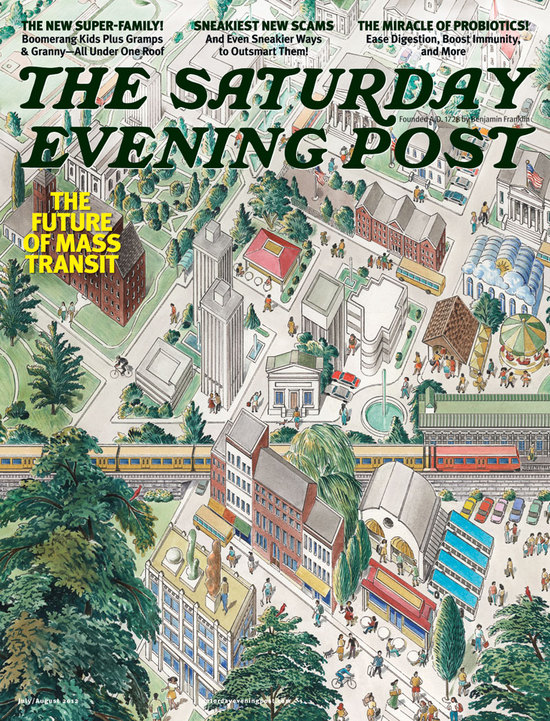 In a rare show of bipartisanship, Congress recently passed the transportation bill, "Moving Ahead for Progress in the 21st Century" (MAP-21). The bill provides about $120 billion for the nation's highways over the next 27 months. While this infrastructure money is sorely needed, the bill fails to address a problem that will only grow in the coming years.
"The bill merely maintains the status quo and doesn't address the coming crisis in mass transit," says transportation expert James McCommons, professor of journalism at Northern Michigan University, and author of a recent article discussing transit in The Saturday Evening Post.
I grew up in Manhattan, one of the few places in America where the car is not king. Instead of learning to drive at 16, you learn to hail a cab. Instead of driving your date home after the movie, you walk hand-in-hand to the subway. We didn't learn about "parking" or the other kind of parking--the parallel kind--unless we moved out of town. Although I learned to drive at 17 (imagine the thrill and terror of being a student driver on Broadway, Columbus Avenue, Amsterdam), it was quite common to know someone who didn't learn to drive until well into their twenties--if at all.
Which makes plenty of New Yorkers feel like helpless weirdos should they ever venture beyond the city limits. Pretty much everywhere else in America, automobiles rule. They've defined this country for nearly 100 years. Cars have powered our growth and given us previously unimaginable freedom, including being able to live wherever we choose. Cars encouraged massive suburban sprawl, which allowed many of us to have neat little homes with green front lawns--and lengthy, daily commutes to and from the city.
As gas prices continue to rise and the population surges, something needs to change. Maintaining our reliance on the automobile is simply too expensive. This country has made large public investments in building and maintaining our roads--hundreds of billions in the interstate system alone.
MAP-21 merely continues to do more of the same--and that is wrong, says Jim Oberstar, the 18-term congressman from Minnesota, and former chairman of the House Transportation and Infrastructure Committee. For years, Oberstar unsuccessfully tried to pass legislation to increase funding for transit. He points out that the new bill authorizes a little over $10 billion for mass transit in each of the next two years, an amount he describes as "anemic." As he argues in "What Government Needs To Do" in The Saturday Evening Post, it is vital that we start shifting our resources away from the lone automobile and toward mass transit. "If drivers shifted to public transit at the rate of just 10 percent of their daily travel, the U.S. could reduce its dependence on oil imports by more than 40 percent," he writes.
So, confession time: For all this talk of subways and buses, I love cars. In the aught years, I lived in walk-friendly, bike-friendly Washington, D.C., where there's also a wonderful metro system. I was able to get by with a single vehicle, and that suited me fine. Then a new job took me to another city where it's a stretch to get anywhere without your own wheels. I had to buy a second vehicle. This put me in the mainstream. (The average American household owns 2.28 vehicles, and some 35 percent of us have three or more!) As much as I love cars, if there were better ways to get around, I'd be delighted to go back to owning just one.
Written By Steve Slon
Editorial Director of The Saturday Evening Post