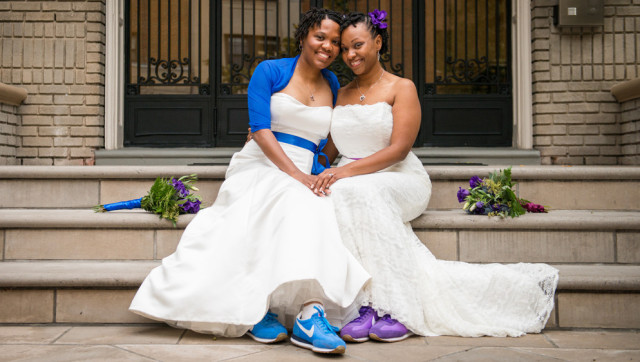 In my 15 years as a professional photographer, I've photographed more than 200 weddings, so you could say that I've gotten pretty comfortable working as a wedding photographer. I have an established routine to meet and exceed my clients' expectations, and I'm able to offer guidance, based on my extensive experience, to better create beautiful and lasting wedding photographs for them. But in 2005 I photographed my first same-sex couple's wedding and realized that although I had plenty of professional experience to lean on, in many respects I felt like a beginner.
That first gay wedding represented many firsts for me. In fact, it was the first same-sex wedding I'd ever attended. It was the first wedding I'd ever photographed where neither member of the couple was wearing a wedding gown. And it was the first wedding where the ceremony kiss turned out to be the first time this couple had ever kissed in front of their families.
This couple was fantastic, two beautiful people who truly and deeply loved one another, but capturing their love on camera was challenging. My "regular bag of tricks" was no help when I tried to convey the level of intimacy I usually capture at a wedding. Even simply posing this couple, because they were so similar in height and weight and couldn't physically dip or lift each other, made the "standard" images difficult.
Flash-forward to today, and I've learned a lot, namely that love is love and that gay and lesbian weddings have a lot in common with heterosexual weddings. However, there are some key differences that a photographer must understand, and I wanted to do something more to share my experience with other photographers.
That's why I called Kathryn Hamm, president of GayWeddings.com, the first online resource specializing in support and information for same-sex couples, their families and the wedding pros who wish to work with them. The end result of that fateful call? Together we designed a groundbreaking guide, Capturing Love: The Art of Lesbian & Gay Photography, designed to help photographers and engaged couples understand the art and mechanics of photographing lesbian and gay weddings and engagements.
To understand in depth what we've discovered and the tips and information we've gleaned from so many talented photographers and beautiful couples, consulting a copy of Capturing Love is well worth the time and effort. We scoured thousands of photographs to select 65 outstanding examples of same-sex engagement and wedding photography, representing the work of 38 photographers and 46 couples from 19 U.S. states, Canada, the UK and Italy.
Here are just a few examples of what we reveal in the book:
PHOTO GALLERY
Tips From 'Capturing Love: The Art Of Lesbian & Gay Photography'
We are standing at the edge of a new frontier in weddings, one that is inclusive of couples of all shapes, sizes, ages, ethnicities, religions and sexual orientations. These are exciting times indeed, and Kathryn and I look forward to the exciting developments to come for same-sex couples and their inspirational weddings.