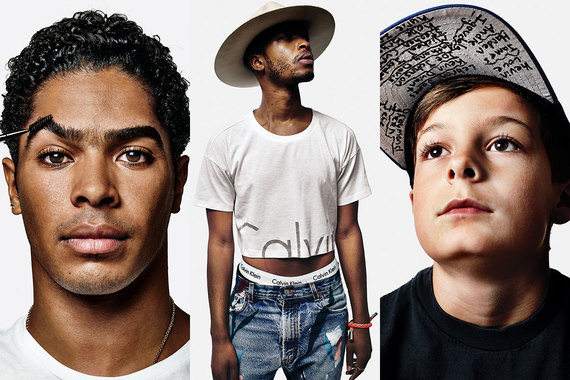 From left: William Scott, Antwaun Sargent, and Charlie St. John. (Photos: Bobby Doherty/New York Magazine)
By Erica Schwiegershausen
When it comes to establishing a signature style, the playing field for men has always been a bit narrower. Within the traditional confines of men's fashion, men often rely on subtler details for distinction -- from a pristine pocket square tucked into the breast pocket of a Thom Browne blazer to an impeccably tailored ironic Harley Davidson tee. Yet, as gender fluidity has become increasingly visible on runways, men's fashion seems to have become more relaxed and even playful: At New York men's fashion week, Orley showed crop tops for men, and Coach introduced fuzzy shower slides. With this in mind, the Cut asked men who seem particularly at ease in their clothes what makes their style their own -- from a photojournalist who never leaves home without a scarf, to a designer with over 2,000 pairs of sneakers, to an ad man who prefers bow ties. See below for a look at their style:

Related: 15 Menswear Looks We Want to Wear From Men's Fashion Week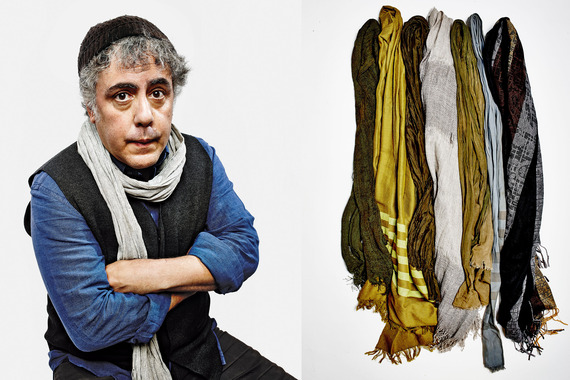 My Multipurpose Scarves
Ron Haviv, photojournalist
"I wear a scarf pretty much every day. As a photojournalist, there are dozens of situations where scarves come in handy -- from UV protection, to protest situations where there might be tear gas involved, to conflict work where you might need to have a tourniquet available. Last year, I was covering gold mining in the Amazon, and I fell down a hill into an area that was very difficult to get out of, and somebody was able to pull me out using my scarf."

Related: You Can Still Dress Like a Goth in Summer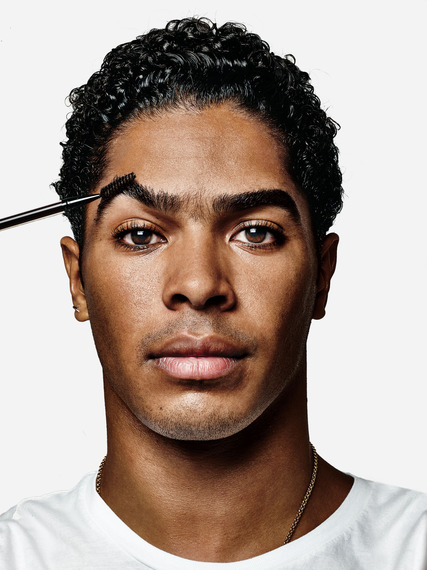 My Unruly Brows
William Scott, makeup artist and brow specialist
"I've been trying to grow a unibrow for a couple years now. When I was younger, I used to hate it, but I let it grow now. I try to keep them as lightly groomed as possible -- I'll trim some long hairs, and clean up any stray hairs that might connect from my brow to my hairline to keep them from getting too long and scraggly. But I try to keep it minimal, because if you groom too often they can look very manicured, which I don't like."
Related: The Best Parties of New York Men's Fashion Week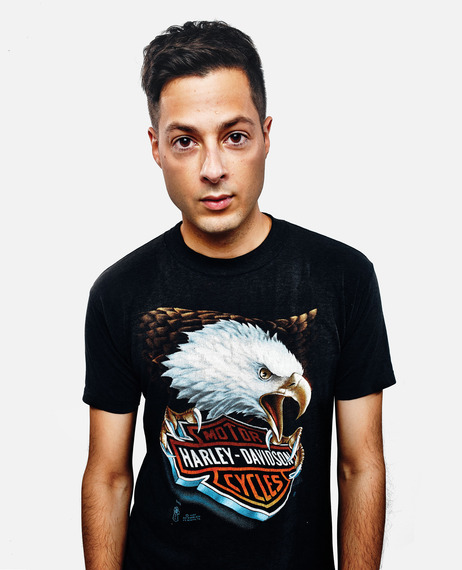 My Tailored Harley Tees
Thomas Kikis, stylist
"I have about ten Harley Davidson T-shirts. It's kind of funny and ironic, because I'm so not a Harley guy. I don't ride a motorcycle -- I can barely drive a car. But I like Harley because it gives me a little toughness that I may lack in my overall presence, because I'm really small. Not one of them fit me off the rack -- I get them all tailored. My tailor thinks I'm crazy, because I'm constantly tailoring T-shirts."
Related: The Final Street Style From Men's Fashion Week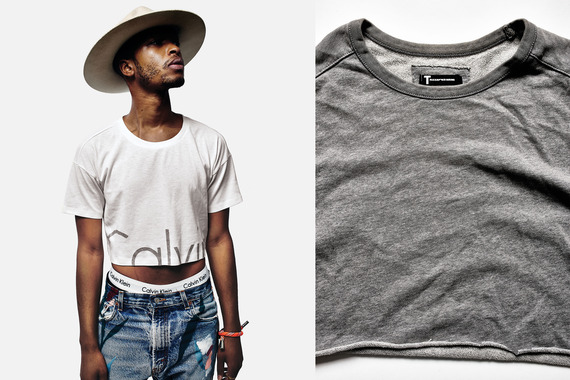 My Crop Tops
Antwaun Sargent, culture writer
"I hate the way men's shirts fit. They're all kind of oversize or too small. I've become really obsessed with crop tops. They've gotten shorter as I've become more comfortable wearing them. I also like cropped sweaters -- Alexander Wang, Acne. I'll wear the normal fit for a while, and then change it up. I think style is deeply personal, and it needs to be a reflection of your identity. I don't see a lot of guys wearing crop tops."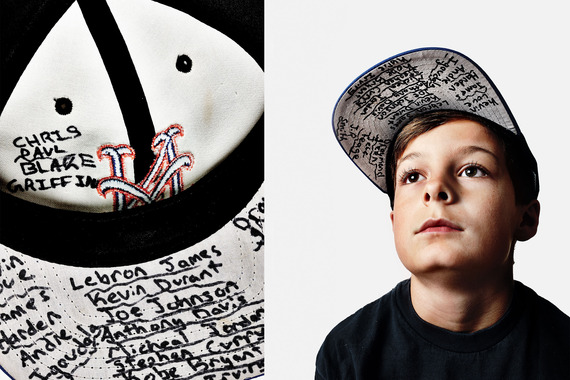 My Lucky Hats
Charlie St. John, student
"It's kind of like I made the hat my own by writing my favorite basketball players on it. NBA players are very well dressed. I watch them on Instagram. I'm lucky because my teacher allows me to wear my hat in class, but other teachers don't. I have five hats, so I consider myself a starter-collector. I'm on Amazon all the time looking for new ones."
Related: Go Behind the Scenes at a New York Men's Fashion Week Shoot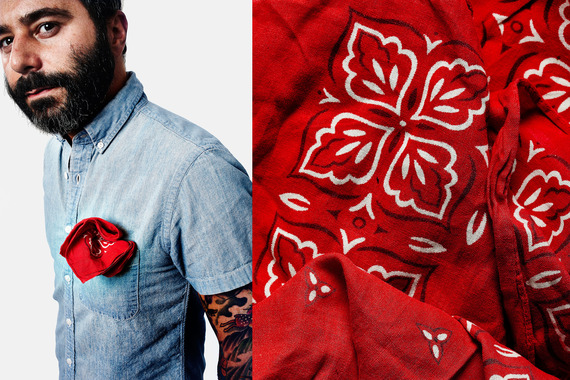 My Decorative Bandanas
Spencer Mandell, creative strategist at Instagram
"My style hasn't evolved very much from the age of 13, which is when I started wearing bandanas. I don't wear them as bandanas, but I always have one in my back pocket. I own about 30 of them. My grandfather always carried one, so I think that's what the initial inspiration was. Some are new ones that came from the local Army-Navy store, some are fancy designer ones -- it runs the gamut. I like having a piece of flair that separates the basic uniform of jeans and a T-shirt."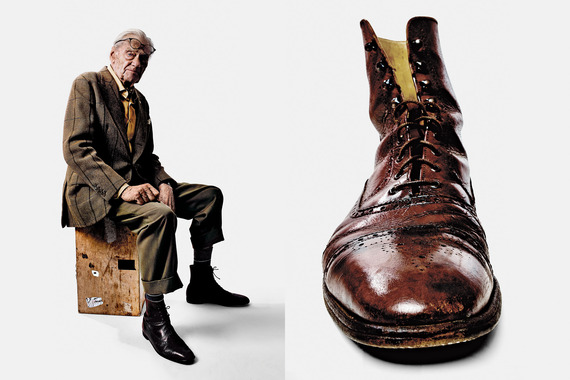 My English Boots
Gösta Peterson, photographer
"I usually wear a tweed jacket when I need to wear a jacket. I like everything about it. Especially at night, a tweed jacket has character. The boots are made in England. They're sized for slim feet, so they feel good on the foot and the ankle. I've had them for 12, maybe 14 years. The way I dress hasn't changed much. There are certain inspirations -- like Fred Astaire, the Duke of Windsor, and Richard Merkin, who was a teacher at RISD -- but I don't theorize at all. I just put on what I have. I like it, I put it on."
Related: The 25 Best Boots to Buy Right Now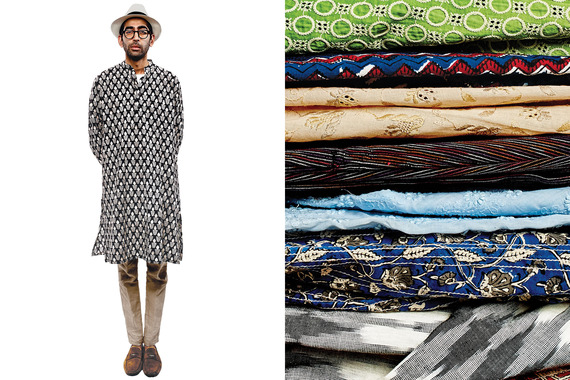 My Colorful Kurtas
Ashwin Balani, owner, Juban restaurant
"I feel incredibly relaxed wearing kurtas. It's really, really comfortable. I usually wear it with linen pants, or with jeans -- whatever matches. My style is pretty eclectic, and I feel like the kurta enhances my identity as being Indian and owning a Japanese restaurant. I've had someone say, 'Nice dress,' and I said, 'Thank you.' I don't really take any offense to it if someone doesn't understand what it is. I mean, it could look like a dress, certainly."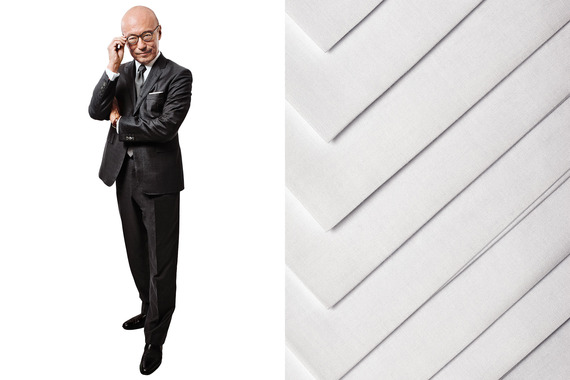 My Pristine Pocket Squares
Harold Koda, curator-in-charge, the Costume Institute at the Met
"I think of my style as monastic monotony. For me, it evokes the cookie-cutter template of a '50s business guy. Over the years, it's become increasingly reductive. I started with Brooks Brothers, had a brief Commes des Garçons period, moved to Armani, switched to Ralph Lauren, and have ended up with Thom Browne. I first started wearing pocket squares when I returned to working at the Met in 2000. The ones you see are for show. When I have a cold, I use tissues."
Related: 10 Desk Blankets to Cuddle With in Your Air-Conditioned Office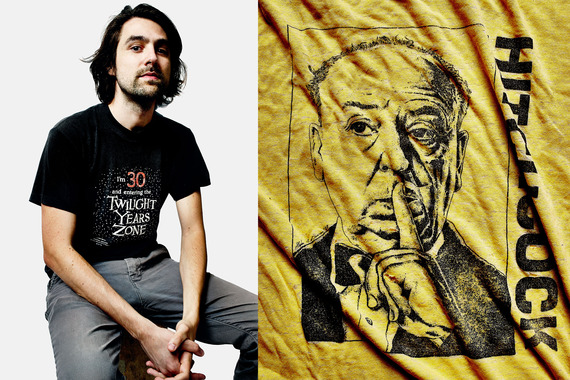 My Sentimental T-Shirts
Teddy Blanks, graphic designer, co-founder of CHIPS
"I turned 30 last November, but a close friend just gave this shirt to me a couple weeks ago as a belated birthday present. I've been wearing it all the time because come November, it will no longer be factual. I've never been too deliberate about it, but I've amassed a sizable handful of vintage tees over the years. They've sort of become museum pieces, but I can't bear getting rid of them."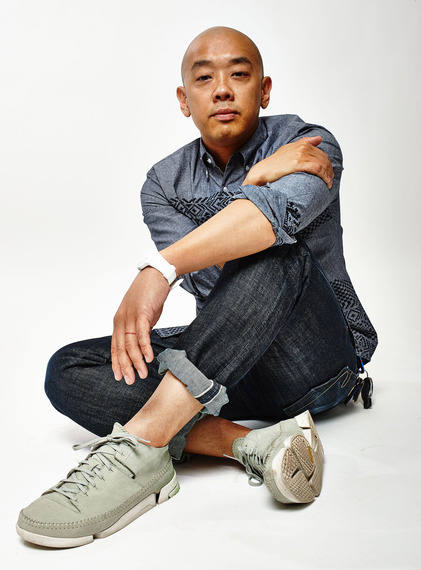 My Newfangled Sneakers
Jeff Staple, founder of Staple Design
"I start dressing every morning by deciding what sneakers I'm going to wear. I have over 2,000 pairs of sneakers, so it's hard to get through my rotation. These ones are a new prototype from Clarks Originals, called the Trigenic. The top has this natural, handmade feeling, and the cutouts make the shoe fold to the gait of your stride perfectly. There's a Vibram outsole glued right onto the suede, so it feels almost like barefoot walking."
Related: The 60 Best Street-Style Sneakers from New York, London, and Milan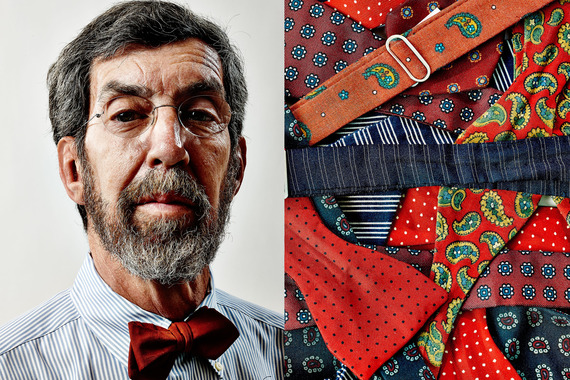 My Signature Bow Ties
Peter Swerdloff, brand consultant
"My look is kind of basic, boring -- Brooks Brothers, J. Press clothing. What used to be called 'Ivy League,' with a bow tie. It changes a traditional look into something a little different. A friend of mine found this guy in Connecticut -- there was an ad in The New Yorker or something like that -- and if you sent him a tie to use as a pattern, he would send you a bunch of swatches, and make bow ties to fit that pattern. Now, when there is an occasion where a tie is required, I always wear a bow tie. I don't think I even remember how to tie a regular tie."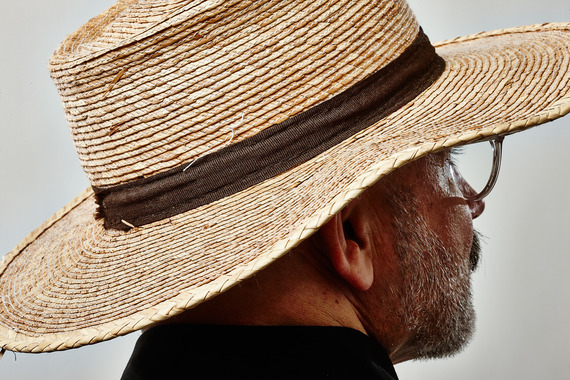 My Straw Hat
Jorge Colombo, artist
"This is just a hat that my wife bought at some roadside gas station in Utah, years ago. A lot of my work consists of landscape paintings on location, so I need something with good coverage. I have a shaved head, so it not only solves that problem, but it is also an amusing way to echo the en plein air artist icons, like Cézanne or Pissarro. It's the Impressionist look."
Related: The 50 Most Remarkable Hats of All Time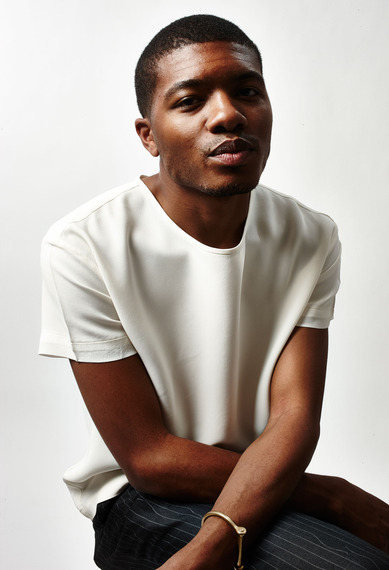 My Classic White Shirts
Corey Stokes, stylist

"You know that iconic photo of Diana Ross in the white T-shirt and high-waisted jeans? My style is like Diana Ross meets James Dean. Every summer, I sort of organically fall into this uniform of wearing white shirts and jeans. The white shirt is such a classic, evergreen piece, and I think I've mastered the art of making it look really fucking chic."
More from The Cut:
7 College Students Talk About Their Instagrams and the Pressure to Seem Happy
Cat Yoga Is Perfect for People Who Like Cats More Than Yoga
What Makes Kim Kardashian's Hair Look So Good?
How to Work Out Your Whole Body in 20 Minutes