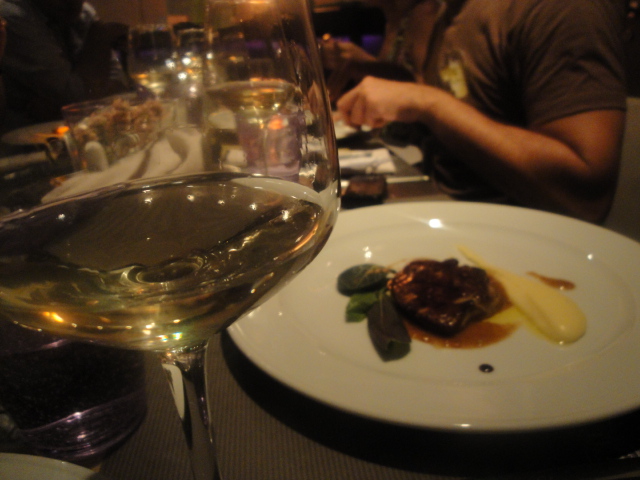 My assumption has always been that everybody likes to eat and nearly everybody likes to drink wine. We often like to have both simultaneously, for dinner, lunch or just for a light aperitif. Without being pretentious or an expert in this area, my existing experience with wine and food, close encounters with chefs, sommeliers and restaurant owners coupled with private discussions with wine experts resorted to the following: When it comes to wine and food pairings, opinions are seldom unanimous. This statement is liberating; party organizers, dinner hostesses or just home cooks are able to offer nearly everything they want as long as they have a good reason. Here are a few tips that will help you make the perfect match:
• A good pairing should balance the lightness or heaviness of food with the wine. A light Chardonnay or Soave might get lost in a spicy chicken dish. On the other hand, a full-flavored red wine will overwhelm and hide the delicacy of a baked or poached fish.
• Decide on what ingredient or element of your food you want to be the dominant in the pairing. It can be a sauce or a seasoning. Then match this dominant element or ingredient with the bottle of your choice.
• Balance the flavors. Acid foods and acidic ingredients like lemon, lime or vinegar go well with high-acid wines by making them softer and easier to drink. On the other hand, a dish with sweet element wouldn't go well with an acid or dry wine because it makes it taste rather sour. Balance the "sweet" dish with a bit of sweetness in the wine. Salty dishes go well with creamier wines.
• Complement your cheese board with the "matching" wine. Salty and spicy cheeses will pair well with sweet wines like port or muscatel. Creamy and soft cheeses go better with crisp white wines like Pinot Grigio and Chardonnay. Hard yellow cheeses fit well with both soft red and white wines.
Bottom line: it's entirely up to you. If you prefer to be traditional, go for safe pairings like Champagne and Caviar. But if you to embark on a culinary wine adventure and impress your guests, follow the Spaniards: they serve fish with Reserve Tempranillo, a smooth and dark wine with intense raspberry-cherry aromas.
So, for your next dinner, here is your challenge: what bottle would you pick for a salmon and asparagus dish?